Jo Ann Jenkins' message rang loud and clear at the Oak Bluffs Tabernacle on Thursday afternoon. As the CEO of AARP, Ms. Jenkins started a new conversation on what it means to age in America during The Cottagers of Martha's Vineyard's 60th anniversary community outreach celebration.
"We need to change the conversation in this country on what it means to grow older," she said to a packed Tabernacle audience.
The Cottagers invited Ms. Jenkins as their celebration's keynote speaker. Founded in the mid-1950s as a philanthropic organization of African-American women homeowners, the Cottagers fundraise for various causes and scholarships across the Island.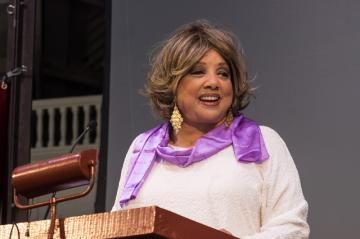 Ms. Jenkins said that people conquer aging if they continue to grow and learn along the way. She referenced her book Disrupt Aging and acknowledged financial and health issues plaguing those over 50 years old. Ms. Jenkins encouraged her audience to ignore "crippled" stereotypes created by younger generations.
"People who see the world at 50 the same as they did at 20 have wasted 30 years of their life," she said, quoting the late Muhammad Ali.
Ending her talk with a reference to Franklin Delano Roosevelt's four freedoms of American life, Ms. Jenkins explained the four freedoms of aging. The four freedoms included the freedom to pursue happiness, earn a living, learn and chose where one wants to live.
Former ABC News anchor Carole Simpson offered the crowd a warm welcome as the event's master of ceremonies. Ms. Simpson wore a white dress and purple scarf to proudly show her membership as a Cottager.
The Cottagers presented Ms. Jenkins with a $1,500 check and a plaque in her honor after the talk. Ms. Jenkins promised to give the check to the AARP Foundation. Cottagers members Carla Tabourne and Carrie B. Tankard presented the gifts before a standing ovation.
A brief ceremony preceded the 60th anniversary celebration. Ms. Jenkins presented Healthy Aging—Martha's Vineyard, (HA—MV), with a Certificate of Membership for AARP's Livable Communities Network. The network works to achieve certain livable standards for those age 50 and older, such as access to healthcare and transportation.
A subcommittee of the Dukes County Health Council, HA—MV represents 37 nonprofits and municipal organizations serving the rapidly growing 65 and older Island demographic. Chair of HA—MV Paddy Moore accepted the certificate on behalf of the organization.
The afternoon concluded with a brief Q&A session for Ms. Jenkins, who answered every last question and then signed copies of her book long after the event had finished.