Corey Kunz crossed the finish line at Beetlebung Corner Saturday in a daze. The crowd, still in a frenzy from Kunz's first-place finish, drowned out the PA system's final verses of Bruce Springsteen's Born in the USA. Mr. Kunz looked for his family, then some water. He needed to save his appetite. His first place prize lobster looked tasty enough.
Mr. Kunz, 35, ran away with first place in the 39th annual 5K Chilmark Road Race on a Saturday morning full of sunshine, sweat and, of course, lobsters. A former Division I athlete at Brown University, the Hoboken, N.J. resident entered his fifth Chilmark Road Race well aware of this year's oppressive heat.
"A few years it's been overcast, but today was definitely hot, which affected all the times, I'm sure," said Mr. Kunz, still catching his breath after his 17:10 time.
"[My family and I] are pretty excited. Maybe we'll cook a lobster tonight."
Sheridan Wilbur, 19, of North Smithfield, R.I., was the first woman across the finish line for the second year in a row. She finished in fifth place overall with an 18:20 time. West Tisbury's Michael Schroeder ran the fastest time of any Island resident. The 21-year-old finished in fourth place with a time of 18:12.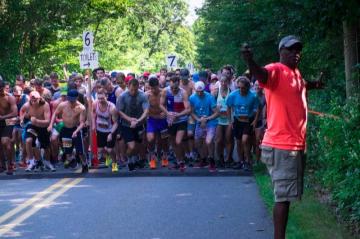 The 3.1-mile race began at 10:37 a.m. along Chilmark's Middle Road. Runners gathered at the Chilmark town hall by 9 a.m., and eagerly waited to board nine buses in the 80 degree heat. Runners brought as much water possible for the short trip.
"I was glad they got this one off," said Hugh Weisman, the man responsible for organizing the annual race. "We thought we were short a couple buses. But it looked like the bus company found a school bus and a trolley. It's always difficult to get everyone up there and get the race on time."
The point-to-point race took runners along hilly Middle Road. Of the 1,600 people to register, about 1,417 showed up and finished the race. The heat got the best of many runners. EMTs and paramedics cared for dehydrated runners at the finish line, carrying a few off on stretchers.
An exhausted crowd gathered for the post-race award ceremony at the Chilmark Community Center. Mr. Weisman handed first and second prizes to winners of the 10 respective age groups. First prize winners received a certificate along with their own lobster donated by Larsen's Fish Market.
Eleven-year-old Jack Lionette hoisted two baby lobsters in each hand after winning the boys nine-to-11-year-old age group for the fourth straight year. Jack finished the race with a 19:53 time, only 19 spots away from Mr. Kunz.
Jack, a Chilmark resident, thought this year's race felt tougher than years past.
"It has harder than usual," Jack said, still wearing a wide-grin following the award ceremony. "The heat was very tough today, so I didn't do as well as last year."
At 86-years-old, Susie Wilson brought home own her own lobster. She endured the heat as the race's oldest runner and won the women's over-80 age group with a 47:13 time. "I took up running quite late in life, when I was over 50, so I took advantage of all the races I could find," said Ms. Wilson, who ran her 16th Chilmark Road Race on Saturday.
"This is obviously the one that's closest to my heart."
Ms. Wilson trains throughout the year and said she loves the relaxed, community atmosphere of the Chilmark race.
The Chilmark Road Race donated all registration proceeds to the Chilmark Community Center. Chilmark Chocolates and other Island vendors donated prizes for the post-race festivities.
On a day full of highs and lows, everyone left a winner.
Everyone except for the lobsters.