Nate D'Angelo has been co-hosting Alex's Place performances on the deck of the Aquinnah Public Library this summer. Sponsored by the library, Alex's Place and WMVY, the Tuesday-evening concerts conclude on Aug. 16, beginning at 5 p.m. with songs by Mr. D'Angelo, co-host Alyssa Cimeno and younger Alex's Place regulars chosen by audition, including Leah and Jake Hairston and Oshantay Waite.
It's the second summer Mr. D'Angelo has taken "Alex's Place on the road," said WMVY host and Alex's Place staffer Laurel Redington, who provides the sound system for the Aquinnah deck concerts.
"He's risen to the role of mentor through this whole thing," Ms. Redington said. "Nate is serving as the older teen who is inspiring the young musicians in their playing."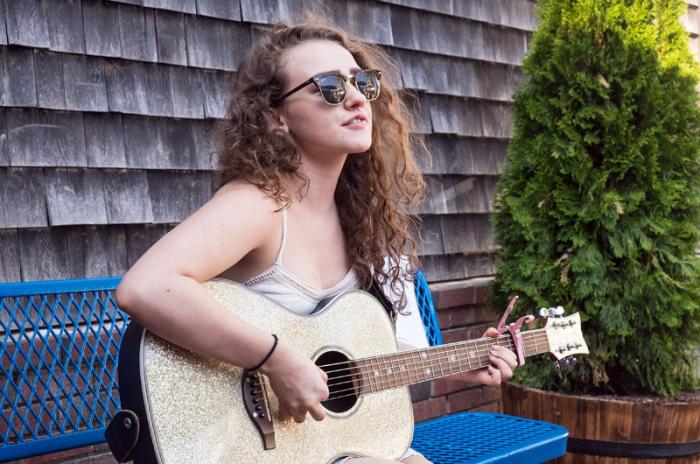 Mr. D'Angelo, 18, and Ms. Cimeno, 19, also encourage the younger performers to play together, something Tony Lombardi, executive director of Alex's Place, believes is essential for evolving musicians.
Housed at the YMCA, Alex's Place hosts regular open-stage events throughout the year and offers teens an up-to-date recording studio along with an arsenal of guitars, basses and other musical instruments and gear.
"With the good graces of those that have donated to make the place possible, we have all the equipment a young person could need to be able to create music," said Mr. Lombardi. "A young person doesn't have to come equipped. We provide the space, the instrumentation and the time."
Among adults who have taken their turn at the open stage are music educator and performer Brian Weiland, of the Flying Elbows, who has appeared with his children, and former Cleveland rock influencer Paul Marotta, who presented part of his work-in-progress Dorian Grey there three winters ago.
But the club's core mission is to support Island youths who are willing to do their part.
"We want them to earn ownership," said Mr. Lombardi. "Commitment is what breeds success. If you are committed and focused and you avail yourself of what's available to you, good things will happen and people will see your good work and lift you up in the eyes of the community."
Mr. Lombardi, who formerly ran the fabled Wintertide coffeehouse in Vineyard Haven, points to Nate and Alyssa as perfect examples of the community of musicians created at Alex's Place.
"Interaction is key," Mr. Lombardi said, even for solo musicians. "It's great to incubate new ideas, but if you don't have a community to share them with, it doesn't go anywhere."