Three years ago Annie Howell plucked the strings of a harp for the first time. A quick study, she recently released an original album of harp music called Silverfrost.
Ms. Howell was born and raised on the Vineyard, and has been performing for as long as she can remember. She played piano when she was in elementary school and middle school. In high school she took up acting and played guitar. She and two of her high school friends started a band called The Men, but the band didn't survive graduation. At Emerson College in Boston, she majored in acting but missed music so much that after finishing school she came back to the Island and took up the harp.
In an interview at her home in Chilmark, she said learning to play the harp felt right.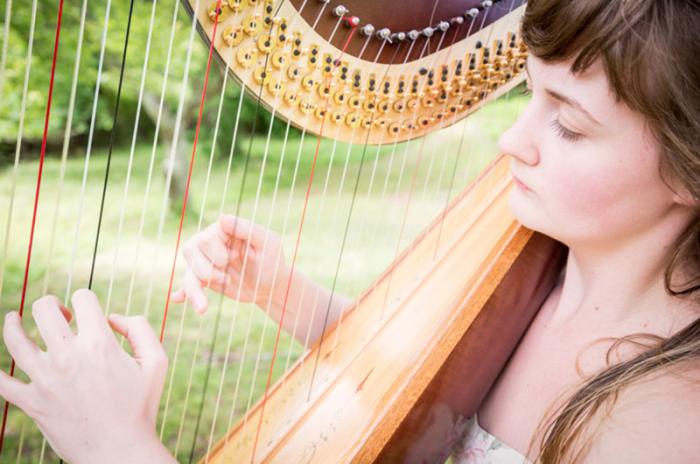 "It made sense," she said. "And when I started doing it, I had never ever been happier than when I was playing and taking lessons, in the environment of learning."
A year and a half ago, Ms. Howell bought her first Venus Grand harp, naming it Guinevere in honor of King Arthur's legendary wife. Her husband, Adam, is also a musician. Adam is featured in Silverfrost, accompanying Ms. Howell's original harp music and lyrics.
Ms. Howell's voice is chilling on the album and her harp music resonates and flows in the background. It is a style inspired by the composer Carlos Salzedo, whose music is a departure from classical Renaissance or Baroque harp music.
"It is strange and haunting and broken apart, but then it will come together at certain points during the song," Ms. Howell said of the genre of harp music. "It changes the way you think about the instrument."
She enjoys sharing her Salzedo-influenced music with an audience for precisely that reason. "I like the abstraction of the instrument, and being able to perform that publicly. I want to allow people to hear it in a way that changes their perspective and idea of what the instrument is."
When writing songs, Ms. Howell listens for the aesthetics of similar patterns. She starts by arranging the pedals on the harp in a way that produces a satisfying overall tone of the instrument. If the whole piece works, she then works with chord progressions. Sometimes she writes lyrics to accompany her music, and sometimes she leaves them as instrumental versions. She is meticulous throughout the process.
"Harpists tend to be type A personalities," she said. "I would never consider myself a type A personality, except when I'm playing the instrument."
She has had an ear for music all her life. She remembers as a little girl hearing music in her footsteps walking down the street and in the breeze through the leaves. She heard songs everywhere. She blushed as she told the story of how as a little girl she got out her boogie board, put on her bathing suit and stood in the doorway singing Little Surfer Girl by the Beach Boys.
"My dad loves to tell that story, it's the most embarrassing thing," she said.
To this day, Ms. Howell loves the affinity for music young children seem to have. She hopes to expose kids to the harp as another option for them to play.
"If I had seen one at that age or been in the same room as one, I might have just insisted I play," she said.
Visit mvharpist.com for more information on Annie Howell and her performing schedule.