Magic Music began in Boulder, Colo., during the late 1960s when Will Luckey, a Martha's Vineyard native, left the East Coast for boarding school in Colorado. The band remained together until the mid-1970s, and in addition to Mr. Luckey it included Vineyarder Tommy Major.
It is an old story, the ebb and flow of band members, and a band's final bow due to disagreements with the music industry. But this story has a second act, one that began many decades later. The band has reunited to finally record its first album. It will be released this weekend, on August 19.
"By 1975 they turned down four major record deals because they didn't want to be part of the capitalistic society," said Tim Goodman, once just a friend of the band, but now a full fledged member, and a driving force behind its reunion.
Will Luckey, Tommy Major, George Cahill and Chris Daniels remain the only original band members on the album. Mr. Goodman, Jimmy Haslip and Scarlet Rivera round out the musicians.
"It's been 45 years since we've been together," said Mr. Luckey. "To have the album released really helps everything come full circle."
Mr. Luckey applauded each band member's "terrific" effort while recording the album. He described the finished product as a 1970s time capsule of the band's earlier work. The album consists of 17 songs, each one varying in length. Some songs last just under a minute. Others last well over seven minutes. The album combines the band's self-described "jam" roots with modern folk instrumentals.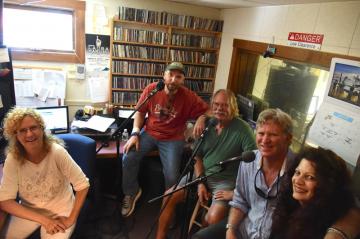 Mr. Goodman recorded most of the band's album at his Vineyard Haven studio in 2014. With some songs recorded in Boise and Nashville, the band agreed to "mix" the album at East-West Studios in Los Angeles.
"We're already having great success on radio nationwide," said Mr. Goodman.
Last week, Magic Music played at the annual Friday Morning Quarterback Radio Conference for AAA Radio in Colorado. The band performed in front of over 120 programmers for all AAA Radio stations across the country.
"We had a blast," Mr. Goodman said. "They love music, so to go in and really crank it up and play for [the conference] is fun."
The newest members of the band, Mr. Haslip and Ms. Rivera, boast impressive music resumés. A world renowned bass player, Mr. Haslip performed for Grammy-nominated fusion band the Yellowjackets. Ms. Rivera plays violin and has appeared on numerous Bob Dylan songs. She performed during Magic Music's last few months of recording sessions. Excited about the new album, she insisted on joining the band full-time.
"We couldn't say no," said Mr. Goodman. "She's now performing live with us."
Now that the band is back together, let the touring begin.