A California film company producing a movie about Sen. Ted Kennedy's 1969 accident on Chappaquiddick saw a cool reception from the Edgartown selectmen Monday over a request to close streets and beaches for scene shots.
Apex Entertainment is producing a film about the incident in which Mary Jo Kopechne drowned after Senator Kennedy drove his car off the Dike Bridge near East Beach, following a night of partying among campaign workers at a rented house on Chappaquiddick. The incident made headlines around the world and cast the Vineyard and Chappy in an unwelcome glare of publicity.
Directed by Sam Taylor-Johnson (Fifty Shades of Grey) the film has a tentative release date in 2017. Apex Entertainment has shepherded big-budget films including Secretariat and Miracle.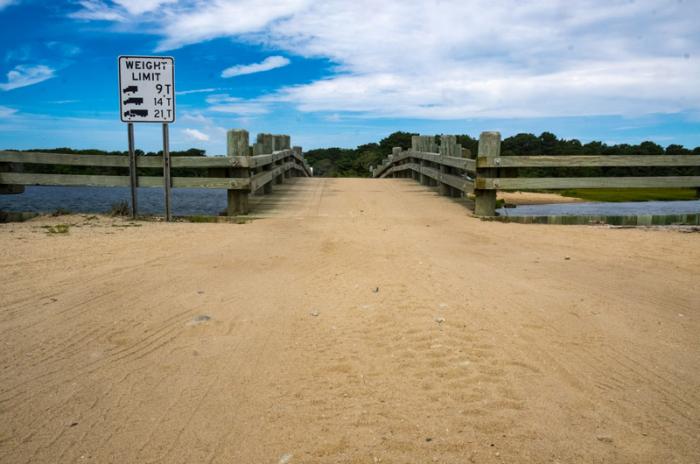 Mark Fitzgerald, a Boston-based locations manager and movie scout, appeared before selectmen Monday with a request to temporarily halt traffic on the Dike Bridge Road on Wednesday, Sept. 7, and close the bridge parking lot until 3 p.m. on that day.
Mr. Fitzgerald also sought permission to close Daggett street (which leads to the Chappy Ferry on the Edgartown side) and clear several parking spots on Memorial Wharf.
He also asked to remove road signs during shooting, and use parking spaces for location equipment on Morse and North Water streets.
Filmmakers hope to recreate Edgartown as it looked in 1969.
"If a yellow Hummer pulls into that [parking] spot and stays there for two hours, we can't shoot," Mr. Fitzgerald said.
Selectmen Margaret Serpa and Michael Donaroma said they could not grant most of the requests, given the time of year.
"You're asking for a lot of inconvenience at a very busy time," Mrs. Serpa said.
"Is there any way the town can give me a two-hour window on Daggett," Mr. Fitzgerald asked.
"No," replied Ms. Serpa. "I'm not going to agree to close Daggett street. It's not going to work."
Selectmen left the door open to a scaled-down plan that may involve closing Daggett street in the overnight or very early morning hours, before the Chappaquiddick Ferry begins operation.
"I think you need to work on something that's more compatible," Mr. Donaroma said. "It's not going to work if a lot of people are inconvenienced."
Mr. Fitzgerald has been on the Island for more than a week working on logistics for the film. Selectmen asked him to continue working with Edgartown police, The Trustees of Reservations, ferry owner Peter Wells and town administrator Pam Dolby, and return with a plan that would not inconvenience residents and visitors.
Mr. Fitzgerald said he would seek guidance from production company executives.
"It's an active schedule, there are a lot of variables," he said.
He said shooting scenes in October, when the locations are not as busy, would not be possible.
Also at Monday's meeting, selectmen agreed to support a request from the Edgartown Board of Trade, in partnership with the Martha's Vineyard Chamber of Commerce and Arts Martha's Vineyard, to seek a designation of the downtown area as an official cultural district from the Massachusetts Cultural Council.
Selectmen also approved an application by the Board of Trade to create an opening night celebration for the Martha's Vineyard Striped Bass and Bluefish Derby that will include live music and vendors.