Jessica Stafford Davis was originally intimidated by art. She found navigating the art world difficult, as artists and collectors were often viciously competitive. But over time and after seeking out knowledgeable individuals, she discovered methods for artistic survival. She founded the Agora Culture to share that knowledge.
The Agora Culture, based in Washington, DC but with an online platform for members across the country, is a center for collaboration for multicultural artists and collectors. On Monday, Ms. Davis held a one-day-only event on the Vineyard called Art on the Vine at the Daniel Fisher House in Edgartown.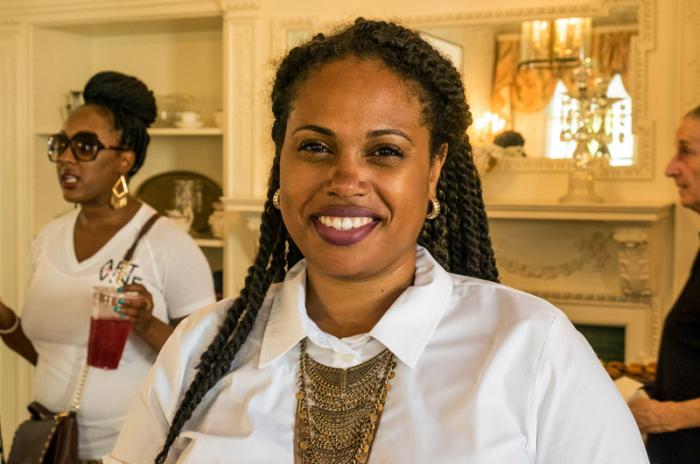 Ms. Davis said she chose the Vineyard for her first big event because of its rich artistic culture.
"It's a cultural melting pot of artists," she said. "It just made sense for the event to debut here."
Her goal was to expose artists to collectors and buyers, and raise money for Agora's residency program, which will provide housing and resources for an artist to live on the Island next summer. The event exhibited 100 different pieces by 25 different artists of color. Each piece was hand selected by Ms. Davis.
Elia Alba created stuffed Warrior Dolls and put them in thick frames. The dolls were adorned with jewels, feathers and tribal clothing. However, their eyes looking hauntingly similar to Ms. Alba's eyes.
"I wanted to merge history on my body," Ms. Alba said. She further explained that she photographed herself, transferred the images to fabric, and then created the tribal dolls. Her family moved from the Dominican Republic to the U.S. in the 1950s and her husband's family came from Ecuador. She wanted to explore the way her family's original cultures merged with her life in New York city. "I love Henry Darger," she added, referencing the artist who drew children in horrific scenarios.
On the opposite side of the wall from Ms. Alba's pieces was a series by Nate Lewis of Washington, DC. Mr. Lewis's three pieces also featured manipulated photographs of figures. However, his works were created on giant canvases of cotton paper. The figures were all black and white, then outlined and filled in with patterns and ridges. Mr. Lewis employed a technique called paper sculpture, using a blade as a pen.
"I manipulate the anatomy of the paper," he said.
Mr. Lewis, 31, began drawing six years ago as a way to stay awake during an orientation for his nursing classes. He showed the doodles to his artist sister, who said they weren't bad. Mr. Lewis said he then went through the rough phase most artists experience when they are just starting out.
"I made a lot of bad art. Then I found paper," he said. He snapped his fingers. "And just like that, it started. It's crazy."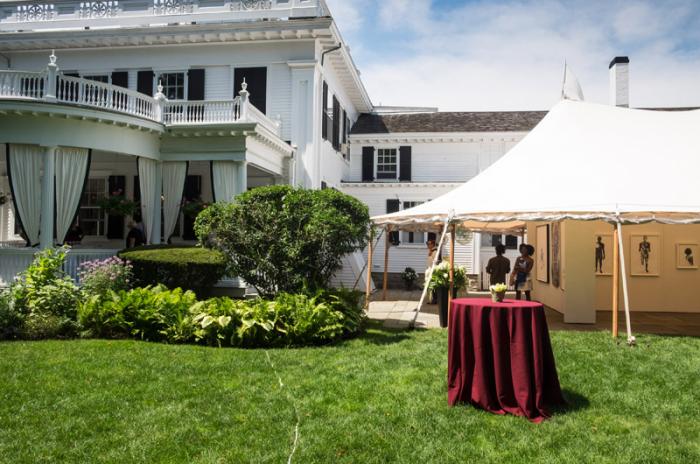 Holly Bass based her series, Root Work, on her father's youth spent in the cotton fields of Georgia cotton. Like Ms. Alba, she transferred photographs to another medium that included silk chiffon swaying in the breeze in front of mirrors. The movement and reflections bring the pieces to life.
"They have a similar quality to a memory," said Ms. Bass.
Art on the Vine also included an educational featuring a panel of collectors including Peggy Cooper Cafritz, and Bob and Fay Davidson. Ms. Davis said she wanted to help educate those interested in collecting, and hopefully take interest in some of the artists she had selected. She said she plans on making Art the Vine an annual event on the Vineyard.
"I call myself the Connector," she said.
Visit theagoraculture.com for more information.