Of the thousands who perished in the 1945 American atomic bombing of Hiroshima, history seldom mentions the 12 American prisoners of war who died that day too. The documentary Paper Lanterns aims to change this.
After decades of coverup by the U.S. military, freedom of information legislation revealed that 12 Americans also died during the attack. Hiroshima survivor Shigeaki Mori then dedicated his life to tracking down the American families of those who died. Paper Lanterns chronicles Mr. Mori's work and his ultimate success in connecting with the families despite knowing little English.
The film screens at the Film Center in Vineyard Haven on Tuesday, August 23 at 7:30 p.m.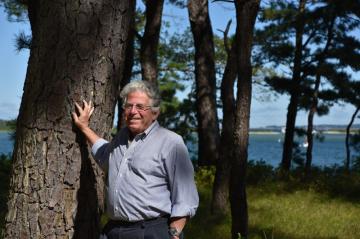 The movie is produced by Peter Grilli, a longtime seasonal resident of Vineyard Haven. Mr. Grilli moved from Tokyo to America at the age of five in 1947. He currently serves as president of the Japan Society of Boston, and helped director Barry Frechette raise money to finish the film.
"For me, I visited Hiroshima when I was very young and the city was still very much destroyed," Mr. Grilli said in an interview. "I've gone back multiple times and seen its different stages of recovery."
He met Mr. Mori for the first time after the film was made. "He's probably the most self-less person I've ever met in my life. He did all this work without any thought of reward."
Mr. Mori wanted each American victim registered at Hiroshima's Peace Memorial Park, according to Mr. Grilli. Located at the bomb's epicenter, the Peace Memorial Park opened in 1954 commemorating the lives lost during the 1945 atomic blast.
The film has already gained attention across the world and will be a part of the Hiroshima International Film Festival in November.
This past May, President Obama visited Hiroshima and delivered a speech at the peace park before signing the memorial's guest book. Mr. Mori attended the president's speech thanks to efforts coordinated by both the film's production team and the U.S. Ambassador to Japan, Caroline Kennedy. In a moment of American-Japanese reconciliation, President Obama walked across the park lawn and embraced Mr. Mori.
"Nobody expected President Obama to go across the lawn and talk to Mr. Mori," said Mr. Grilli. "I have no idea whether he saw [Paper Lanterns] or not."
Mr. Grilli will attend Tuesday's screening at the Film Center and take part in a question-and-answer session afterwards. He brings with him two guests, Eiko and Bunzo Suzuki, who currently live in Hiroshima.
"It's an important film," said Mr. Grilli. "Anyone interested in world peace and the strength of the human spirit should see this story."
Visit mvfilmsociety for tickets and information.