Vanessa the sea serpent, a summer resident of Farm Pond, has announced the birth of a bouncing baby sea dragon named Blaze.
Blaze was born on August 16 at 1:42 p.m. and weighed in at 127 pounds, 9 ounces.
The news was announced by Vanessa's primary caretaker Amelie Loyot, who is the niece of Vanessa's creator Mindy Kendall.
Vanessa's green scales — some say she is made of wood, others say magic — shine in the summer sun every year between Memorial Day and Labor Day in Farm Pond. Over the years she has been joined by her baby sea serpents, and even her grandchildren.
For most of this summer a nest has appeared in the water behind Vanessa, replaced last week by Blaze the sea dragon.
Vanessa's story is said to reach all the way back to the Ice Age, though she made her first appearance at Farm Pond around 1984. She has had many adventures, including almost drowning when Hurricane Bob flooded Farm Pond. In 1991 her baby Swift disappeared (some said it was a serpent-napping) but was later returned. Vanessa's tale has also been told in several books.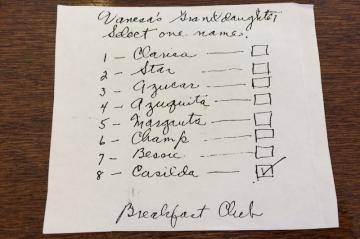 Her first baby sea serpent was born in 1989, and she has had several babies since then, many bestowed names through a Gazette naming contest open to those younger than eight and older than 88. Baby serpents named Valentine McDuff, Lightning, and Bong Bong have all graced the waters of Farm Pond. The babies eventually move on to their own ponds.
Vanessa has also welcomed grandchildren to Farm Pond, including Casilda and Nesta — names that were submitted by young readers and selected by members of the breakfast club at Linda Jean's.
Because this is her first baby sea dragon, Vanessa decided to name him herself.