More than a few times, she has left dinner on the stove to respond to a call. Her understanding husband will turn off the burner, wait for her return and together they will eat their dinner cold.
As West Tisbury animal control officer, Joan Jenkinson has left her dinner and her husband Pat for dogs that have strayed into neighboring yards, for cows in the middle of the road and for bats hiding in closets. She's gotten up in the middle of the night to tie up horses. For the past 27 years she's gone out in snow, rain and sunshine, always at the beck and call of West Tisbury residents and their animals.
But come this fall, she'll be able to serve dinner while it's still hot, and to sleep through a full night without the phone jangling her awake.
Joan Jenkinson will retire on Oct. 1.
On the beat for more than a quarter century, she has been caring for animals all her life. Mrs. Jenkinson grew up in the red house across from Alley's General Store with cows, horses, sheep, pigs, turkeys, ducks and geese. She has always had a cat of her own. Even now, a feral black cat has adopted her and happily makes its home on the edge of her bed. Her son calls her Dr. Dolittle.
As a child, she dreamed of becoming a veterinarian or seeing the world as a flight attendant. But her family wasn't well off and her brother required special care, so she never wanted to ask for the money for extra schooling.
In 1990 George Manter, chief of police at the time, recommended her for the animal control officer job. She was 44.
"He was one of the greatest men to ever live in this town, I've got to say, George Manter," Mrs. Jenkinson said in an interview last week. "And not just because he gave me the job."
Now she is 71. When she wrote a letter to the selectmen early this month announcing her retirement, they were openly dumbfounded.
"Joannie has spoiled us," selectman Jeffrey (Skipper) Manter 3rd said. "I don't think we could ever quite replace Joannie," agreed chairman Richard Knabel.
The selectmen offered to narrow the scope of the job so she could stay on, but she was resolute.
Sitting in town administrator Jennifer Rand's office in the West Tisbury town hall, Mrs. Jenkinson recalled her first days on the job. She now has her own office in the police station, but she's hardly ever there. She prefers to be out patrolling or at home until a call comes in. And it never takes long for the phone to ring. In a town where rural agricultural places coexist with residential development, she has dealt with just about every kind of clash and rescue you could name: the wild turkey hit by a car, the dog that ate the chicken, the horse that fell in a pool.
"I got to know every dog, I got to know every horse, a lot of backyard horses in this town," she said. "I knew a lot of people anyway because I lived here all my life, but as people filtered in and brought in horses and dogs it got to be a bigger and bigger job."
In the early days there were about 100 licensed dogs in town; now there are 500. And while Mrs. Jenkinson's top priority is the welfare of animals, she has become expert at mitigating neighborly disputes, always aiming to keep them out of the selectmen's meetings (and earning extra appreciation from the town for her efforts).
"I just go to one person's house and discuss the problem as I see it, and then I go to the other person's house and discuss the problem as I see it," she said. "And why don't we sit down either at the town hall, one of your houses, or my house and let's discuss this. And it works, it just works."
Her love of animals extends to the swans at the Mill Pond, whom she fed daily until last year (they especially liked brioche). She had trained the cygnets to come eat on the shore to protect them from snapping turtles looking for a swan lunch. But then the conservation commission asked her to stop feeding the swans, and now the birds spend their time in the Tisbury Great Pond. She misses them.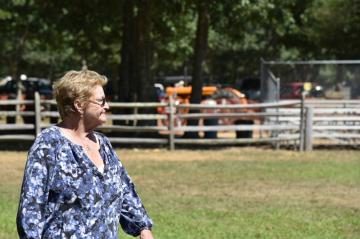 She responds when human folly affects animals, such as when there is a drunk driving arrest with a dog in the car. "Joannie gets the dog and puts him in doggy jail," she said.
But responding to an animal that has been hit by a car is one of the most difficult parts of the job. In one incident years ago, a horse was hit by a car near the airport, suffering a large chest wound. Mrs. Jenkinson was one of the first on the scene, and stuffed her shirt, her undershirt and her jacket into the gaping wound, trying to stave off the bleeding.
"I just kept taking off clothes and stuffing them and trying to hold off the veins," she recalled. Fortunately, the accident was near Animal Health Care Associates, and veterinarian Dr. Steve Atwood was able to stitch up the wound. The horse survived, but could never be ridden again. Mrs. Jenkinson visited the horse every day for two months.
Thankfully, every call is not as serious.
One summer Mrs. Jenkinson received a call from a summer resident whose house was full of flies — could she take care of it? Fly exterminator is not a part of the job description, but the citizens of West Tisbury are so used to an animal control officer who is always available, utterly capable and understanding that it no doubt seemed like a reasonable request.
For other flying creatures, she'll make the trip. Once she went to Carly Simon's house to rid her closet of a bat. She went through the closet, hanger by hanger.
"I'm telling you, Carly Simon has some clothes," she said. They weren't able to find the bat, so Mrs. Jenkinson drove home.
"I looked in my rearview mirror and there was the bat, he'd ridden back to West Tisbury with me from Carly's house," she said.
Remarkably, she's never been bitten by a dog, although once she contracted cat scratch fever from a feral cat. Whatever the danger, in 27 years Mrs. Jenkinson never refused to take a call.
Lately, though, the physical requirements of the job have become too much. It's hard for her to lift large dogs into the back of her car, or chase down farm animals on a dark country lane at 3 a.m. Though her assistant Allen Healy always helps when needed, Mrs. Jenkinson said it's the right time for her to step down.
In retirement, she plans to pick up hobbies she had put aside. She's going to organize her attic, plant her garden and cook Italian food. She's going to attend the fair, watch the horses and the dogs, and enter bread and butter pickles and cherry tomatoes. She's going to spend time with her mother, her children and her grandchildren. She plans to write a book.
But one thing she will never retire from is loving animals.
"That's the biggest thing I'm going to miss, is the animals," Mrs. Jenkinson said. "Not the paycheck. Not the people. The animals."