A Somali-Canadian rapper whose best-known song has racked up more than 50 million online-video views (so far) is in Edgartown this week to develop his first musical for the stage, commissioned by New York's Public Theater. K'naan, whose anthem Wavin' Flag was picked by Coca-Cola for its 2010 World Cup theme song, will also perform a rare acoustic concert Saturday evening at the Vineyard Arts Project on Main street in Edgartown.
"The idea is to play a few impressions of the songs in the musical I'm writing, and then — if the audience wants to hear it — a little bit of my music," the soft-spoken artist told the Gazette. The one-hour concert begins at 7 p.m. Reservations are available at ticketsmv.com.
Earlier this week, K'naan was spotted by a waitress at a local restaurant, who shed tears of joy after recognizing him. While not an everyday occurrence, "it happens," admitted the 38-year-old Mogadishu-born hip-hopper, who emigrated to Toronto at age 13 and practiced rapping before he mastered English.
"The people who love his music really love his music," said Oskar Eustis, artistic director of New York's Public Theater, who is working with K'naan to develop the yet-to-be-named new musical. The word "new" is crucial, K'naan said of his nascent theatre debut.
"It's an infant. It's at the naming stage now. It's hard to know what that character is...you can't hold me to the songs you hear," he said.
"It has to do with a young man's journey," he added. "Going from a very dark place in his life, in which he thinks that the only reasonable way out is to die, and following as he goes on the journey to dying and begins to fall in love with life."
Is it autobiographical?
"I loved life from the get-go and I still do. It has its difficulties, but I think it's still quite beautiful," he said.
K'naan, with Mr. Eustis and composer Steve McEwan, make up one of five creative teams working in residency at the Vineyard Arts Project this week under the auspices of the Public Theater.
The others are David Ives and director John Rando with actors Heather Lynd and Christian Conn; Marsha Norman and composer Zoe Sarnak; Neil Gaiman and composer Stephin Merritt; and Mona Mansour with actors Tala Ashe, Ramsey Faragallah, Osh Ghanimah, Lameece Issaq and Hadi Tabbal.
Each project is at a different stage, Mr. Eustis said. "K'naan is still outlining his story, while David Ives is on his 18th draft."
Mr. Ives does have a title for his play. The Phobia Clinic is a stage version of what the author has called his "philosophical horror novel" of the same name, inspired by Dante's Inferno and written entirely in verse.
"We haven't found a good way to describe it yet," Mr. Ives said with a smile.
Ms. Norman, who won the Pulitzer Prize for Drama in 1983 for her play Night, Mother, is collaborating with Ms. Sarnak on a musical about women serving in combat during the Civil War. More than 400 individual cases have been discovered in which women posed as men to fight in the conflict, said Ms. Sarnak, who hatched the idea for the musical, called Secret Soldiers, and brought it to Ms. Norman.
"I'm eager to tell the untold stories of women. It's my bread and butter," said Ms. Norman, whose other credits include the musicals of The Color Purple, The Bridges of Madison County, The Secret Garden and The Red Shoes.
The third musical in development at Vineyard Arts Project is a collaboration between Mr. Gaiman, a widely-acclaimed author of fantasy fiction, and musician Stephin Merritt, best known for his work with The Magnetic Fields. The two previously created the stage musical of Coraline, Mr. Gaiman's novella that was made into an animated film in 2009.
Ms. Mansour, who has completed a trilogy about the life of an exiled Palestinian Wordsworth scholar, is meeting daily with her cast to explore how her trilogy could be performed together as one play.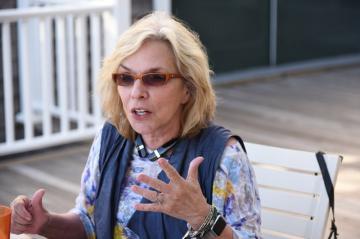 This is the fifth year that the Public Theater has been invited to Vineyard Arts Project for a summer residency. In past years, the dramatists have visited in June, and Mr. Eustis noted that August in Edgartown is perceptibly busier. But behind the picket fence at the Main street arts incubator, a sense of calm and purpose prevails among the artists working together in spacious, sunlit studios.
On Tuesday afternoon, strains of Ms. Sarnak's music could be heard coming from one room, while in another Ms. Mansour and her cast sat at a table with scripts, snacks, water glasses and books about Palestine and Wordsworth. At one point in the discussion, Mr. Faragallah was overcome with emotion, his voice failing and tears marking his face as he talked about his character becoming "a ghost of himself" over the trilogy's 40-year time span.
"The fact that we get to be together in this space is fantastic," Ms. Mansour said. "Things can really percolate."
K'naan agreed.
"I think it's tremendously helpful just to have the distortion of the world shut off and hear your own thoughts and be in a beautiful setting and have Oskar's mind to access," he said. "In a time when everything is so busy and busying, it's nice to have a week in which it's only about focusing on this work, and I think the work will benefit from that."
K'naan performs on Saturday, August 27 from 7 to 8 p.m. at Vineyard Arts Project, 215 Upper Main street, Edgartown. For tickets and more information, visit vineyardarts.org.