Sara Dingledy didn't care for high school when she was a teenager. She played soccer and lacrosse and participated in the yearbook, but by her own admission just floated along. It wasn't until years later that she discovered her passion was within the school system, in particular high school. As the new principal of the Martha's Vineyard Regional High School, Ms. Dingledy plans to cultivate a community that encourages students who have found their passion and those who aren't so sure yet.
Ms. Dingledy spent the summer on the Vineyard getting settled, including finding a year-round rental in Oak Bluffs and moving in with her husband, Dan Doyle, and two young children, Lucy (5) and Lorenzo (3). She also spent time rolling up her sleeves at work. Already, she's noticed a school system that fosters early engagement and passion.
"There's a lot that people connect to early on here, whether it's music, performing arts, sports," she said. "I think that's really exceptional here."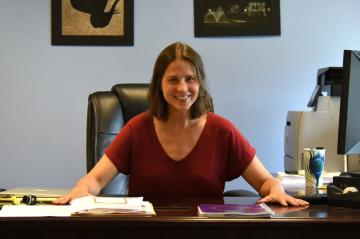 Ms. Dingledy sees high school as a turning point for many students.
"There is a skepticism that kids have from 14 to 18, they're finding themselves and finding their own voice and confidence levels and they are really formative years," she said. "It's a time when the love of learning sometimes fades so I think it's a real big task for schools to continue to push that and find other ways to reach kids if the classroom isn't doing it for them."
Some of the best ways to foster the love of learning, she feels, is to keep the campus accessible through extracurricular activities, creating opportunities for students to build connections with each other and with teachers. Ms. Dingledy believes a school building is a community hub that should be vibrant and accessible from 7:30 a.m. until 9 p.m.
"Students should either want to be or have the opportunity to be in this building until 5 o'clock whether it's through sports or clubs or service learning or tutor learning, because I do think if you have kids eagerly walking out the door at 2:15, that's an engagement issue," Ms. Dingledy said.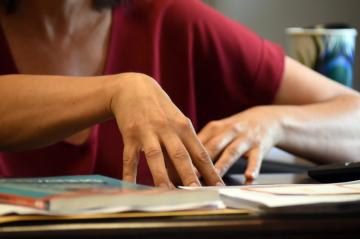 But to offer all-day activities, the facilities need to be up to a standard not yet reached at the high school, she said. While catching up on deferred maintenance issues, Ms. Dingledy and the school are looking toward the Massachusetts School Building Authority's grant decisions in December, which could shape the future of the high school. She believes the building should reflect the needs of the community.
"There are a few institutions in a community that define a community and represent the pride of a community," Ms. Dingledy said. "Obviously, how we maintain our land, and that's something very important to Martha's Vineyard...I think schools also represent our hopes and dreams for people here on the Island. It represents sustainability in terms of people being able to grow up here, have choices once they leave school and come back here with their families. I think how the school meets the needs of those individuals is huge."
Community is extremely important to Ms. Dingledy. It is the reason she applied for the principal position, wanting to raise her kids on the Vineyard. She grew up in New England, summering on the Vineyard and has family on the Island.
"It's always a place I've felt plugged into," she said.
After majoring in anthropology in college, Ms. Dingledy was unsure of how she wanted to use her degree. So she did what many twenty-somethings with a connection to the Island do; she spent time traveling and waiting tables on the Vineyard. Then she went back to school for a masters degree in teaching.
She taught social studies in a suburban Albany school, followed by teaching stints in two New York city public schools. Moving into administration, she served as the assistant head master of the Brooklyn Latin School before founding Westchester Square Academy in the Bronx and serving as principal.
In the Bronx, Ms. Dingledy knew everything about her students, from their test scores, to their in-class performances to their home lives. At the regional high school, she plans to continue this level of engagement with the students by being an accessible leader. She shapes herself as a leader through theories of action, one of which is that addressing students socio-emotional needs is essential to academic success at a school.
To support a broader range of students, she has already established a dean's office, where three teachers will deal with day-to-day discipline along with identifying students who may need more support. The dean's office will also allow assistant principals to focus on professional development and supporting teachers. Another of her theories of actions is that confident, skilled and happy adults leads to higher success in schools.
"We are a workplace as well as a place of education and you have to honor both of those things," she said. "If you honor the workplace by empowering people, by making people feel good and appreciated and supported, the school will benefit. " Ms. Dingledy wants the school to have a sense of joy and purpose. And after spending the summer familiarizing herself with the different departments, she is confident the staff is equally driven. "I feel like going in, there seems like a lot of momentum already and positive energy," she said. "We can go into the first day actually doing the work."