It was standing room only at the film center in Vineyard Haven on Friday night as Sharon Stone accepted the Global Citizen Award from film society founder and director, Richard Paradise. The event came at about the midway point for the annual Martha's Vineyard International Film Festival, which began on Tuesday and had its grand gala on Thursday evening. The festival runs through Sept. 11.
While Sharon Stone is perhaps best known for her roles in movies such as Basic Instinct and Casino, on Friday she was celebrated for her work as a humanitarian and HIV/AIDS activist. Vineyard artist Barney Zeitz presented Ms. Stone with a stainless steel angel sculpture.
Ms. Stone stood on stage, holding up the statue for all to see.
"My dad worked in a machine shop and did forging and steel work, so this is especially meaningful to me Barney, and it's very, very beautiful," she said,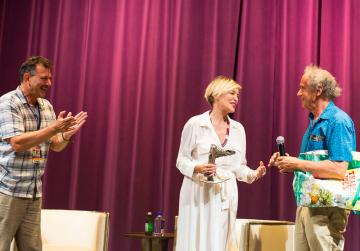 During a question and answer session, Ms. Stone said she was compelled to produce her latest documentary short film, An Undeniable Voice, because of the current political climate, in particular with respect to immigrants. The movie tells the story of Sam Harris, one of the youngest, if not the youngest, Holocaust survivor.
"This kind of rhetoric that is in our current political scene, where people speak so badly about immigrants, only cowards let bullies speak for them," Ms. Stone said.
Ms. Stone said she comes from three generations of housekeepers. Her great grandmother immigrated from Ireland, and her mother was sent away at nine years old to be a housekeeper.
"What does that say other than the fact that I have a very clean house," she said to resulting laughter. "It says that we bring great value to the world...we're migrating people, that's how human nature works. I can't stand it and I want people to remember our parents and grandparents are survivors of World War Two."
Sam Harris was in the audience on Friday night, along with his wife DeDe and the director of An Undeniable Voice, Price Arana. The film will screen during the documentary shorts program on Saturday. Mr. Harris will speak at screening and also at the Hebrew Center on Saturday at 10 a.m. The documentary shorts program is sold out.
Ms. Stone called Mr. Harris, who came to America on the Ernie Pyle ship on Sept. 11, 1948, inspirational.
"You will see why I chose Sam as a subject for a documentary," she said. "It's a beautiful film, Sam's a beautiful person."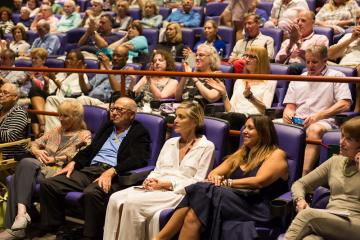 Ms. Stone also spoke to the crowd about her career, including one of her earliest films, King Solomon's Mines, which was shot in Zimbabwe and released in 1985. Working on the film, on location, brought her face-to-face with the global issues of that era.
"When you're a kid from Pennsylvania and suddenly you're living in the middle of Africa during Apartheid and the beginning of AIDS, it's an unbelievable experience," she said.
She also talked about her most famous role, that of Catherine Tramell in Basic Instinct.
"It's very complex to play a sociopathic serial killer," Ms. Stone said. "I can tell you it took a great deal of research to get into the headspace of this serial killer and to carry that cloak so lightly, because it's not light to play a sociopathic serial killer. I had terrible nightmares. I was sleep walking. I woke up dressed and in my car three times while I was making the movie, I was a wreck. It was horrific to play that character."
In 1995 she stepped into Elizabeth Taylor's shoes (high-heels rather, Ms. Stone said) as the Global Campaign Chair of amfAR, the Foundation for AIDS Research. Over the years, she proved to be a tireless advocate for the cause and skilled at raising money.
"My mother says I could sell ice to an Eskimo," she said. "And probably with global warming, we have to."
But taking up the torch to champion AIDS awareness and research was a bold move for an actress.
"My publicist told me it would destroy my career and it did," she said. "It was not at all popular to do that type of thing, then."
With words like AIDS, HIV and even condoms taboo at the time, Ms. Stone had to use clever tactics to introduce her cause. She would tell interviewers to ask her what was in her purse, dump out a handbag full of condoms and when they asked why, she would begin to talk about the epidemic.
"You find a way around it," she said. "It's been a long journey. And it did for quite a long time really damage the steam of my career. But ultimately what's more important?"
While raising money for research and raising awareness, Ms. Stone began producing documentary films.
"We're in it for the money, and the prestige and the recognition," she said with a laugh. "No, I think it's because we get to talk about things that are important."
Future projects for Ms. Stone include a limited series for HBO called Mosaic with director Steven Soderbergh, and a romantic comedy with Tony Goldwyn called A Little Something Special for Your Birthday. But for the moment she said she plans to enjoy her time on the Vineyard.
"I haven't been here since I was here playing chess with my friend Art Buchwald," she said.
The Martha's Vineyard International Film Festival continues through Sunday, Sept. 11. For tickets and a full list of movies and events, visit mvfilmsociety.com.