Apparently Tropical Storm Hermine did not have much of an impact on the Vineyard wildlife other than strong northerly winds. There were sustained winds of 35 miles per hour with gusts up to 49 miles per hour, mostly out of the north. The rain really did not happen until the late afternoon.
The combination of strong northerly winds and large waves coming from the south made for rough seas, and that apparently impacted some of the seabirds. There were perhaps 20 lesser black-backed gulls on Norton Point on Sept. 5, at the peak of the storm. The next day, Nathalie Woodruff and Lanny McDowell were both at Squibnocket, where they observed as many as eight black terns and one Forster's tern. Mr. McDowell and Pete Gilmore went on to Lucy Vincent Beach, where there were multiple Forster's terns. These are the only reports of storm-driven birds; there was nothing out of the ordinary in the Vineyard Sound off Cedar Tree Neck.
So this storm, perhaps because it did not come ashore, did not provide us with any of the tropical species that can be carried north with such storms.
Bird Sightings
Also on Sept. 6 at Lucy Vincent, Mr. McDowell and Mr. Gilmore observed a young laughing gull, 14 short-billed dowitchers, three white-rumped sandpipers, a semipalmated sandpiper and a semipalmated plover. Mr. Gilmore reports that two Forster's terns were feeding near Sepiessa Point everyday between Sept. 5 and 8.
Soo Whiting and Allan Keith saw a lot when they visited Quansoo on Sept. 7. Their best bird was a stilt sandpiper, a species we do not see all that frequently. Their highlights included eight white-rumped sandpipers, a willet, greater yellowlegs, four lesser black-backed gulls, three least terns, 193 common terns, a Forster's tern and a merlin.
Jeff Bernier made an unusual observation of a common tern dive-bombing and otherwise harassing a little blue heron in flight over Katama Bay on Sept. 10. The heron was squawking as it acrobatically avoided the tern. Why was the tern so outraged, or was it merely toying with the less agile heron?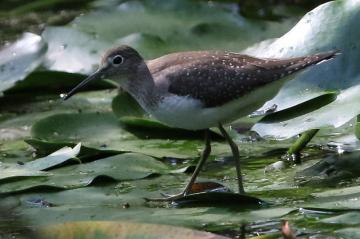 Mr. McDowell observed a solitary sandpiper that was feeding while perched on some lily pads in the small pond at the Gay Head Moraine on Sept. 10. This is the species most likely to be found near small fresh water ponds rather than on tidal flats.
This week's bird of the week is somewhat hidden in the middle of this column, as I transition from waterbird to songbird reports. Matt Pelikan observed two Connecticut warblers at the Gay Head Morraine on Sept. 10, and there are reports of individuals from Tuckernuck and Nantucket the same day. At least four birds on one day! One report of this rare fall transient is unusual; three reports is even more so. One can only wonder how many others were here since they are so shy, elusive and difficult to observe. They skulk around at the bottom of moist thickets and so we rarely get good looks at them because they are hidden underneath dense vegatation.
Mr. Pelikan also observed a black vulture on Sept. 10 as it flew over Middle Road at the Keith Farm.
Also on Sept. 10, my guided birding tour had a good day at the headquarters of the state forest, where we found pine warblers, prairie warblers, phoebes, great-crested flycatchers, flickers, downy woodpeckers, bluebirds, cedar waxwings, robins, catbirds, towhees and Carolina wrens. Birds were almost everywhere we looked, so different from a couple of weeks ago when the place was almost completely devoid of bird life. We then moved on to the Oak Bluffs Pumping Station, where our highlights were several redstarts (a species that had migrated away from their breeding grounds at Cedar Tree Neck more than a month ago) and four black-crowned night herons.
Mary Makepeace and Alan Muckerhiede are both the latest to have Carolina wrens return to their respective Edgartown and Oak Bluffs yards. The winter of almost two years ago was really devastated the wren population, but they are slowly coming back.
And last but definitely not least, another recent report of red-breasted nuthatches comes from Kathy, Kenny, Kristine and Kelsey Ivory. They were excited to observe one in their backyard on August 28. This species is quite active and vocal. Their call is a distinct nasal "yank," so their scarcity in recent years is unlikely to be due to us not finding them.
Southbound migrants are passing through, so go look for them and please be sure to report your sightings to birds@mvgazette.com.
Robert Culbert leads Saturday morning guided birding tours and is an ecological consultant living in Vineyard Haven.