The Aquinnah Cultural Center is currently showcasing a new exhibit entitled Messenger Runner, a continuation of the exhibit Our Story 400 Years of Wampanoag History, which was unveiled in 2014.
"Every year, up through 2020, there's going to be a new installment," explained program director Linda Coombs.
The exhibit is sponsored by the non-profit organization Plymouth 400, which commemorates the 400th anniversary of the arrival of the Mayflower and the settlers' relationship with the native populations.
Each individual panel explores a topic concerning the history of the Wampanoag tribe. The first exhibit began last year with Captured: 1614. The Messenger Runner often had to run between 90 and 100 miles a day to deliver news to distant tribal members.
"One of the things that this exhibit does, is it puts history out there that is not taught in the schools," said Ms. Coombs. "Sometimes it seems very purposeful that certain groups are represented in specific ways. We're using the opportunity with Plymouth 400 to take some corrective measures. While a lot of people might see this as revisionist history we're just adding in everything that's been left out."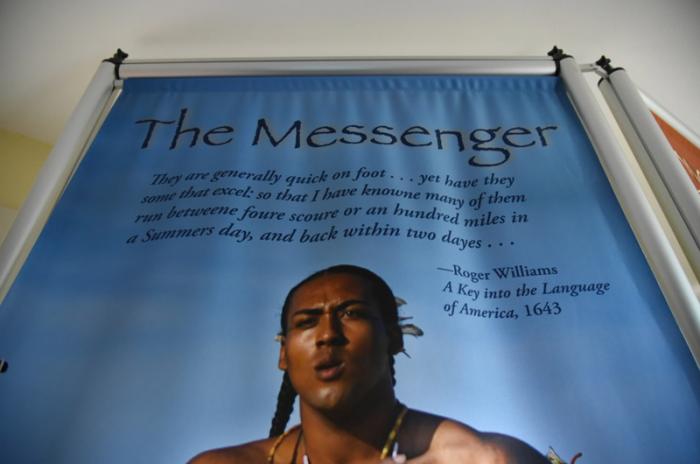 The exhibit includes an interactive component, including videos of impact statements read by actors portraying individuals who had been kidnapped by Europeans.
"Most tribal people are happy with it because it's like, oh finally, the truth is coming out," said Ms. Coombs. "Other people are like, wow I never knew this happened, and some people actually get angry and are like, well how come I didn't learn this in school?"
By providing both historical accuracy and appropriate representation Ms. Coombs hopes the exhibit will "balance the scale" of information about the Wampanoag people.
Our Story 400 Years of Wampanoag History will run through the end of September.
The Aquinnah Cultural Center is located at 35 Aquinnah Circle, Aquinnah. For more information visit, aquinnah-ma.gov/content/aquinnah-cultural-center.