Three stores in downtown Vineyard Haven will close permanently in the upcoming weeks. Juliska and Vardo are shutting their doors after Columbus day weekend while Mix is having a final sale today, Saturday, Sept. 24, from 9 a.m. to 3 p.m.
Juliska, an upscale homegoods store based in Stamford, Conn., will be closing its Vineyard Haven store as the company retools its approach to retail. The flagship Connecticut store will remain open and the company plans on doing more pop-up shops, manager Robert Cropper said. Juliska is more of a wholesale business, he continued, with retail only making up about 20 per cent of the business.
The shop has anchored a prime spot on Main street for five years.
"Being at the base of Spring street, people going to the boat have to pass the shop," Mr. Cropper said.
Mr. Cropper said election years are hard for retail, but Juliska did well this summer. And when word went out about the shop closing, along with 50 per cent discounts, the shop has been consistently busy lately.
"Someone comes in every day and finds a treasure they wanted for years," said Mr. Cropper. "Especially for Islanders who have been buying one piece a month for six months, now they can buy a six piece set."
While he doesn't know what will happen to the space, he said there have been some inquiries.
Vardo, an affordable, eclectic shop, is closing after three years of business on Spring street. Owner Heidi Filipowic opened the shop looking to offer an affordable mix of goods, from Star Trek Barbies to vintage jewelry, clothing, artwork and hair wraps. But Vardo never quite found its stride, Ms. Filipowic said. The ease and affordability of ordering things online made it difficult.
"Even I do it," Ms. Filipowic admitted. She intends to keep running her Etsy store, as well as other social media accounts for the shop.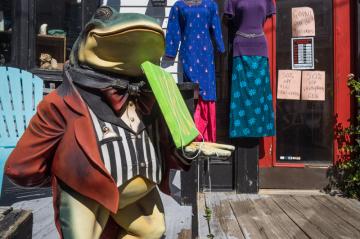 While there are still plenty of beads and knickknacks available, the store has been mostly wiped out of fantasy and science fiction items as someone came in and bought up the stock recently, she said. Vardo will remain open through Columbus day weekend.
Mix is hosting a final tag sale today to sell the rest of its inventory. Emily Milstein has owned Mix for 12 years in three different locations along Main street. She said the past couple of years have been tough for the shop, and the fact that she works two jobs made it more difficult.
"I didn't plan to close, but when I got to the end of the summer I went, does this makes sense any more?" she said. "It's sad to close."
The Collection, a clothing shop next door, will move into Mix's space. The old space The Collection inhabited is for rent.
Ms. Milstein said she will especially miss the store in the winter.
"My favorite time of year by far was Christmas when we weren't that busy but people knew each other, were in a good mood and nobody is rushing you," she said. Several customers have come by to tell her they will miss Mix.
In the past, Ms. Milstein operated Alley's General Store and owned stores in New York. With any shop, it's always difficult to leave she said.
"You work really hard and you feel like you create something," she said.