U.S. Coast Guard officials traveled to Martha's Vineyard on Thursday to hear concerns and questions about proposed changes or removal of 43 navigation buoys used by Island boaters.
Capt. Richard Shultz, who commands Coast Guard Sector Southeast New England, heard near unanimous opposition to the changes from about 25 people who gathered at the Katharine Cornell Theatre in Vineyard Haven for the public session.
In May, the Coast Guard proposed removing 31 buoys in Vineyard Sound, Nantucket Sound and Buzzards Bay. The proposal also calls for removing bells, gongs and whistles from 10 other buoys in those waters, as well as relocating two others aids to navigation.
Captain Shultz said part of the reason for removing and modifying the buoys is to reduce the cost of maintaining them.
"I have been entrusted with people, boats, cutters and money to maintain, repair and replace aids, to establish aids where necessary, and disestablish aids were they provide little or no value to navigation," he said.
Many people raised objections about the proposed removal of a red buoy known as nun #4 in Vineyard Haven outer harbor off West Chop. The buoy marks shallow water and rocks which extend well out into the harbor.
"I can tell you, even with nun #4 present, a lot of people cut inside and hit rocks," said Kathy Logue. "The number of calls you're going to get because somebody hit something is going to increase. My bet is that it's going to cost you more money to respond to those calls. That would not be a wise decision."
A. Bowdoin Van Riper said the red buoy is important for visiting boaters.
"If you grow up here, you learn that you go inside nun #4 and you take your life and your keel in your own hands," Mr. Van Riper said. "It's not for the people who grew up sailing here that nun #4 needs to be there."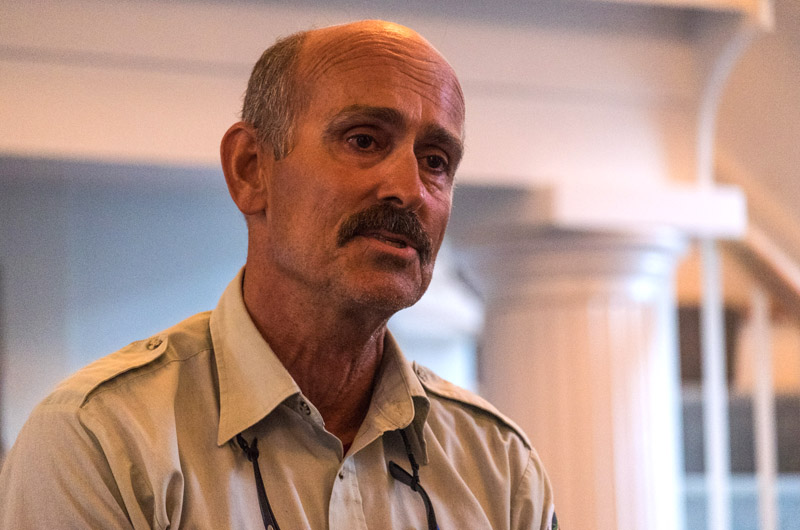 Vineyard Haven harbormaster John Crocker suggested the Coast Guard would be wiser to take other buoys, including green buoy #25 off West Chop outside the harbor. That buoy sits in about 30 feet of water, and does not mark any close obstruction.
"Nun #4 is a significant issue," Mr. Crocker said. "It does present a place for recreational boaters to know that they are out off the Steamship Authority channel in bad weather and fog."
Most boaters at the public session also objected to the proposed removal of a series of seven buoys in Robinson's Hole which mark a passage through the Elizabeth Islands between Vineyard Sound and Buzzards Bay.
Captain Shultz said the Coast Guard has received more than 100 comments on the proposed changes, and nearly all of them objected to removal of navigation aids in Robinson's Hole. He briefly outlined the reasons for that proposal.
"Robinson's Hole is quite simply a narrow, shallow, treacherous waterway," he said. "It's also a considerable risk to our Coast Guard Assets as they enter the waterway to service those aids. Maintaining aids to navigation in Robinson's Hole could be viewed as an invitation to mariners to navigate this treacherous waterway. In our view it is reasonable not only from a navigational safety perspective, but also as good stewards of taxpayer resources, to ask mariners to avoid Robinson's Hole altogether and use the safer alternative of Quicks Hole."
Local boaters said they view the passage as safe when clearly marked by the seven buoys as it is now, and many said they sail or motor through it regularly in the summer months. Several boaters said it is often safer to travel through Robinson's Hole to Buzzards Bay when weather is rough in Vineyard Sound than voyage through Quick's Hole which is heavily used by fishing vessels and high speed ferries.
"Yes you can go through Quick's Hole," said Steve Besse. "We can all go down a superhighway and share Quick's Hole with commercial boats."
He also said without buoys, mariners might try to navigate Robinson's Hole using electronic satellite navigation instruments.
"Anybody who would rely on GPS (Global Positioning System) to get through Robinson's Hole is a fool, but there will be people who do that," Mr. Besse said.
Rez Williams said he sails a 19-foot boat with no auxiliary engine, and depends on buoys with sound signals to navigate.
"In fog, I need to hear those signals," Mr. Williams said, "Especially with these fast catamaran ferries now using Vineyard Sound, and also the long tows, the barges with a cable between the barge and the freight. It's important to know where you are."
The Coast Guard officials said they will take all comments and concerns into account before making a final determination on removing or modifying aids to navigation. No changes will be made before Nov. 1.