State test scores released this week show Vineyard public schools performing well nearly across the board, with most ranked in the top levels in the state's accountability system.
The past year was one of testing transition for Massachusetts students, with some schools and grade levels taking the Massachusetts Comprehensive Assessment System (MCAS) test and others taking the new Partnership for Assessment of Readiness for College and Careers (PARCC) exam. About 72 per cent of students in grades three through eight took the PARCC test, including students on the Vineyard. Tenth graders took the MCAS, and all students took the science portion of the MCAS test.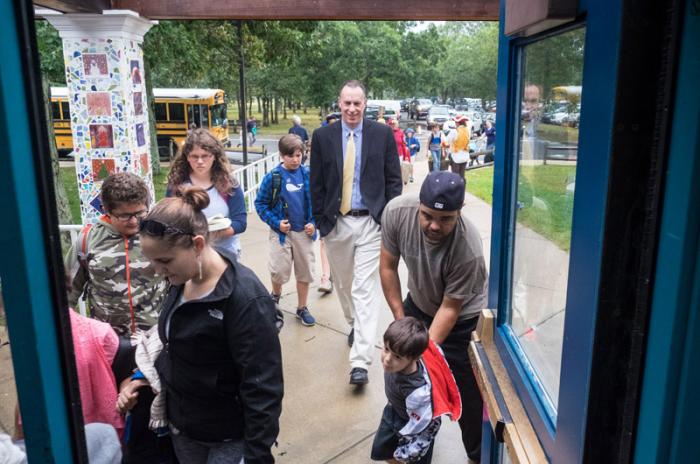 The result is a tangled landscape of test scores from public schools across the Island. Results were released Monday by the state Department of Education.
"The overall takeaway is very positive," Vineyard schools superintendent Matthew D'Andrea said Tuesday, noting progress on student achievement and moving students to higher performing categories. "In some areas we have some really strong student growth." He added: "Certainly there's areas in which we need to do some work."
Chilmark, Oak Bluffs and Tisbury schools are all ranked as level one schools, the highest designation, which indicates they are meeting goals for narrowing proficiency gaps between students. On the other end of the spectrum, a level five designation indicates a chronically under performing school.
Edgartown was designated a level two school because of low assessment participation, while the Martha's Vineyard Regional High School and West Tisbury school were designated level two schools for not meeting gap-narrowing goals.
Mr. D'Andrea said the district plans to appeal the Edgartown designation. Edgartown had a participation rate of 93.5 per cent, or 29 out of 31 students, just under the 95 per cent participation threshold. One student that missed the test had a medical exemption, Mr. D'Andrea said. "I'm confident that after the appeal Edgartown will be back to level one," he said.
The other two schools will continue to work toward closing the achievement gap, he said.
The Tisbury School moved up from a level two to a level one school, a highlight among this year's results, Mr. D'Andrea said. Tisbury students turned in a strong performance all around, with 81 per cent of all students scoring in the top levels for language and 75 per cent for math, more than three times the state average in both categories. The school turned in strong results in science too.
The Martha's Vineyard Public Charter School fell to a level three school this year due to low participation, with less than 90 per cent of students taking the state tests.
Charter school director Bob Moore said Tuesday that the school saw between 11 and 30 per cent nonparticipation for testing in most grade levels. "We have to see if we can get a higher percentage of participation rate of our students," Mr. Moore said. He said students have been opting out of the test, likely without realizing the impact it would have on the school.
"We're going to work on it . . . . informing the community about the importance of participating in the test," he said.
Mr. Moore said he was pleased with results from students who did take the test.
Charter school 10th graders saw a slight dip in the percentage of students rated advanced or proficient, with 88 per cent in English and 75 per cent in math. Both numbers are slightly below the state averages.
At the regional high school, MCAS scores for 10th graders remained strong and changed little from last year, with 95 per cent of students rated advanced or proficient in English language arts, 85 per cent of students advanced or proficient in math, and 82 per cent of students advanced or proficient in science.
State averages are not available for PARCC scores, because not all students took the test. But more than half of all third through eighth graders at Island schools were ranked as meeting or exceeding expectations on the math and English language PARCC test this year. In Chilmark, 90 per cent of students scored as meeting or exceeding expectations in English language arts.
While MCAS science scores were a weak point for Vineyard elementary and middle school students last year, the scores were back up and all above the state average this year. In West Tisbury 81 per cent of students ranked as proficient or higher.
And Vineyard eighth graders know their algebra. In Oak Bluffs, Tisbury and West Tisbury, the only three schools that had reported eighth grade algebra I results, 100 per cent of students ranked as meeting or exceeding expectations.
Next spring students sill take a new test, referred to as the next generation MCAS.
"That will be an adjustment too," Mr. D'Andrea said. The new test is a hybrid of the old MCAS and the PARCC, he said, and will be taken online like the PARCC exam. He said he was confident that teachers can help students meet the challenge. "They'll rise to the occasion," he said.