Edgartown teenager Charlie Fenske has received one of the top awards in Google's 2016 Science Fair, an online science competition open to young scientists between age 13 and 18 from around the world.
Charlie, 16, received the Virgin Galactic Pioneer Award for his project looking at synthetic jet actuators, which could help create faster and cheaper rockets.
The award was given to the student who uses an innovative, hands-on approach for an engineering challenge. Prizes include a $15,000 educational scholarship, a year-long mentorship, and a tour of the Virgin Galactic Mojave Air and Space Port in Mojave, Calif. Virgin Galactic aims to create the world's first commercial spaceline.
Charlie and his mother, Caroline Fenske, traveled to California from Friday, Sept. 23 to Wednesday, Sept. 28 for the final judging and awards presentation. The competition took place in Mountain View, where Google is based.
"It was amazing," Charlie said Monday. "The Google headquarters is incredible, a lot of great innovation happening over there, and a lot of new ideas."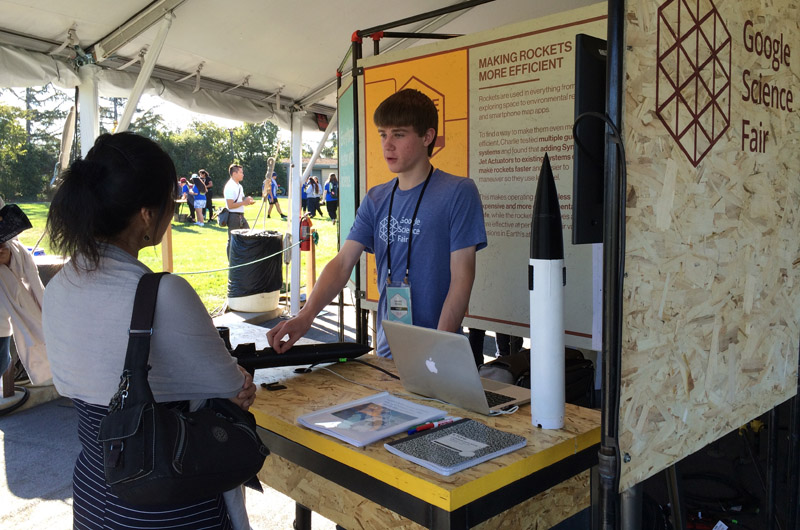 The young scientist is a Vineyard native and has long been interested in rockets and engineering, including building his own rockets since sixth grade. He just started his junior year at Falmouth Academy, and his long term goals include studying aerospace engineering and starting his own commercial aerospace company.
In August, Charlie was named one of the 16 global finalists in the Google science fair. The full name of his project, which also took first place at the Falmouth Academy science fair, the regional science fair, and the state science fair, is An Analysis of Rocket Guidance Systems to Enhance Space Flight Efficiency and Maneuverability.
In short, it would help guide rockets using less fuel, making them more efficient. Charlie built both a rocket and a wind tunnel to test his theories.
Last week in California he presented his project first at an informal presentation and then a formal presentation to the judges. Charlie knew his material well.
"I've been through three science fairs with this project already, so I wasn't nervous at all," he said.
Kari Byron from Mythbusters was the host at the awards ceremony, which Charlie said was far from boring.
He said he was "very, very happy and honored" to win the Pioneer Award. "If I was going to win anything it would be that award," he said, noting that it was a happy coincidence that the award sponsored by a spaceflight company went to a pioneering rocket project.
The grand prize, a $50,000 scholarship, went to Kiara Nirghin of South Africa for her project looking at using orange peels and avocados to help fight drought.
Charlie's trophy, made of Legos, survived the trip home and has a place of honor in his workshop, where he builds his rockets. He isn't sure yet when he will visit the Virgin Galactic Mojave Air and Space Port — perhaps a school break or the summer. His interest in aerospace will continue, he said.
"It's been very educational, and I've learned a lot," Charlie said. "A really great experience, the whole science fair — different than normal school, actually inventing something and making a contribution. It's really amazing."