This winter, Vineyarders visiting the mainland won't be able count on Pie in the Sky cookies or popovers to make the wait for the steamship any shorter. The popular Woods Hole bakery plans to close during the off-season for remodeling. Plans include demolishing the existing building and replacing it with one similar in style and size, but with extra room for storage and food prep, and a bathroom.
Though Pie in the Sky still needs to get the building permit finalized and has no official timeline, owner Erik T. Gura said that the hope is to close the cafe for the winter with the remodeling to be completed by the start of the summer season. Jan. 1 is a possible closing date.
The building sits on a .06-acre lot at 10 Water street and was originally constructed in 1928, according to assessors records, though it's estimated a reconstruction was completed in the 1950s. Mr. Gura said he has been planning renovations for several years, including stalled plans in 2012 to add a basement and a second floor. He also abandoned plans last year for a basement and kitchen addition. The current plans include replacing the building with a modular building constructed off-site.
Project architect William F. Roslansky presented plans to the Falmouth historical commission on Oct. 4, which were approved. The plans showed a slight expansion of the first floor from 800 to 867 square feet though interior seating and the configuration of the bakery remained the same. Some outside tables will be lost to make room for the bathroom.
Current furniture and signs will remain, as will the bay window facing Vineyard Sound.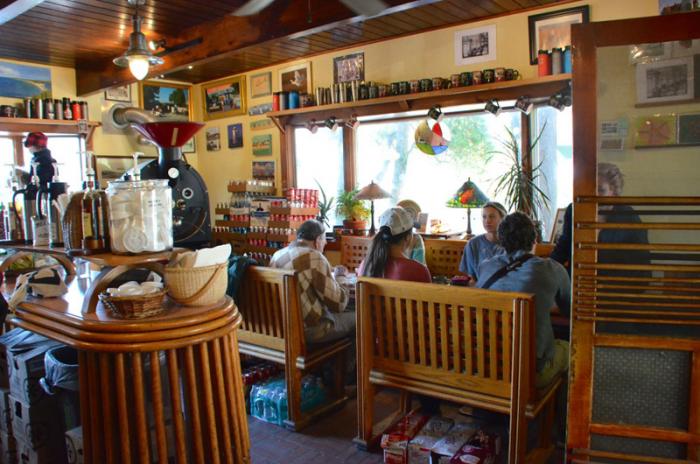 On the phone with the Gazette, Mr. Gura said he appreciates the flow of Vineyarders through his shop, from high school sports teams to vacationers waiting for the ferry.
"I've got a bunch of friends over there too," Mr. Gura said. "It's really nice to be a part of the Vineyard community."
In an email, he said the building is worn out and in need of an update. He said he hopes to stop storing soda boxes in the dining room and that no one will miss the make-shift decorations. He asked the community to be patient with the renovations.
"Just like the tall ships I used to work on, every so often they need a mid-life refit to remain seaworthy," he wrote.