Johnny Hoy was way out of his element. He can stand in front of his band, the Bluefish, and mesmerize a room. He can catch a bushel of oysters with a homemade rig in a broken down boat, often giving them away to repay favors or spread good will. He can open up a salt pond late at night when the tide is right with just a shovel and a propensity for back breaking labor, so that herring can swim in from the ocean. He can build a fireplace with stonemason's skills that reflect his creative ingenuity.
But he wasn't doing any of those things Wednesday night at the Portuguese American Club, when he accepted the Creative Living Award from the Permanent Endowment of Martha's Vineyard. His job on this night was to acknowledge the qualities that have made him an icon in these parts for more than three decades. That's the one job he's not very good at. He may have the greatest humility to achievement ratio of anyone on the Island.
One after another, friends spoke of his accomplishments as a friend, a stonemason, a fisherman and a hard driving practitioner of "bluesy dance music." They did it with humor and respect, touching solemnity and joy.
Roberta Kirn, a lifelong friend, said she thought of her family and Mr. Hoy's family as one, and thought of him as a brother. She led the crowd in an a capella musical tribute, an old gospel standard which included the lyrics:
Let the life I lead, speak for me
Let the work I do, speak for me
Let the friends I have, speak for me
When I'm lyin' in my grave and there's nothing more to say
Let the friends I have, speak for me
John Abrams, president of South Mountain Company, spoke of Mr. Hoy's conviction in whatever work, art or craft he pursues. He offered high praise for masonry projects completed on time, despite his impossible schedule.
"Masons who are musicians and fishermen, they keep odd hours," Mr. Abrams said. "It's always an event when John shows up on time. Somehow he manages to get it done on time and on budget with great creativity and craft."
Whit Griswold, an Island writer and fishing buddy, brought down the house with a story of Mr. Hoy's first trip to Martha's Vineyard. He came with a couple of friends in 1978.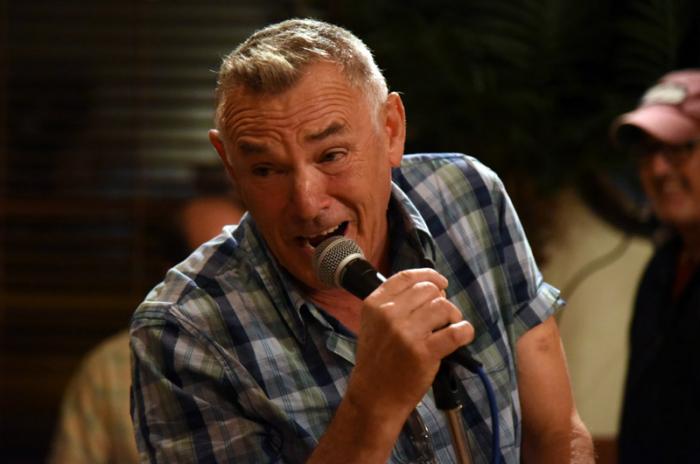 "He came here to fish," Mr. Griswold said. "He towed a rotten boat here on a rotten trailer from Connecticut. The trailer broke down. They abandoned it. They launched the boat and chugged over here and dropped anchor in Edgartown Harbor. They knew how to catch fish. After the boat sank, for the second time, he decided to fish from the beach, where they also slept, until it rained, when they set up camp under the big bridge, which, when you think about it, is the perfect example of creative living."
Jeremy Berlin, who has been keyboard player since the inception of the Bluefish, got out his calculator to catalog what he called a musical combination of whimsy, poetry, humor and sadness that has created a varied and strong body of work.
"Over the past 23 years, we've played north of 5,000 gigs," Mr. Berlin said. "About 200 to 225 a year. I figure that's between 10,000 and 15,000 sets. I've never known anyone who works so hard. I could point out the hard work that it takes to call a set, to read the crowd night after night, set after set, song after song. I can speak to Johnny's respect and admiration for the great traditions that we draw from, but more importantly, his demands that we not be bound by their confines. His greatest fear is genericism."
Then the award recipient approached the microphone. Earlier, he warned the band to be ready for their post award set, and Mr. Berlin said he half expected the band leader to skip any speechifying and simply count off their post ceremony set.
Instead, Mr. Hoy offered short but heartfelt remarks, while deflecting praise to previous recipients of the Creative Living Award.
"Wow," he said. "I didn't expect to be so touched. Thank you so much for those kind words. I'm just glad I can play music. I'll just let the music speak for me. It's a real big honor to be thought of in the same breath and on the same list with all these guys who have won this before. That's a bunch of heavy hitters. I'm looking out at about a hundred past and future winners. I hope I can come to your parties, too. This is a beautiful surprise."
With that, the crowd pushed back the chairs to make a dance floor, and Johnny Hoy and the Bluefish pitched into some old familiar tunes. Everyone was smiling.
"No one I know," said Mr. Griswold, "has put more smiles on more Vineyard faces over the last three decades."