On Wednesday morning, Amy Traverso, senior food editor for Yankee Magazine, and Richard Wiese, television host and explorer, were ready to go scalloping with Edgartown shellfish constable Paul Bagnall for an upcoming WGBH production, Weekends with Yankee. But first they needed to film the introduction. Mr. Bagnall pulled out his go-to line.
"A shellfish constable is a mix of a cop and a babysitter," he explained.
Mr. Bagnall was joined by Rick Karney, Warren Gaines, Rob Morrison and Donny Benefit. Mr. Benefit's boat Pay Day was tied up in the dock. The men joked about the early autumn chill while Matthew Fletcher, the sound guy, clipped microphones to their collars and associate producer Adrienne Rahn ran around making sure everything was going according to plan.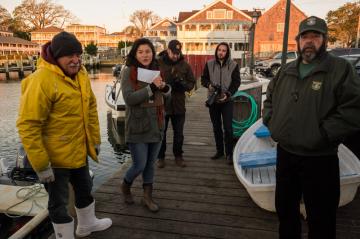 Weekends with Yankee is a 13-episode travel and lifestyle documentary series slated to premiere in April 2017 on public television. Mr. Wiese and Ms. Traverso are visiting all six states in New England, spending time in various communities, and creating short films about the people they meet. On the Vineyard, in addition to scalloping with Mr. Bagnall, the crew visited with Doris Clark for a tour of the Camp Ground in Oak Bluffs, and stopped by MV Mycological, the mushroom enterprise in Chilmark.
Director Rennick Soholt prepped the fishermen for the early morning scalloping shoot.
"We try and shoot like a documentary, the camera doesn't exist," he said to the men gathered. "You're always talking to Amy or Richard, our host. I'll probably have you repeat things again and again, but hopefully it's fun."
Mr. Bagnall told Mr. Soholt about first coming to the Vineyard in 1968.
"I thought I died and went to Heaven," he said.
While some people on the production team had never been to the Vineyard, host Mr. Wiese visits every summer with his family, staying in a friend's house in Lambert's Cove.
"My son caught his first fish off a dock in Oak Bluffs," Mr. Wiese said.
A long time New Englander, Mr. Wiese has traveled the world for work. Weekends With Yankee is giving him a chance to come back home. "For me, it's rediscovering it," he said. "Every time I'm on these shoots I think, would I take my wife and kids to do this?"
Scalloping might not top his young children's to-do list, he said, though they are quite good at catching crabs and collecting shells.
Ms. Traverso, an eager scallop consumer, was interested in the process behind gathering the tasty morsels. "I wanted to see what it takes to harvest bay scallops," she said after returning to the dock. "I'll never complain about the price of scallops again."
While on the water, Ms. Traverso demonstrated that her skills as senior food editor go beyond writing and editing. She created a quick scallop crudo, with a lemon and orange dressing (three parts lemon, four parts orange, a half-inch knob of ginger, little bit of oil), along with some thinly sliced shallots and Serrano chili. Then she garnished everything with Aleppo chilli (a bit like crushed red pepper), sea salt and mint leaves.
"Out in the cold, the warm chilis felt good," she said.
The Vineyard was just one stop on the tour, and the team would soon be on their way to other destinations around New England. Meanwhile, Mr. Bagnall returned to his job of policing the shellfish and babysitting the fishermen, or was it vice versa?