In a thrilling overtime victory decided on penalty kicks, the Martha's Vineyard boys soccer team defeated Dover-Sherborn High School 4-2 (in penalty kicks) in the south sectional quarterfinal match.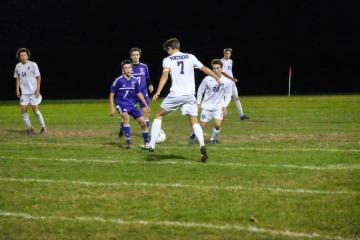 The game was tied 0-0 after regulation play ended. It was still tied after two overtime periods. In a tactical move, coach Esteban Aranzabe switched out goalie Joao Goncalves, who had played the entire game at the position and brought in Julian Carter from the bench for the penalty kicks.
Athletic director Mark McCarthy described Carter's play as amazing. "He stepped up coming off the bench and made two incredible saves," he said, adding that Goncalves had played an unbelievable game too, holding Dover-Sherborn scoreless in regulation and in overtime. "Having two experienced goaltenders on the team really came in handy."
The Vineyard now moves on to play in the south sectional semifinal game on Thursday against sixth seeded Medway. The game begins at 4:45 p.m. at Bridgewater Field in Bridgewater.