In recent years we have been spoiled by the abundance of snowy owls in the winter. "How many snowy owls will be here this winter?" is a question that many people are asking. And it is a question without an answer since I cannot find any predictions, or find any information on whether their Arctic nests were successful this past summer. Nest success is the most likely explanation for why we get invasions of the Arctic-loving snowies.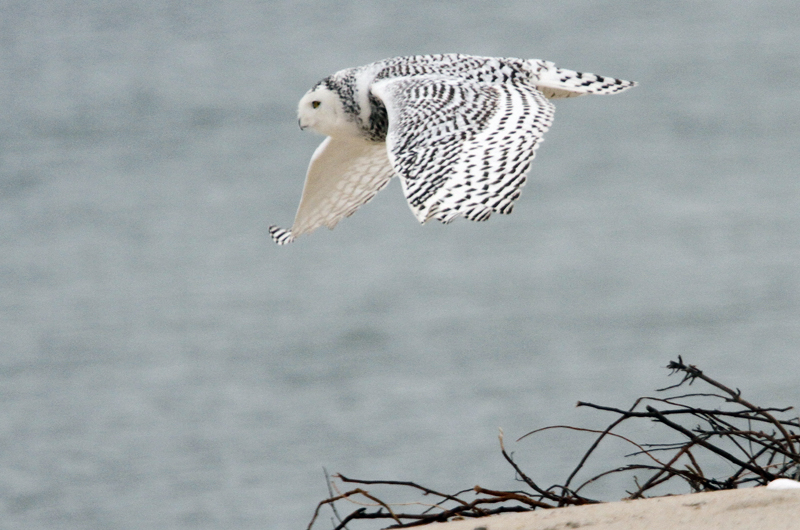 Antone Lima found the first snowy owl of the season on Cape Poge, just north of the Cedars on the morning of Nov. 18. His photographs show a relatively dark individual (for a snowy), so it was probably born this past summer. No one else has reported this bird as of Nov. 21.
How long will it stay? In recent years we have been spoiled by an unusual abundance of these owls that have stayed for much of the winter. During the winter of 2013-2014 we had an estimated 25 or so snowy owls that were present across the Island for most of the winter. The following winter we had about 8 to 10 snowy owls, again many of them were here for most of the winter. Last winter we had three snowy owls, mostly along the south shore of Edgartown.
These last three years have been so different from the historical (pre-2013) pattern. Back then they were irregular winter visitors (they were not seen every year) and their visits tended to last only a few days or a week. Which pattern will we see this year?
Other Sightings
Robins have been scarce or absent recently, as most or all of our summer resident breeders are long gone for points south. Susan (Soo) Whiting reports that five robins showed up this week to eat her holly berries. And I observed a small flock of them along the trail connecting the Oak Bluffs School to Farm Pond on Nov. 20. They were eating juniper berries. Such flocks eating berries are characteristic of our winter-resident robins.
Luanne Johnson reports a single red-winged blackbird visited her feeder for about 15 minutes on Nov. 19. This bird might also be attempting to stay through the winter.
Robin Bray had a winter wren pop up briefly in her yard on Nov. 19. This brief time to observe them is a characteristic behavior for this small dark wren that likes to live deep in thickets. Ms. Bray also has lots of red-breasted nuthatches coming to her feeders, as do Penny Uhlendorf, Susan Whiting and Dan Bradley.
Fish crows commuting between the Vineyard and the Cape are increasing their abundance. These commuters fly over Scott Stephens and Penny Uhlendorf's house every day, and they report that they are more abundant, more visible and vocalize more as they fly overhead.
Stephen McGhee reports a fourth location for bobwhites, as he spotted a covey near the Menemsha Inn on Nov. 14. The other sites are Panhandle Road, Brookside Farm and Blacksmith Valley. This is more quail that we have had reported in quite a few years.
A new event this year is a Christmas Bird Count just for kids! It will be held at Long Point Wildlife Refuge on Sunday, Dec. 11, from 8:30 to 11:30 a.m. This event is modeled after the annual Christmas Bird Count. Children will be loaned a pair of binoculars and taught how to use them before they are guided around the sanctuary finding and identifying birds. Pre-registration is required, so please email mpeach@thetrustees.org.
Winter residents are arriving and rarities are still migrating through. Please look for them and report your sightings to birds@mvgazette.com.
Robert Culbert leads Guided Birding Tours and is an ecological consultant living in Vineyard Haven.