Dasher and Dancer and Donner and Blitzen may have had the night off but there were plenty of reindeer in Post Office Square on Wednesday night to celebrate the annual Oak Bluffs tree lighting.
Event organizers Christine Todd and Mary Lombardi passed out over 100 furry red antlers which revelers donned as they drank hot cocoa, visited with friends, listened to the Vineyard Brass Band and waited for the man in the red hat to arrive.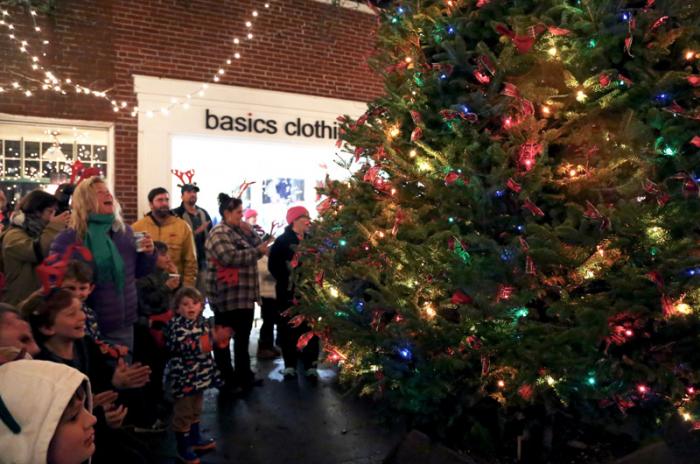 "Rain or shine, Santa shows up no matter what. Just like Christmas, in a storm or a blizzard, he's there," said Ms. Todd, who had many calls earlier in the day asking if there would be a rain date due to the evening's forecast.
Shortly after the tree was lit, the Brian Weiland Band led a chorus of spirited young carolers outside of Offshore Ale singing Christmas favorites such as Rudolph the Red Nosed Reindeer and Jingle Bell Rock. Their red antlers bopped along to the music as a crowd gathered behind them.
Forgoing his sleigh, Santa caught a ride into town on an Oak Bluffs fire truck. The crowd cheered and waved as he passed by. Once out of the truck he gave high fives and posed for photos with his fans, including 18-month-old Alaina Pennant, bundled up in a pink snowsuit.
"She's terrified," Santa acknowledged.
The event is also an opportunity to collect donations for the Island Food Pantry, with revelers asked to bring non-perishable food items. The next morning, Ms. Todd and other members of the Oak Bluffs Association sorted through the many boxes of donations collected. Ms. Todd said she was pleased with the turnout, especially in light of the weather forecast.
"It such a nice simple community event," she said of the evening's festivities. "It's an old-fashioned Christmas celebration."
More photos of the Oak Bluffs tree lighting.