As the developers of a proposed athletic complex at the Martha's Vineyard Regional High School prepare for a highly anticipated public review next year, speculation continues around the effect of artificial turf playing fields on the Island.
Martha's Vineyard Commission staff members plan to meet with attorney Sean Murphy next week to prepare for a public hearing that may begin as early as January. The Chilmark and West Tisbury selectmen, along with the community group MV@Play, which plans to develop the new complex, all referred the project to the MVC this year as a development of regional impact (DRI) amid public concerns.
Tensions have simmered in recent months, with many eager to replace the high school's aging grass fields with artificial turf, and others just as eager to invest in natural surfaces. A three-phase project including seven new playing fields would start with an artificial field for lacrosse and field hockey and a new track.
Public concern has focused at least partly on the artificial-turf industry itself, which saw rapid growth around the turn of the millennium, but has come under increasing scrutiny in light of potential risks to human health and the environment. Some have also raised concerns about business practices in the region, where public-private partnerships such as the one between MV@Play and the high school have allowed for private bidding and may limit competition among contractors.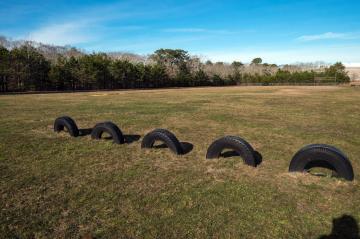 More than 12,000 synthetic fields are now scattered around the country, including several hundred or more in New England, with mixed results over the years. An observed increase in sports injuries, among other things, has caused some communities and organizations to revert to natural grass, including a number of major league baseball teams. At the same time, dozens of towns and cities are voting not to make the switch in the first place.
Last week, an attorney at The Ferraro Law Firm in Miami sent a letter to Island schools superintendent Matthew D'Andrea warning of what he saw as a new wave of mass tort litigation — akin to widespread legal action against tobacco, asbestos and pharmaceutical companies — on the horizon, with Martha's Vineyard in its path.
"The consensus within the mass tort plaintiffs' bar is that it is not a matter of if, but when, synthetic turf litigation will commence," attorney James Ferraro Jr., a summer Island resident, wrote in the letter. "As we have seen in asbestos litigation, massive lawsuits often drive manufacturers into bankruptcy, leaving premise owners as the only responsible party. In the case of a school, with a fundamental obligation to protect its students, and advanced notice of potential harm, the school will be held fully accountable."
But others have their own points of view.
"I wouldn't put too much into that letter," MV@Play member Robert (Spike) Smith, who spearheaded the efforts at the high school more than a year ago, told the Gazette this week.
In any case, it's unclear exactly who would be sued, since a license agreement between the high school and MV@Play would appear to free the high school of all liability related to the project. Mr. D'Andrea did not return a call this week seeking comment.
What is clear is that Mr. Ferraro's warning reflects a growing concern surrounding artificial turf fields. (Chemicals are often present in natural grass as well, including herbicides and pes ticides.) Studies have generally found no elevated health risks associated with artificial turf, although experts have acknowledged that the data is largely incomplete. And as Mr. Ferraro points out, much of the science has been funded by the turf industry.
The Environmental Protection Agency, working with the Centers for Disease Control and Prevention and other agencies, launched a study this year looking at the crumb-rubber infill (made from recycled tires) used in most artificial fields. But the study stops short of investigating alternative infill materials such as the kind proposed for the Island, and the different varieties of artificial grass. A status report is expected this year.
The turf industry has voluntarily agreed to reduce the amount of lead in its products, in line with the Consumer Product Safety Improvement Act of 2008. And FieldTurf, AstroTurf and Beaulieu, three industry leaders, have all settled lawsuits in California, agreeing to much steeper reductions. But the industry remains largely unregulated, Mr. Ferraro said, with lead and other toxins still commonly used in the products.
Health risks aside, many communities have sued over breaches of contract, after their artificial turf fields failed under warranty and were not replaced. FieldTurf in particular has come under fire in recent years after installing more than 1,000 fields that contained defective monofilament fibers known as Duraspine. In 2011, FieldTurf sued manufacturer Royal Ten Cate, which has stopped producing the fibers.
Mr. Ferraro pointed out in an interview with the Gazette that FieldTurf's parent company, the flooring manufacturer Tarkett, has been named in a number of mass tort lawsuits related to asbestos. The company has since replaced more than 240 of its defective fields.
The Vineyard proposal is perhaps among the more progressive in the state, calling for an organic infill that has been on the market only a few years. But a final plan will likely come only after the MVC review. Project manager Kathy Hervol of Gale Associates, which is designing the project, said she knew of only three other such fields in the state, all designed by Gale using an infill produced by carpet giant Shaw Industries. But according to a company document on the Gale website, the Geofill material has some drawbacks of its own, including a need for hydration, a shorter lifespan and lower stability under UV light — one defect cited in FieldTurf's lawsuit against Ten Cate.
As with FieldTurf, Gale Associates specifies an eight-year warranty for its fields, but Ms. Hervol said it's up to the contractor to honor the warranty. MV@Play has yet to choose a contractor for the Island project, although its agreement with the high school allows it to bypass public bidding laws and choose the company it desires. The group would essentially take ownership of the property and give it back when the project is completed. Mr. Smith said R.A.D. Sports of Rockland was the top choice, but that may not be final until after the MVC review. "They are the premier contractor in this area," he said.
Ms. Hervol said the question of whether the project would be bid publicly or privately was out of her hands, and that most projects she has managed at Gale went the public route. But even so, she added, it's often the same five or six companies that tend to bid, and last summer, she said, about two out of five projects that she worked on were given to R.A.D. But she maintained that the decision here was up to MV@Play.
"We probably gave them some recommendations of companies we've used in the past successfully," she told the Gazette in October. "We've worked with several that are quite good."
Editor's Note: This article has been updated to remove comments from a turf consultant that were later retracted.