On Martha's Vineyard, the hungry children are hard to see. They're not starved to emaciation like famine victims pictured in international news reports, and they're not obese, like many low-income mainland Americans whose most affordable meals often come from fast-food restaurant chains not found on the Island. They may not even be poor.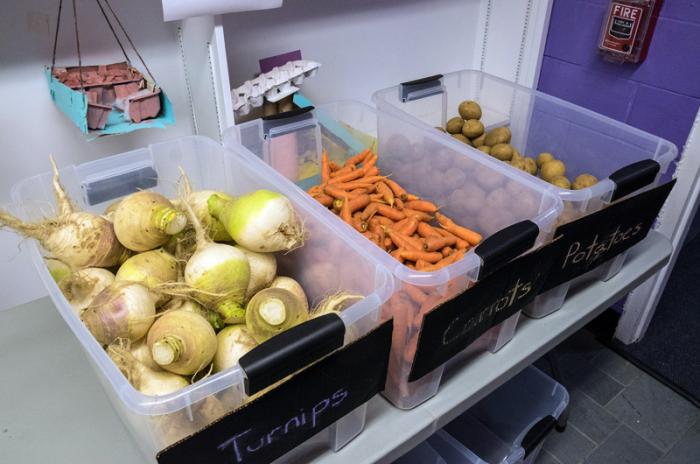 But they're here, hundreds of them, in every Vineyard town and school. "We do have kids that are absolutely hungry. They're living day to day being hungry, they come to school hungry," said Donna Lowell-Bettencourt, principal of the West Tisbury School, where 30 per cent of students qualify for free and reduced-price lunches — a rate higher than the Islandwide average of 25 per cent. Until West Tisbury began serving breakfast this year, school nurse Kristine Cammorata regularly provided children with instant oatmeal.
"Prior to the breakfast program, I would see lots of kids come in first thing and maybe not say that they were hungry, but with stomachaches and headaches," Ms. Cammorata said. "The first thing I ask is, did you have breakfast? And most of them hadn't."
Ms. Cammorata still keeps oatmeal on hand for emergencies. But with head cook Jenny Devivo dishing up breakfast for dozens of children daily, "I have seen a dramatic decrease in that kind of visit to my office," she said.
Other Island schools are also making sure their students have nutritious food during the day. Several, including the high school, serve breakfast before the first bell, while cafeteria cooks partner with the nonprofit Island Grown Schools and food purveyors to offer healthy lunches made with Vineyard produce, fish and meat. At the Oak Bluffs School, a pilot, privately-funded backpack program sends kids home on Fridays with food to share with their families over the weekend.
But when school lets out in June, hungry children no longer have a place where they can get nutritious breakfasts and lunches. "They leave the school year and they get one meal a day," Ms. Devivo said.
Children from food-insecure families have a tougher time coming back to school after weekends, school vacations and especially the months-long summer break, said Island Grown Schools program leader Noli Taylor. "They have a harder time catching up with their education because they haven't had adequate nutrition at home while school's been out," she said.
Ms. Taylor and others are now working to launch the Vineyard's first federally-funded summer food service program for children 18 and younger. An extension of the U.S. Department of Agriculture's National School Lunch Program that pays for free and reduced-price school lunches during the academic year, the summer program establishes meal centers in areas identified by the USDA as having families at risk of food insecurity.
In 2016, agencies sponsoring such centers in rural communities across the country were reimbursed about $6.77 for every three meals prepared, according to information from the Boston-based hunger relief organization Project Bread.
"It's a pot of money that could help make sure all the kids who need food have access to food through the summer, and we just haven't been taking advantage of it," Ms. Taylor said.
An interactive map on the USDA website (fns.usda.gov/capacitybuilder) shows half a dozen Vineyard neighborhoods that could be eligible to host summer meal sites. They're all down-Island: Based on the existence of federally-funded multi-family housing and a federally-qualified nonprofit health care center, the map identifies two areas each in Edgartown, Oak Bluffs and Vineyard Haven.
Ms. Taylor cautions that the census-based USDA data can be "goofy" when it comes to the Vineyard's zones of eligibility for the program.
"One is in West Chop," she said. "We have to make sure we can pick sites where children are, because if we're up in West Chop with a table full of food, it's not going to really pan out." To that end, she has begun networking with the Massachusetts Department of Education to zero in on locations with the most Island children, so areas of need won't be left out.
West Tisbury Library director Beth Kramer has offered to make space in the library available as a summer meal site. A privately-funded pilot program during the last school year provided snacks at the library during school vacations, serving approximately 30 children, Ms. Kramer said.
To plan the launch of the Vineyard summer meal program, Ms. Taylor has invited Project Bread's Rachel Garside and Ruth Campbell of the volunteer-driven Food4Kids, which operates more than 15 meal sites on Cape Cod, to a meeting Jan. 12 at the St. Andrew's Episcopal Church parish hall in Edgartown. Those who want to attend are asked to email Ms. Taylor (noli@igimv.org) by Jan. 6.
In addition to determining the best locations for the meal centers, Ms. Taylor said the summer food program will need a sponsor to plan meals, source ingredients and personnel and handle the "mountains of paperwork" involved in receiving reimbursement from the federal government through the Massachusetts Department of Elementary and Secondary Education. And time is tight: Program deadlines require a sponsor to be in place by February so training can take place in March.
Once all the regulations are satisfied, the meal centers would open at the end of the school year and offer food to all children who come in hungry, Ms. Taylor said. And chances are good that the meals will include fresh produce from Island farms. "In the summer, we have this incredible gleaned food bounty, so I think there's a lot of potential to get fresh local food in these lunches," she said.
Dr. Michael Goldfein, the longtime Island pediatrician who began practicing here in 1977 and recently retired, said he has seen the effects of poor nutrition on children's health first-hand. "Type 2 diabetes — it was never a childhood illness when I was training. Now it is," he said. Dr. Goldfein lays the blame on poor nutritional choices and rewarding children with sugary sweets. He also feels that physicians have "dropped the ball" on child nutrition after infancy, failing to advise parents on healthy eating options for older kids.
Yet even parents who want to make the best choices for their children can be stymied by high prices for the most nutritious foods. "As much as I'd like to eat organic, healthy, fresh food every day of the week, that's impossible," said Esther Laiacona, a working mother of two who lives in Edgartown."I'd have to spend $1,000 a month."
There is some good news: Island families on food assistance will soon be able to take advantage of a program that credits back their purchases of fresh vegetables and fruits. The program is rolling out across Massachusetts this winter, Ms. Taylor said.
Meanwhile, Island food activists, including school cooks, have a determination to bring the freshest food possible to Island children that sometimes borders on zeal. "Today we're having salmon and roast pork," said Edgartown School head cook and kitchen manager Gina DeBettencourt on a recent morning. Her extensive salad buffet included roasted beets and fresh carrots from Island farms. There was also roasted garlic from the school's own gardens, which provide enough produce in season to stock the cafeteria's industrial-size freezer.
"Nobody gets more opportunities for food than the people of Martha's Vineyard. We are blessed," Ms. DeBettencourt said.