Cheryl B. Stark, the iconic Vineyard artisan and co-founder of CB Stark jewelry store on Main street Vineyard Haven, died Jan. 2 at her home in West Tisbury. She had recently celebrated both her 70th birthday and the 50th anniversary of the store.
Cheryl Stark came of age as an artist during the counter-culture era on the Vineyard in the late 1960s and early 1970s. She later built a thriving year-round business enterprise with clients around the world, with her longtime wife and business partner Margery Meltzer.
Born and raised in Scarsdale, N.Y., she first came to the Vineyard in 1966 when she was 19 and a student at the Museum School in Boston. She had taken a course in jewelry making and was drawn to silversmithing."I thought I had found my thing. It was great," she said in a September 2016 interview in the Martha's Vineyard Magazine. She saw a notice on the bulletin board at the school inviting artists to Martha's Vineyard.
"I took the bus down, met Sydna White's mother who told me she had an Island Craft Center," she recalled. "People were making things from clay taken at Gay Head. Rose Treat had her seaweed art."
Ms. Stark worked in the craft center tucked behind the old Linden tree on Main street Vineyard Haven. She made a silver peace sign and later a bunch of grapes, presaging the charms that would one day become the bread and butter of a thriving CB Stark enterprise.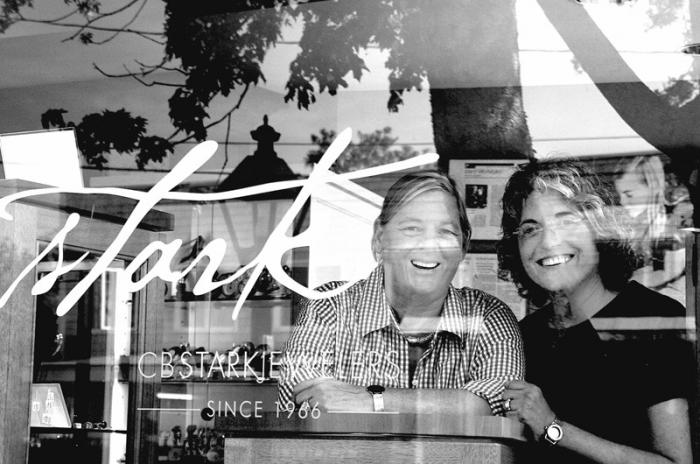 After working a few summers on the Vineyard, she returned for good in 1969, opening her first store in a garage on Water street in Vineyard Haven, where the Black Dog Bakery is today.
She met Ms. Meltzer, a musician and poet with a degree in philosophy, on the Island in 1972. They were inseparable, as a couple and as business partners. CB Stark jewelers has been an anchor business on Main street Vineyard Haven for decades.
"You can't make a living year-round on the Vineyard, but we have made the choice to keep our employees employed," Ms. Stark said in the magazine interview.
In late May the store hosted a small celebration to mark the 50th anniversary of CB Stark with cake and champagne. Ms. Stark turned 70 on the same day.
A celebration of her life is being planned for the spring, and a full obituary will appear in a future edition of the Gazette.
Donations in her memory can be made to the Martha's Vineyard Hospital Infusion Services, P.O. Box 1477, Oak Bluffs, MA 02557.
Arrangements are under the care of Chapman, Cole and Gleason Funeral Home in Oak Bluffs.