The Menemsha Channel dredging project, now in its second year, is churning away as a Jan. 31 deadline for completion looms again.
Town leaders in Chilmark and Aquinnah are cautiously optimistic that the project will be finished on time. There can be no dredging after Jan. 31, due to the start of the winter flounder spawning season.
The Army Corps of Engineers project which spans two towns was halted last year before the work was finished pumping sand from the channel onto Lobsterville Beach. The problems later drew the ire of some town officials after the contractor, J-Way Inc. of Avon, Ohio, left equipment strewn about and caused some damage at Red Beach on the Aquinnah side of the channel. The Army Corps reportedly fired J-Way and then decided to retain the company again to finish the work.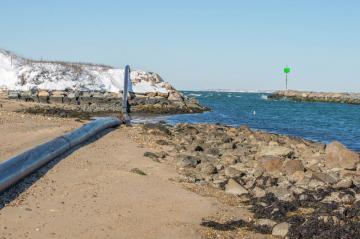 Dredging equipment arrived in October. Bret Stearns, director of natural resources for the Wampanoag Tribe who is helping coordinate the project, said there were some mechanical problems, including a blown bearing and a problem with the shaft on the dredge, that caused a two-week delay at the outset.
Marshall Carroll, owner of Menemsha Texaco, has been watching the work all fall. "I think they dredged a few days before Thanksgiving, then something broke, then they did a few days after, and something broke," Mr. Carroll said last week. But he said believed work has continued uninterrupted since Christmas, with two eight-hour shifts per day. "They are doing better than last year," Mr. Carroll said. "I think the worst is behind them."
Chilmark shellfish constable Isaiah Scheffer, who is monitoring the project in light of an oil leak and other environmental concerns last time around, had his own concerns.
"I would say that they haven't gotten very far," Mr. Scheffer said last week. "But in the last three days, it seems that they've moved at least 100 feet, and it seems like all their equipment is in working order. From what I can see, they have moved quite a bit in the last few days."
J-Way owner Allen Johnson did not return telephone calls from the Gazette.
By Jan. 31 last year, the company had moved about 16,000 cubic yards of sand through the pipeline to Lobsterville Beach in Aquinnah, which was damaged during Hurricane Sandy in 2012. About 45,000 cubic yards remained to be dredged.
Army Corps project manager Craig Martin said Friday he was unaware of how much sand had been moved to date, but he said progress reports by both the contractor and the Army Corps would be completed in the next few days. He added that J-Way is paid according to how many cubic yards of sand it moves.
Mr. Scheffer said he hopes the company will meet the winter flounder deadline, but he also noted a buildup of sand farther up the channel since the 1970s. "That's a lot of material they are going to have to move at the end," he said.
Efforts last year to improve communication among town officials, the Wampanoag Tribe, J-Way and the Army Corps led to a new system, with Army Corps representative Dennis McEleney now working to help relay information related to the project. (In response to an inquiry from the Gazette, Mr. McEleney referred questions to Mr. Martin.)
Besides the official communications, Islanders appear to be relying on direct observation from shore, and on the grapevine.
"News travels fast from the gas station," Mr. Scheffer said, referring to Menemsha Texaco.
"Unfortunately, it's been a hard start," Mr. Stearns said. "Everyone wants [J-Way] to succeed, so we are hopeful that things can pull together."