Folk musician, roofer, writer, sea-cook, baker, painter — it may be easier to list the things Joe Keenan hasn't done. Now 56 years old, he's gamely followed wherever life has taken him, from a shack on the side of the Connecticut river, to the stages of music halls in Northampton to the galley of a tall ship traveling the world.
For the last four years, Mr. Keenan has been living in the red house across from Alley's General Store. Inside the low-ceilinged home, a calico Manx named Murphy prowled a wooden table topped with a flickering plum-scented candle. Mr. Keenan hasn't been out to sea in 10 years, but he's been revisiting his travels as he writes Cooking on a Heel, a book 25 years in the making.
Joe Keenan first came to the Island in 1987 to play in a benefit concert for Island youth Ricky Philbrick who was seriously injured in an auto accident. Mr. Keenan had been busking around the New England area when his friend John Cruz asked him to join the show. Afterwards the musicians sat around a campfire and the conversation turned to boats. Someone mentioned they needed a cook aboard the Shenandoah.
"I didn't know then what that was, but I knew I could do the job and it would be fun," Mr. Keenan said. He was 27 years old and had spent a lot of time working in restaurants and bakeries as well as cooking aboard fishing boats. His great grandfather was a sailor, but Mr. Keenan hadn't anticipated a life at sea for himself.
He cooked aboard the Shenandoah for three weeks. It was the start of many things; a life on the Island, a career cooking aboard ships, and fodder for his stories and songs. It was also an introduction to a generous community that he immediately took to.
This year, it was Mr. Keenan who needed the benefit concert. Over the summer, working as a baker for Jan Buhrman, he was riding into work on his bicycle to pick up a large order of croissants for an Island Housing Trust benefit. He hit a curb and took a hard fall sustaining a broken hip that was left undiscovered for two months.
"The joke was we were going to do a Joe Keenan benefit starring Joe Keenan," Mr. Keenan said. He didn't host a concert, though. Instead he focused on his writing, sending out installments of Cooking on a Heel over email once a month to a small group of paid subscribers. Then Ms. Buhrman began an online fundraiser at youcaring.com to help Mr. Keenan with his expenses.
"He has been a great contributing member of our community on Martha's Vineyard for over 30 years," Ms. Buhrman wrote in the description. "Joe has shared stories and songs from around the world and brought us joy and laughter with his words and spirit."
Because he wanted to give something back to those helping him, Mr. Keenan offered to include all donors on his subscription list.
Mr. Keenan's memoir follows his adventures when he sailed around the world cooking aboard the Picton Castle, a training vessel for deep sea sailing. Aboard a ship for a long period of time, your world shrinks, he said. Even while visiting foreign ports all over the world, everything that matters is aboard the ship. Sometimes your world-space shrinks down to just your own bunk, he said.
"The only personal space you have on a ship or a boat is from the skin in," he added. "You can close you're eyes and that's about it."
Sometimes Mr. Keenan would get a cabin on his voyages as cook for hire, due to his status as chef. It's important to keep the cook happy, he said, because food is often the main source of comfort for the sailors.
"You're taking care of their belly and that's the most important thing for anybody."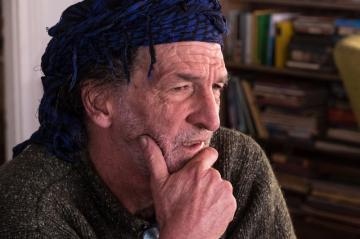 Mr. Keenan said the major difference between cooking in a kitchen and a galley is movement. A shifting platform sometimes means strapping the soup to a burner, and a wide stance is needed to gain sure footing. It also means careful planning. There is no running out for extra onions when living thousands of miles offshore.
Having trained in French and German bakeries, Mr. Keenan is as adept at flaky croissants as he is at hearty giant pretzels. And he didn't let limited space or rough seas deter him from baking a batch of pastries for the 50 sailors aboard the Picton Castle on their 13-month journey.
"The baking skills stand you in good stead because not a lot of people do that," he said. "People like fresh bread, they think it's a miracle."
As they made port all around the world, Mr. Keenan would explore the markets searching for local goods to incorporate into the next trip's menu. One installment of his book recalls a hunt for breadfruit on the Pitcairn Islands. Hunt is the right word too. Breadfruit is a grapefruit-sized, potato-tasting fruit that grows on tall trees. They had to shoot the fruit off the tree with a .22 rifle.
Giving up the land for the sea meant Mr. Keenan also had to choose between cooking and a music career. He'd landed a gig opening regularly for John Gorka at the Iron Horse Music Hall in Northampton when he was offered a job aboard a ship in the Marshall Islands. He called the owner of the Iron Horse from Hawaii.
"I said I've got good news and bad news. The bad news is I can't make the gig. The good news is I'm in Honolulu," he recalled with a laugh.
Though the life at sea disrupted his music career, it helped inspired his writing, both in music and in prose.
"If you're going to write the story, you've got to live it," he said. "So if you're going to write a song about going out to sea, you should go out to sea."
Mr. Keenan has put out four albums, many inspired by the rhythms of the ocean.
During his many years at sea, Mr. Keenan developed the patience to just let things be. It's an attitude that has helped with his hip injury, which has shrunk his world to the size of his home. He started painting and he works on his writing while navigating around the house on a pair of crutches. Though he looks forward to getting healthy and back into the kitchen, he also seems largely unperturbed by the interruption of his previous life.
"The captain will always tell you it will take two weeks and it takes six and you don't know when you will get into port so you stop caring after a while...you just as soon stay at sea," he said. "For me, this is like being on a big red boat, on a long trip."
To subscribe to Mr. Keenan's monthly installments, send a letter to PO Box 60 West Tisbury 02575 with $18 and your email address. To donate, visit youcaring.com/joekeenan-699897.