Martha's Vineyard food activists are moving ahead with a planned summer meal program for the hundreds of Island children at risk of going hungry whenever schools are closed.
More than 680 Vineyard students, or 30 per cent of the total enrollment of 2,350 students, were eligible for free or reduced-price meals at their public schools in March, 2015, according to the Massachusetts Department of Elementary and Secondary Education. Of these, an average of 475 relied on the lunch program daily, suggesting that 70 per cent of the eligible children may have no alternative when school is not in session.
Federal funding has long been available to feed children during summer vacation, but until this year there has been no qualifying program on the Vineyard.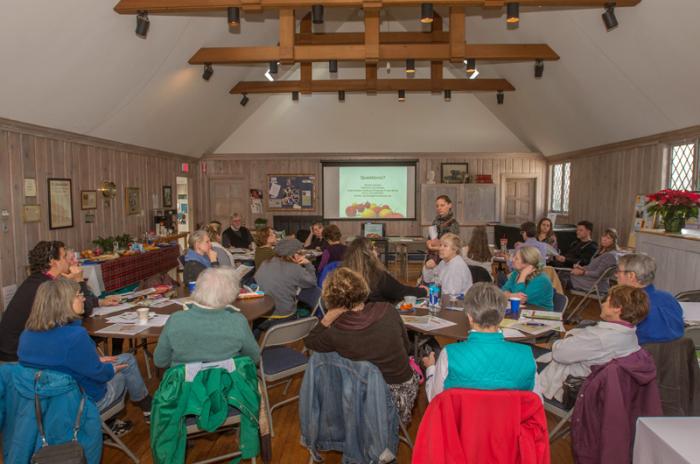 Noli Taylor of Island Grown Schools is working to close that gap. On Thursday afternoon, she gathered about 35 like-minded Islanders in the parish hall at St. Andrew's Episcopal Church to begin planning a local summer food service program for kids 18 and younger. Participants included representatives from the church suppers and Houses of Grace shelters, The Wampanoag Tribe of Gay Head, affordable housing communities, schools, non-profits and the food and farming communities.
The session began with a presentation by Rachel Garside of Project Bread, who told the group that the summer program feeds 50,000 Massachusetts children a day at more than 600 sites. Meals are reimbursed by the United States Department of Agriculture (USDA) through the state education department.
To succeed with a local food program, Ms. Garside said, certain elements must be in place: a strong coalition, a sponsor to take on the duties of meal-planning, personnel and paperwork, appropriate sites, and kid and teen-friendly activities to "take away the stigma" of receiving free food.
Financing is also important, said Ruth Campbell of Orleans, whose Food4Kids non-profit operates more than 15 summer food sites on Cape Cod. She joined the meeting to share her experiences as a veteran of the summer meal program.
"The first year was the trickiest [financially]," Ms. Campbell told the group. A line of credit from her church's Episcopal diocese enabled her to launch the program on the Cape in 2013.
The USDA program is designed to break even, reimbursing sponsors for the cost of every meal served to a child, however it doesn't take local economics into account when determining who is eligible.
"It costs 30 per cent more to live here, so I think there should be an adjustment for families," Ms. Campbell said.
Government logic also puzzled meeting participants as they looked at a map showing where the USDA believes the Island's hungry children live. The biggest area was West Chop, the second in Oak Bluffs. No other town was deemed eligible.
The meeting included breakout sessions, with different groups discussing various elements of the project: sponsorship, siting, volunteering and fund-raising. At the end of the afternoon, which included a visit by state Sen. Julian Cyr, Ms. Taylor was encouraged by the level of interest and commitment in the room.
"There's so much interest in the community, with so many potential sites and a couple of great potential sponsors," she said. "I'm hoping the stars will align."
The next step is identifying the sponsor, Ms. Taylor said. "Once we have a sponsor, we can start nailing down sites," signing up volunteers and raising money. Start-up grants for the USDA program become available in February and mandatory training takes place in March.
Ms. Taylor asks anyone interested in sponsoring, hosting or volunteering for the summer meal program to contact her at noli@igimv.org.