At the Martha's Vineyard Ice Arena on Friday night there was the usual mix of advanced and beginner skaters enjoying the free skate. Advanced skaters glided forwards and backwards, while beginners held on to the wall or in moments of true panic, another skater. But everyone on the ice had one thing in common; they had come out to support Tony Lombardi, who suffered from an Ischemic Stroke on Dec. 23, leaving his right side in a state of paralysis and making speech difficult. He is currently recovering off-Island at Spaulding Rehab.
Mr. Lombardi is the director of Alex's Place, the teen center at the YMCA. When asked what Tony means to the kids on the Island, Ryan Schwab-Doyon said, "Everything."
Ryan is a teen mentor at Alex's Place. "The teen center, Alex's Place, is basically a safe haven," he continued. "A lot of kids view Tony as part of their family, he'd go above and beyond for any of the kids."
Savannah Barnes, a junior at the high school, said Mr. Lombardi was the first person she met when she moved to the Island 11 years ago.
"People told me that if I was having a rough time to go talk to him," Savannah said. Savannah was with Mr. Lombardi when the stroke hit. Along with other kids from Alex's Place, she helped make soups and hot chocolate to sell at the skate-to-donate. All of the profits from the soup, hot chocolate and raffle sales along with 40 per cent of the skate admission fees went to Mr. Lombardi to help with his medical expenses.
Pete Lambos, the general manager of the arena, said the free skate was already in place so it was an easy decision to donate some of the proceeds to Mr. Lombardi.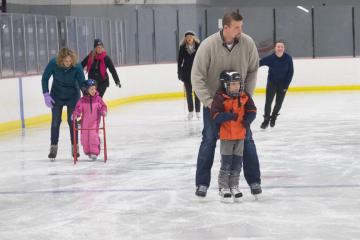 "People want to help out and this is a great way," he said. "We won't raise $1 million, but it's something."
Mr. Lambos and Laurel Redington, assistant director at Alex's Place, worked together to set up the skate-to-donate event and a group of kids rallied together to create the treats for sale. Mr. Lambos said Mr. Lombardi has always been a presence on the Island. He remembered back in his own youth that Mr. Lombardi was always trying to get a youth center for Island kids.
"There's a lot of people who know Tony," he said.
Ramon Espino, 22, stood to the side of the rink holding his one-year-old daughter Isabella. His sister Aide and his fiance Elizabeth were skating out on the ice. Mr. Espino met Mr. Lombardi when he was 10 years old. He said that Tony has always been a mentor for him.
"He is good at finding good traits in everybody," Mr. Espino said. "He's the reason why I'm now in law enforcement."
Mr. Espino works in the sheriff's office.
"He always pushed me to do more, do more, do more," Mr. Espino said.
As skaters circled the rink, it was clear how many people Mr. Lombardi has impacted on the Vineyard. But freshman Amelia Simmons summed him up as only a teenager can.
"He's a pretty chill dude," she said.
To donate to Tony Lombardi's medical expenses, visit youcaring.com/tonylombardi-735433.