On a day when hundreds of thousands marched in cities and towns across the country as part of the Women's March on Washington, Islanders gathered at Five Corners in Vineyard Haven Saturday afternoon to add their voices to the protest.
Many others had traveled to the mainland to march in Falmouth, Boston and Washington, D.C., on the day after the inauguration of President Trump.
In Vineyard Haven the crowd of about 160 people was big enough to spill onto two street corners.
"I have a number of friends with young families who wanted to participate, but logistically, couldn't make it to Washington or Boston or even Falmouth," said Susan Desmarais of Oak Bluffs, who helped organize the protest rally.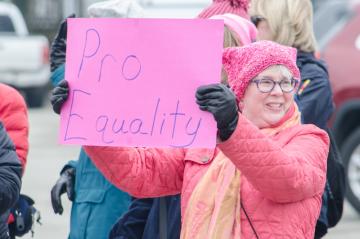 "Since the election, we feel our voices haven't been listened to, haven't been heard. I hope this will empower people, so we can effect the change we want."
Protestors waved colorful signs and drivers honked their horns and waved in solidarity. Some sang protest songs like This Land is Your Land, and We Shall Not Be Moved.
"There are a lot of people out there who are very afraid of Trump's program for America," said Ilka List of Oak Bluffs.