In 2000, as concerns echoed around the Island about the safety of moped rentals, Dr. Alan Hirshberg cast a scientific eye at the long-standing issue.
Then the director of emergency medicine at the Martha's Vineyard Hospital, Dr. Hirshberg started an observational study about moped, motorcycle and bicycle accidents on Martha's Vineyard, looking through hospital data and distributing surveys to those who came through the emergency room after accidents.
"There was a lot of debate about what was happening but nobody had actually looked at the statistics," Dr. Hirshberg, now a practicing physician in Washington D.C., said this week. "From a public health perspective we just wanted to find out to what extent is this problem occurring and what is the cause."
Seventeen years later the discussion continues, with moped rentals slated for discussion at town meetings across the Island. Because detailed records are no longer kept, Dr. Hirshberg's survey provides the most recent profile of moped accident victims, largely Island visitors with little experience driving mopeds. Their injuries were often more serious than those injured on bicycles or motorcycles, the survey found, and required emergency care at a higher rate.
The survey kicked off of a period of action as moped dealers and opponents agreed to improved training and safety measures, and moped accidents declined over the three years the survey was conducted.
The moped survey and response added another layer to 40 years of moped debate on the Vineyard, which has played out on several levels: in the court of public opinion and community activism; on the regulatory level, with decades of attempts at changing state legislation and tightening bylaws; and through the eyes of Island doctors, EMTs, and police officers, who have been at the front lines of reporting and collecting data about moped accidents and injuries, and are often witness to the human toll.
Through the years serious moped accidents have been followed by public outcry and attempts to reform bylaws or curb rentals, with varying degrees of success. This cycle began again last summer, when a 19-year-old woman lost part of her leg after she lost control of the moped she was operating and hit a dump truck on Barnes Road.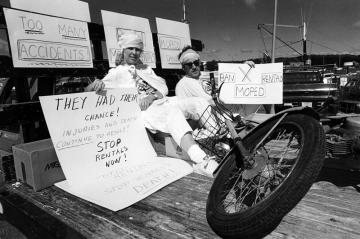 Efforts to restrict moped rentals on Island reignited, with discussions centering on Oak Bluffs, where three of four moped rental companies are located. The Mopeds Are Dangerous Action Committee recently filed a formal complaint with Oak Bluffs selectmen alleging lack of enforcement of moped permits and town bylaws and asking the board to declare moped rental company licenses null and void for the three companies in town.
Town officials have said they are investigating the complaint.
The moped action group also filed a petition for a town meeting warrant article asking Oak Bluffs to find the licenses of three rental companies —Island Hoppers, King Rentals, and Ride-On —null and void due to license infractions and violations of bylaws. The petition for the warrant article garnered 188 signatures, said Nicole Friedler Brisson, one of the group's leaders; warrant petitions require 10 signatures.
Through a separate process, an informal working group led by Oak Bluffs police chief Erik Blake was working toward a proposed amendment to moped bylaws for the town meeting warrant. Mr. Blake and town administrator Robert Whritenour did not respond to calls for comment.
Mopeds are likely to be up for discussion this spring at other Island town meetings as well.
Ms. Brisson said this week that the action group is seeking to have non-binding ballot questions in all towns asking residents whether they are in favor of eliminating moped rentals. The question has so far been cleared with every town except Vineyard Haven, she said.
There is no current effort to keep comprehensive data about moped crashes and injuries on Martha's Vineyard, though there were years in which that information was tallied by the hospital and other groups. Martha's Vineyard Hospital's new chief executive officer Joseph Woodin told the Gazette that such statistics are difficult and labor-intensive to compile, a comment echoed by representatives from the Martha's Vineyard Commission and fire departments.
Dr. Jeffrey Zack, until recently the director of emergency medicine at the hospital, told the Gazette in an email that ER documents are mostly on paper, and the current electronic system does not always record how someone was injured. A new coding system that will be implemented this spring might make data gathering easier, he said.
News reports from the Gazette archives paint part of the picture. Moped crashes have led to at least eight deaths between 1983 and 2014, according to stories in the Gazette, and to dozens of serious injuries, including permanent brain damage. Six of the fatal crashes involved visitors on rental mopeds who lost control of the moped and collided with another vehicle or, in one case, a utility pole. Accounts of the crashes often indicated that inexperience played a role in the accident, as did sand on Island roads. Three of the fatal accidents took place at a sharp turn on Beach Road in Oak Bluffs.
Victims have included a 58-year-old Pennsylvania man visiting the Island with his two daughters; a 41-year-old woman from New York city; a 22-year-old man from Springfield riding a moped up-Island on his day off, and a 65-year-old woman from Pennsylvania visiting the Island with her daughter when the moped she was driving collided head-on with another vehicle. In that case, a Catholic priest was on the scene and administered last rites.
Reports of moped crashes go back to the late 1970s, when mopeds arrived on the Vineyard. In 1977 the Gazette reported 200 moped accidents, of which 96 required hospital treatment. That summer Dr. Michael Jacobs gave a questionnaire to some of the accident victims that found that accidents took place during the day on dry roads strewn with sand or gravel, most often down-Island.
In 1977 the Gazette also ran one of the first of hundreds of letters to the editor about mopeds: a nine-year-old boy calling for mopeds to be banned from bike trails.
Accident reports fluctuated over the years, and at times the Gazette provided weekly updates about moped crashes and injuries based on reports from the hospital, police departments, the Martha's Vineyard Commission, and town officials. There were 108 moped related accidents reported in 1984; 80 people were treated in the emergency room in 1995. Eleven moped accidents were treated at the hospital over the Fourth of July weekend in 1989, and a half dozen moped accidents were reported during the same weekend in 2008.
Information about how many mopeds rentals take place each summer has often been hard to obtain, though there was a period in 2004 when the town of Oak Bluffs required dealers to provide weekly reports listing moped rentals and accidents.
Through the years activism also ebbed and flowed, ranging from protests outside moped rental companies to a repeated calls from hospital staff and Island physicians to suspend moped rentals or require moped operators to be tested and licensed as motorcyclists. In 1988 voters in all Island towns said they were in favor of non-binding referendums to eliminate moped rentals.
But efforts to curtail moped rentals, or moped use in towns, have been largely unsuccessful, though some safety measures have succeeded. Mopeds were banned from bicycle paths in the late 1980s. Helmet use became required by state law in 1988.
West Tisbury attempted to ban mopeds from the town, an effort that was overturned in the courts. Repeated efforts in the late 1990s and early 2000s by then state Rep. Eric Turkington to require moped renters to have a motorcycle license languished at the State House.
In 2003 Vineyard Haven selectmen tried to cap a moped rental company's licenses at 25; the dealer won a court injunction in the case.
The rise of moped concern, and attempts to take action, was clear in the early 2000s, the time of Dr. Hirshberg's study, which was published in the Annals of Emergency Medicine. The study showed those injured on mopeds were largely visitors on the Island for fewer than three days, usually female, and that accidents largely took place on weekends. Most accident victims had never been on a moped before, the study found, and received fewer than 10 minutes of instruction. More moped accident victims were hospitalized than those injured on bikes or motorcycles, the survey found, and moped accident victims required emergency care at a higher rate than bicycle or motorcycle victims.
Moped injuries went down over the three years of the study, from 66 in 2000 to 35 in 2002, a period of public awareness and action on the moped front. The survey information was first presented in the winter and spring of 2001, and moped owners and moped opponents agreed to implement a nine-point action plan to reduce the number of incidents. In exchange opponents agreed to back off legislation requiring renters to have a motorcycle license.
A few months later, on July 7, 2001, a 30-year-old woman from Virginia on vacation with her husband and two friends was killed when she lost control while driving a moped on Beach Road near Farm Pond and collided with a car. Five days later, a 60-year-old man from Florida sustained severe brain injuries aboard a rental moped when he was sideswiped by a car on Edgartown-Vineyard Haven Road.
In 2003 the family of Kate Dunnet Miller, the woman killed in July 2001, wrote a letter to the Gazette. "Now is the time to ask whether anything has been done to regulate the use of mopeds?" the letter from the Dunnet family of Annandale, Virginia said. "Please don't let another family have to go through what we have gone through. Please strengthen and enforce your moped laws. We know to our cost that, although mopeds sound like fun, they can also kill."
Following the accidents Oak Bluffs selectmen revisited the issue, focusing on how to improve public safety and better enforce town bylaws and calling for a reduction in moped rentals, according to Gazette archives. Moped owners said they would continue to focus on training.
Two years later Oak Bluffs selectmen voted to renew a moped license though the owners filed the application and paid their fee late, according to the Gazette archives. New moped bylaws enacted in the town, if enforced, would have allowed selectmen to revoke the license and taken 120 mopeds off the road, the Gazette reported at the time.
Anecdotally, at least, moped accidents appeared to fall in the new century, and the number of mopeds available for rent has also decreased, according to records, from more than 1,000 in the late 1980s to 348 last summer. This fall a moped rental owner in Oak Bluffs turned in his moped rental licenses in exchange for rental car licenses.
But since 2001 there have been at least two fatal accidents and several serious injuries aboard mopeds, and the issue of bylaw and license enforcement is a topic of discussion in Oak Bluffs, and around the Island, once again.