Sarah Isenberg's room at the Windemere Nursing and Rehabilitation Center has all the charms of home: a few choice artworks on the walls, a deck with a sliding door, a big couch and TV, the daily paper, photos of grandchildren and great-grandchildren.
On a blindingly bright afternoon this week, Mrs. Isenberg walked over to her flower-print couch, brought from home, carefully took a seat, and picked up a mug of black coffee from a folding table. At 99 years old, Mrs. Isenberg is still going strong, recalling her days as director of Hospice of Martha's Vineyard, a job she took in her 70s, and a life lived to the fullest.
"I did it the hard way," she said, ticking off her bachelor's degree in nursing and masters in gerontology, and noting the advanced degrees of her four children.
"And a PhD in living," she added. "I awarded that to myself."
Mrs. Isenberg moved into Wildflower Court, Windemere's independent living unit at the Martha's Vineyard Hospital, a little over a year ago, after living at home with a certified nursing assistant for several years. The arrangement has allowed her a high degree of independence at a much lower cost, and the benefits of living in a small community. But with an announcement last week that the hospital would begin the process of closing Wildflower Court, life has taken another turn.
It's likely that Mrs. Isenberg will move upstairs to the hospital's nursing home, although she's not enthusiastic about the idea. "I'm not giving up my independence yet," she said.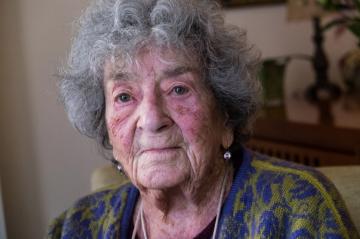 The 13-bed independent living facility has been something of a halfway point for elders not quite ready for assisted living or nursing care, but who for whatever reason can no longer live at home. Residency at the unit has dwindled in recent years, with several of the rooms now serving as temporary offices.
Following an outcry from the community over the planned closing, hospital president and CEO Joe Woodin said this week that the hospital will weigh its options, and that while it's possible the unit could remain open, it's not likely. The key issues have been financing and lack of volume, he said: "I don't expect that either one of those will change dramatically."
It was unclear what would happen to current staff members at the unit, although Mr. Woodin said the hospital would work to retain them.
"These are difficult, painful decisions," he said. "However, there is also the issue of making sure there is a vibrant program and that the finances are sufficient to carry that program. We are losing on average up to a million dollars a year in Windemere."
Over the weekend, Islanders expressed deep concern for the current Wildflower Court residents, and for future residents who may have one less option for elder living on the Island. Some mistakenly believed the entire nursing and rehabilitation center would close, while others were surprised to learn that Wildflower Court even exists.
Georgia Morris, whose brother Steven moved into the unit two summers ago, said her immediate response following the announcement was to ask whether the unit could somehow remain open, and what would happen to her brother. But all she could say after talking with Mr. Woodin this week was that it was too soon to know.
"There's a lot in play," she said.
"I'm kind of surprised at the reaction," she added, pointing to the low residency in the unit in recent years. "What it says to me is that we really need independent or affordable assisted living in our community. And people are coming out of the woodwork saying they need it." But at the same time, she wondered why residency was so low.
"I don't think half the community knows about it," said Mrs Isenberg's oldest daughter, Sally Cohn, who was making a regular visit to see her mother. She acknowledged that the hospital has advertised the unit in both Island papers, but she said that an open letter to the community may have been more effective.
Not everyone was surprised by the announcement. Dr. Nancy Langman, who has worked in all three units at Windemere (including the assisted living and nursing facilities), had learned some time earlier that Wildflower Court was no longer admitting residents.
"I think people have been aware that something is going on," she said, adding that Mr. Woodin has been up front with staff members about the financial challenges facing the hospital. "I certainly understand [the hospital's] decision, from both a fiscal standpoint and from a standpoint of what the world really is going to want going forward," she said. "It makes sense, but it's hard on the people who are there."
Mr. Woodin listed a number of other senior-living options on the Island, including the assisted living facilities at Long Hill in Edgartown and The Henrietta Brewer House in Vineyard Haven, and the elder apartments at Hillside Village and Havenside, both in Vineyard Haven, and at Woodside Village in Oak Bluffs.
"I think anytime you look at independent living, people usually have choices," he said, although he acknowledged that many Islanders cannot afford to live at home in old age.
Ms. Langman noted a trend among Baby Boomers to live at home with professional or family-provided care. "They don't want to go to facilities," she said. "So how do we begin to think about housing options that allow them to stay at home?" She added that many elders end up leaving the Island when they can't find the services they need.
Healthy Aging Martha's Vineyard, which has been looking into new types of elder service on the Island, conducted a wide-ranging survey of Island seniors in 2015 in which 13 per cent of respondents said they could not afford renovations that would allow them to stay in their homes.
"We don't have the final solutions by any means," healthy aging chairman Paddy Moore told the Gazette this week. "As elders age and become more totally dependent, the economics are just scary." She cited round-the-clock wages of $25 or $30 an hour for professional live-in care. She saw Windemere as "a desperately needed facility."
"At some point in time, nursing home care is totally appropriate," she said, noting the range of financial need on the Island, and the importance of both public and private coverage. "What one ideally would want in a nursing home is a payer mix. I think that's the only way that you could make this kind of stuff work."
Upstairs from Wildflower Court early this week, the late afternoon light streamed into the hospital's 61-bed nursing facility, which is almost full. A few patients in wheelchairs chatted with nurses and visitors in the halls, while others relaxed in their bedrooms, composed letters or worked on projects.
One concern for Mrs. Cohn is that all the bedrooms in the nursing unit are double-occupancy and her mother has never had a roommate. She also worries about over-burdening the nursing home staff, and how the changes will affect the Wildflower Court community. "The residents, the families and the staff were a big family," she said.
Looking ahead, Ms. Langman drew attention to the Island's rapidly growing elder population. "What are we all going to do when we no longer want to live in our homes and can't manage our homes?" she said. "Where are we going to get the care that we need?"
"As an Island, we need to work really hard on figuring out what the future should look like, and we can't look back," she added. "I think we have to look forward and say, where are we headed and what do we need."