The Martha's Vineyard Film Festival has carved out a comfortable off-season niche with its casual approach to presenting new independent movies. For four days every March, organizers create a full schedule of documentary and feature films, most of which focus on important issues and people that prompt discussions afterwards. Many of the directors, producers and film subjects will be on hand to help spark conversations.
This festival begins on Thursday, March 16 and runs through Sunday, March 19. There will also be films shown at the Chilmark School and Pathways Gathering Space, plus local music, farm-inspired food and filmmaking workshops for kids.
This year, its 17th, the festival is introducing another element: "fireside chats" where audience members can gather around a fire pit to talk about the films they've seen. With two dozen films, from collected shorts to full-length dramas, comedies and documentaries, there should be plenty to discuss.
"The general theme that's emerged this year is how people come together around issues that they don't agree on, or that are affecting them, and take action," festival founder and executive/creative director Thomas Bena told the Gazette this week.
Some examples in the documentary category include Spettacolo, about an Italian village that turns its community problems into an annual play; Disturbing the Peace, in which Israeli and Palestinian fighters find a common cause; and City of Ghosts, for which Oscar-nominated filmmaker Matthew Heineman, a seasonal Vineyard resident, spent a year following an underground group that bears witness against ISIS in Syria.
Perhaps the most prominent guest will be longtime labor and civil rights leader Dolores Huerta, co-founder of the United Farm Workers union and 2012 Presidential Medal of Freedom recipient. Ms. Huerta visits the festival Friday, March 17, when Dolores, a documentary about her life and work screens at 7 p.m. at the Chilmark Community Center.
Martha's Vineyard Film Festival programming director Brian Ditchfield discovered the movie at the Sundance Film Festival in January, and invited Ms. Huerta to take part in a post-film conversation.
"She is an incredibly busy 86-year-old so at first we were going to Skype with her, but now we are really pleased that she is going to be coming for the screening," Mr. Ditchfield said. "If we had a theatre big enough I would like every Vineyarder to come and meet this person, she's that inspiring."
The festival opens with a documentary about Bill Nye, whose popular Bill Nye the Science Guy ran on television from 1993-1998. The film follows Mr. Nye as he tries to inspire a new generation to become interested in science. It will be followed by a discussion with director David Alvarado. This program repeats Sunday at 9:15 a.m. at the Chilmark School.
Other documentary subjects include farmer and author Wendell Berry, urban activist Jane Jacobs, spiritual philosopher Ram Dass and obsessed violin-maker Danny Houck. Before the Sunday evening screening of Ram Dass, Going Home, Vineyarders Nancy Aronie and Ronni and Peter Simon will share reminiscences about the Buddhist leader, now 85. Two documentaries center on very different elements of the Native American experience. Rumble: The Indians Who Rocked the World traces the Native American influence on rock and roll, from the African-American early blues great Charlie Patton to part-Cherokee Jimi Hendrix, Mohawk-Jewish Robbie Robertson of the Band and others. It plays Saturday, March 18 at 7:30 p.m.
The film Tribal Justice looks at how two tribal judges, both women, address addiction and other social ills without imposing jail sentences. Director Anne Makepeace, whose 2011 film We Still Live Here (As Nutayunean) chronicled the return of the Wampanoag language, and Chief Judge Claudette White of the Quechan tribe will be on hand for a discussion following the 2:30 p.m. Sunday screening.
On a lighter note, Take My Nose... Please!, tackles plastic surgery from the perspectives of two comediennes.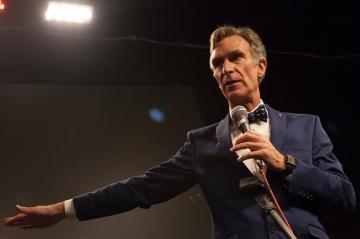 "It's exhausting in its scope," said Mr. Bena, who called it "the film I fought for" after female co-workers disliked it. Other comedic features on the festival schedule include Dean, starring Kevin Kline, and The Last Word, starring Shirley MacLaine.
Island filmmaking teams Chris Fischer and Conor Hagen, Georgia and Len Morris, and Julia MacNelly and Tom Ellis are represented in the Vineyard Shorts program on Sunday.
Kids are also well represented at the festival with an all-ages program of cartoon shorts from around the world beginning at 9 a.m. on Saturday, and followed by a discussion with animation artist Lynn Tomlinson. The feature-length animated adventure Phantom Boy, with voices by Fred Armisen and Vincent D'Onofrio, also screens on Saturday at Pathways beginning at 5 p.m. Both the animated programs are free.
On Sunday, the results of the free filmmaking workshops for kids will be shown, beginning at 4 p.m. at Pathways. Register for the filmmaking workshops in advance at tmvff.org/kids.
Throughout the weekend, the creative discussions will be fueled by Chilmark Coffee and food by Robert Lionette, chef at Morning Glory Farm, along with music by Nate D'Angelo, Jeremy Berlin, the Pickpocket Bluegrass Band and German concert violinist Katharina Giegling.
Ticket information and the complete film festival schedule are available online at tmvff.org.