Prior to becoming a gallery owner, Teresa Kruszewski, 56, spent her days in a cubicle in New York working in retail management. Her days were filled with balancing budgets and charting plans for buyers. On the side, she pursued photography. Then she decided to switch things up.
"I realized if I really want to be an artist, the focus has to be more on art and less on the supporting income if you will," she said recently, sitting in her new gallery, 51art. "I said alright, it's time to take a plunge."
The plunge landed her on the Vineyard, where a red door cinched the deal.
She was spending August on the Vineyard, visiting her sister Dona, co-owner of Ben & Bill's Chocolate Emporium, when she saw the red door to number 13 on Beach street extension in Vineyard Haven. Peering through the windows into the airy space with slanted ceilings, she was sold immediately. Without even entering the premises, she signed a lease.
The gallery had its opening reception last week.
Ms. Kruszewski began taking photographs in her youth. She took a few classes in college, but it was always on the side. As she worked for various department stores in Boston and New York, she continually kept her camera (a 1960s Leica) handy for personal projects. In 2006, she made a commitment to photography. She began to participate in juried shows and enrolled in seminars.
She works with film, printing in black and white, occasionally adding color (usually red or yellow) in post production. Her photographs vary from boisterous shots at parades to the quiet struggle of roses growing near the Franklin D. Roosevelt East River Drive.
Ms. Kruszewski didn't visit the Island until she was a teenager. "I was a girl scout and we took a week bike trip here," she said. "That was my first introduction to Martha's Vineyard. I was probably in my early teens. All I remember was being at the back of a line trying to make it up the hill to the lighthouse in Aquinnah."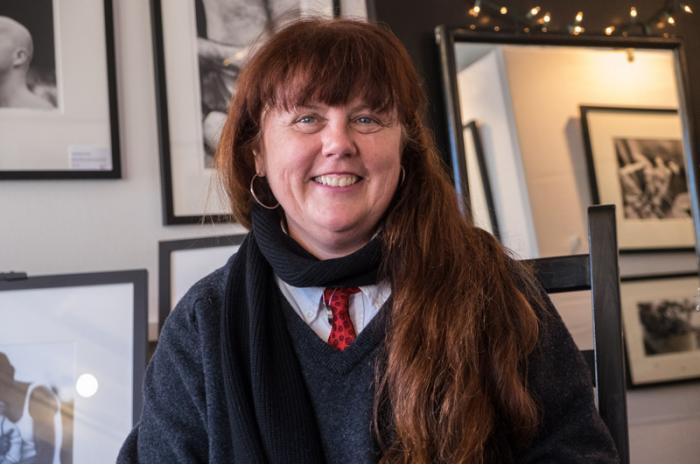 As an Island resident now, she plans to increase her photographs of the Vineyard and is already taking many shots during daily walks along West Chop with her iPhone. However, thus far, these images have not been captured in film or framed. For her, there is a difference between a pretty picture and a piece of art.
"A pretty picture is probably something that doesn't stretch you, the viewer, or maybe move you emotionally," she said. "I don't know, it's an age old question in art."
Ms. Kruszewski is enjoying her new life of a business owner, and often brings her little dog Kodi to the gallery as well. While the walls of 51art are currently filled with her own photography, she hopes to feature other artists in the gallery too. She's developing a plan to host Second Thursdays, where the gallery will exhibit a different artist on the second Thursday of each month.
As an artist, Ms. Kruszewski finds power in stripping away color from images.
"There's something beautiful about a black and white shot," she said. "In this land of all the color where photos are everywhere, black and white makes you pause a little bit and say, what's going on?"
However, relocating to the Vineyard may mark a change in her style.
"Here, it almost seems sacrilegious to take colors out," she said.
51art Gallery is located at the shoppe with the red door, 13 Beach street extension. For more information, visit theshoppewiththereddoor.com