Nearly all of Cuttyhunk can be seen from the top of Lookout Hill: houses and sheds built into the hillsides to the north and south, Cuttyhunk Pond with its fishermen's pier and new ferry dock to the east, and Gosnold Pond to the west, beyond which the Gosnold Monument stands at the farthest tip of the Elizabeth Islands. Across Vineyard Sound to the east lies Aquinnah, where the Gay Head Light, a mere speck in the distance, flashes its red and white signal.
On a cloudless afternoon recently, Martha's Vineyard Commission director Adam Turner and transportation planner Dan Doyle made their way up a narrow road flanked by short stone walls to the top of the hill. There they surveyed the idyllic landscape, in the shadow of the island's only telephone tower, which provides landline service to the island.
At the bottom of the hill, in the town hall, the four Cuttyhunk selectmen moved through an agenda for their twice-monthly meeting. Earlier that morning they had spent the better part of an hour with MVC staff members, discussing ways to improve town budgeting and internet access — the latter being perhaps the biggest challenge facing the island, where the year-round population has dwindled to about 20 in recent years.
Cuttyhunk is the heart of Gosnold, a town in Dukes County that includes the Elizabeth Islands just west of the Vineyard. The islands of Naushon, Pasque and Nashawena to the north (known locally as down-island) are larger but less populated.
With a dwindling year-round population, town officials and others are making a concerted push, along with the MVC (which provides planning assistance to every town in Dukes County), to make sure Cuttyhunk remains a viable year-round community.
Certain names often reappear when talking about Gosnold: the Forbes family, which owns Naushon, Pasque, Nashawena and other islands in the chain; and the Wood family, which owns much of Cuttyhunk. William M. Wood, an Edgartown native who made his fortune in the textile industry, was responsible for building the island's characteristic walls and paths in the early 1900s.
Today, those who choose to live on the island year-round wear multiple hats. Lexi Lynch, a year-rounder who grew up spending summers on Cuttyhunk, is chairman of the town harbor committee and also serves on the school committee and the Cuttyhunk WiFi board. "I basically am the WiFi board," she said. She also manages rental properties on the island. Her husband, Dwayne, who grew up on the island, is a charter fisherman and carpenter. Together they run the Cuttyhunk Cafe every summer. "We do everything for work," Mrs. Lynch said.
At the selectmen's meeting, Mr. and Mrs. Lynch and a few others sat in ancient wooden folding chairs as selectmen and MVC staff members discussed town salaries and positions, and internet access. Some people quietly opened mail from the post office across the way, or whispered the latest news.
When it comes to internet access, everyone on Cuttyhunk seems to have an opinion. But the general consensus is that service falls well short of what even a small community has come to expect in the 21st century.
"It's when the island is fully populated, people are using it, boats are using it, it just chokes," selectman Sarah Berry said, noting that in the warmer months the population swells to around 400. "It's the number-one issue we think needs to be fixed to attract people to come work on Cuttyhunk."
A wireless signal beamed over from the Outermost Inn in Aquinnah has helped meet demand, but the signal is often stretched thin in summer. HughesNet, Skycasters and ViaSat provide satellite service to the island, but it's less than ideal.
"Even on your best day, you're not going to be able to communicate with the other coast very well," said Dillon Storek, a friend of the Lynches who joined them at the meeting, a carpenter's pencil tucked into his hat. "I move two feet to my left and I've got great service, three feet to the right I have nothing," he said, arguing that wireless would be the best approach.
Not everyone feels this way though. Some worry that expanding the town's internet service will affect the island culture, which for many has offered a refuge from the distractions of modern life. But Mrs. Lynch said that for better or worse, the vast majority of visitors and year-rounders have come to expect internet service.
"For the most part, people are addicted to technology and they want to be able to check their email and Skype with their grandchildren and things like that," she said. She argued that better service would boost summer tourism, especially among retirees who may still do part-time work. "They won't come to Cuttyhunk because they can't check in with the office or watch a movie," she said. "I hear it all the time."
Other changes are underway as new generations enter the fold and family trusts are broken up, Mrs. Lynch said. But she added that the island community tends to change every year, as people come and go, many of them unable to get a toehold in the high-end real estate market and limited seasonal economy. According to Cuttyhunk Real Estate, the average home cost is about $1 million.
"We have people who move to the island then decide it's not for them," she said. "A lot of young people come in but can't sustain. It's very hard to live here when you don't have a boat, you need a job, and you are relying on the ferry, which only runs twice a week."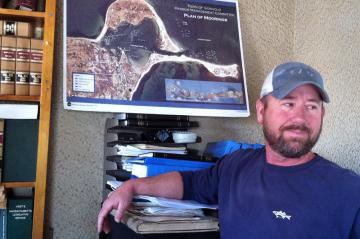 Almost everyone who owns a house on Cuttyhunk also owns a house on the mainland, or at least has a place they can stay when they aren't in Gosnold. Mrs. Lynch said she was the only person she knew of on Cuttyhunk who didn't own a second house off-island, although she is able to stay with family when she travels to the mainland.
For most people, there are only two ways on and off Cuttyhunk: the M/V Cuttyhunk ferry out of New Bedford, which runs twice a week in the winter and 10 times a week in the summer, and a smaller water taxi operated out of Cuttyhunk by islander John Paul Hunter.
Mr. Hunter said he usually makes two runs per week in the winter, and as many as two per day in the summer, although he has seen a decline in passengers since 2002. On a recent trip from Cuttyhunk to Martha's Vineyard (about a 40-minute voyage), Mr. Hunter attributed the decline to the cost of living on the island, and competition from New Bedford. But he agreed that internet access might also play a role.
"I think it's something we take for granted," he shouted over the rumbling of the engine as the boat rolled and pitched in Vineyard Sound. "Services could be part of it."
Educational opportunities are also slim on the island. There is no high school and some families have chosen to educate their younger children off-island. The Lynches, however, opted to send their two children to the Cuttyhunk School — Carter and Gwen Lynch make up the entire student body from kindergarten to eighth grade.
As with much of Cuttyhunk, the one-room schoolhouse on Main street relies at least partly on its connection to the outside world. On a recent afternoon, Carter and Gwen worked on art projects. Gwen had a laptop open at her table, and a few moments earlier she and her brother had dropped in on a class at the Old Hammondtown School in Mattapoisett via Google Hangouts, a process that doesn't always go smoothly.
"Sometimes it's a riddle as to what's going on," said principal and teacher Michelle Carvalho, who moved to Cuttyhunk two years ago.
Carter and Gwen will graduate within two years, and it's possible the school could close again without more families in the community, as it did in 1991 when Mr. Hunter graduated. This has been another reason for bringing Cuttyhunk in line with the virtual landscape. It may not sit well with all of the year-rounders, but selectman Sarah Berry said internet was critical for the island. The MVC plans to help, in part by looking into various funding sources for improving the service.
"It's the piece of infrastructure that's missing for this day in age," Ms. Berry said. "Even for peaceful, idyllic Cuttyhunk, where you don't want the real world to creep in, it's what everyone wants and everyone needs."