After giving speedy and unanimous approval to an $18.2 million municipal budget, West Tisbury town meeting voters picked at the remaining 36 warrant articles Tuesday night in a four-hour marathon that ended with a tie vote on whether the town should provide child care at future town meetings. For a relatively routine warrant, the meeting stuttered forward slowly as residents posed questions and made comments on range of articles. Voters agreed to spend $500,000 to support the planned Scotts Grove affordable housing development near the old fire station and $100,000 to begin making overdue repairs to town buildings, but balked at contributing $50,000 toward a new wooden roof for the old marine hospital owned by the Martha's Vineyard Museum.
An Islandwide initiative aimed at protecting undocumented, law-abiding immigrants from harassment won enthusiastic support after West Tisbury police chief Dan Rossi, flanked by county sheriff Bob Ogden and Chilmark police chief Jon Klaren, read a statement in support. Voters passed the article overwhelmingly by voice vote, then applauded their decision. The initiative was originally drafted by the citizens group We Stand Together.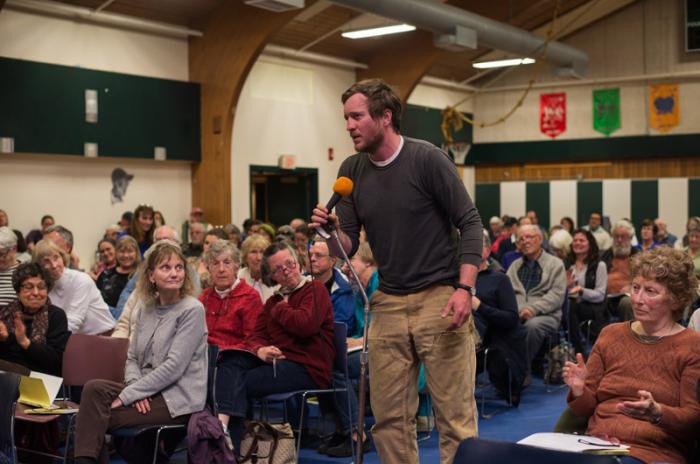 Voters also approved a zoning bylaw change that would allow homeowners who don't live on the Island full-time to rent their accessory apartments for year-round affordable housing. Previously, only year-round residents were allowed to rent accessory apartments, which are limited to use by relatives, caretakers or as affordable housing.
Some 210 voters had assembled at 7 p.m. at the West Tisbury School as moderator Dan Waters called the town meeting to order. Town poet laureate Emma Young opened the meeting by reading her poem, Relate. By tradition, Mr. Waters read a list of towns residents who died in the last year, followed by a moment of silence.
Calling it "a pretty quiet year budgetwise," town accountant Bruce Stone briefly presented the $18.2 million town budget, a four per cent increase over last year's, which he said included no new employees. It passed unanimously by voice vote.
Selectman Richard Knabel presented a proposal to replace the roof and skylights at the Field Gallery, fix problems caused by moisture at the library and make other overdue repairs to town buildings. "This is really the first installment in the catch-up phase of remediation," he said of the $100,000 appropriation, which passed unanimously. "There will be ongoing needs for the next four or five years," Mr. Knabel said.
For the second time, West Tisbury gave the green light to a $2.5 million expansion project for the regional refuse district, which also needs approval by three other towns. Among other things, supporters say the project will enable the Island to open a commercial composting site. The project has been in the works for three years but was stalled when Edgartown rejected it last year. (It was approved Tuesday by Edgartown voters.)
Voters also agreed to contribute funds to a variety of Islandwide projects including the CORE program that provides services to the elderly, the First-Stop information service, adult and community education programming and improvements to accommodate people with handicaps at the Vineyard Baseball Park.
But when it came to contributing to a roof replacement project at the marine hospital, voters said no. West Tisbury had agreed two years ago to pay its share for a slate roof, but the request was amended this year to change the material to cedar shingles. Museum director Phil Wallis explained that the building's original roof was wood and the museum wanted its renovations to be historically accurate. But several builders rose to contest his estimate that a wooden roof could last up to 60 years. The article failed on a 63-68 vote.
Some of the longest debate of the evening centered on the Scotts Grove affordable housing development. Voters were asked to approve $500,000 in borrowing to be paid back over 10 years with community preservation funds to support the $2.9 million Island Housing Trust project, a planned nine-unit development. Housing trust director Philippe Jordi said the $500,000 would be in addition to $900,000 already pledged by the town. The proposal had the backing of four out of five finance committee members. The fifth, Chuck Hodgkinson, criticized the financial arrangement, saying it had changed after the original proposal was made.
Under questioning, Mr. Jordi acknowledged that while West Tisbury residents would get preference for six of the nine units when the apartments were first rented, federal fair housing laws would prevent maintaining that preference when the units turned over.
While some residents raised concerns about the cost to West Tisbury of the project, finance committee Gary Montrowl urged voters to take a broader perspective, noting that the town is well below a state-mandated quota for affordable housing. "If we continue to do this piecemeal, we're not getting any closer to that goal, he said, "And that's one of the principal reasons we chose to go this way."
Adam Petkus, a young adult who grew up in the town, drew applause after urging voters to look around the room at the age of most people in attendance. "If we want to have young people in this town, we need affordable housing," he said, urging a yes vote. The article passed 160-30.
As the evening wore on, the meeting bogged down again on a proposed amendment to the town's policy on paid family and medical leave, with action on the article ultimately postponed indefinitely.
However, a majority of voters were persuaded that the noise of diesel trucks using exhaust or Jake brakes should be stopped. By voice vote, town meeting agreed to set a fine for truckers who violated this ban.
Besides the marine hospital roof request, only two other articles failed. A proposal to change the deadline for warrant articles for the annual town meeting from February to January drew opposition from resident Susan Wasserman. "It goes against our traditions of flexibility," she said. "I strongly urge that we don't make it more difficult for citizens to participate." Voters agreed.
It was nearly 11 p.m. before the dwindling number of voters left addressed the final article on the warrant,whether the town should provide child care for town meetings.
Town administrator Jennifer Rand noted that the proposal "is not zero cost to the town."
With the results of a voice vote too close to call, Mr. Waters called for supporters and opponents to stand and be counted. When the results were in, he announced the outcome: 38 to 38. The article failed. Weary voters headed home.