There was standing room only onstage at the Martha's Vineyard Performing Arts Center Thursday evening, when about 100 string students from the Island's town schools joined forces for America the Beautiful, the finale of their spring orchestra concert.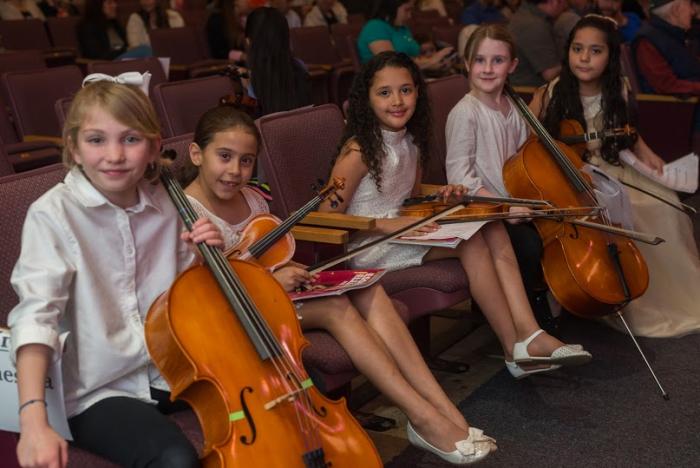 "It's the miracle of the music stands," quipped conductor Nancy Jephcote as the stage filled with young musicians, some no taller than the cellos they toted.
Thursday's performance capped weeks of early-morning rehearsals that were particularly trying for the older children, Ms. Jephcote told an attentive audience of families and community members.
"The teenagers have a hard time at 7:30 in the morning, especially after vacation," she said, before turning to the young musicians to say "I'm so proud of you guys."
The fast-paced, diverse program began with the advanced orchestra, its 28 members augmented by four exceptionally proficient players from the intermediate orchestra. Themes by Handel and Brahms were followed by the 1964 Drifters hit Under the Boardwalk, with Oak Bluffs music instructor Brian Weiland sitting in on percussion.
The advanced group also played works by Rimsky-Korsakoff and the contemporary composers Thom Sharp, Edmund Siennicki, Jeffrey E. Turner and Larry Clark. Mr. Weiland returned on percussion for the Turner piece, iRock.
For the four eighth grade performers in the advanced group, Thursday was their last night with the elementary orchestra. "The high school is going to be lucky to have you," Ms. Jephcote told them.
The intermediate orchestra played works by Beethoven, Mozart and Purcell, all arranged by Ralph Matesky, before welcoming the advanced group back to the stage for the finale.
There are 70 students in the intermediate orchestra this year, Ms. Jephcote said: "We don't fit in our rehearsal room." But she said the school district is expanding the string program's teaching hours for the next academic year.
Meanwhile, Thursday's concert marked the end of those early-morning rehearsals — till next year. "Parents can sleep in," Ms. Jephcote said.