Central composting facilities and a variety of community initiatives are among the final recommendations of an Islandwide food waste study that wraps up this month.
Sophie Abrams of West Tisbury, who has led the study, said she plans to issue a final report in the coming weeks. A public information session is planned for 4:30 p.m. Tuesday at the Oak Bluffs Library, with a second session at 5 p.m. Wednesday, May 17, at the West Tisbury Library.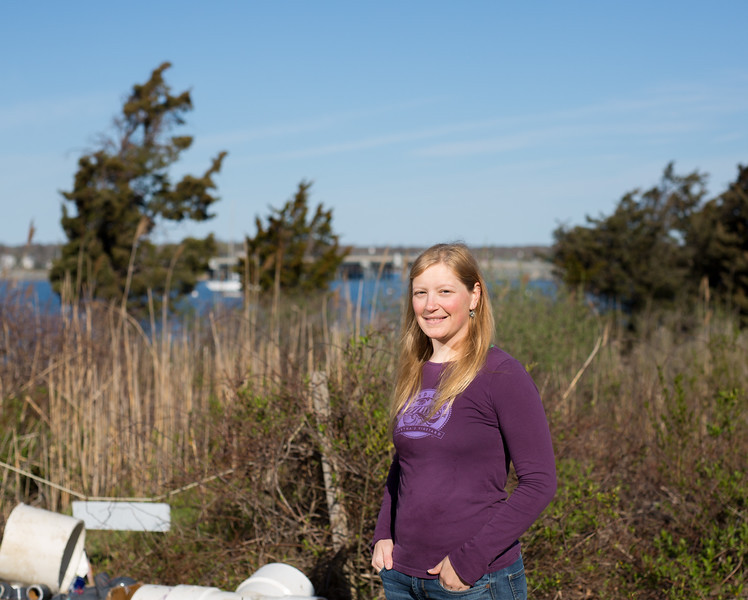 The study began last March with funding from the Martha's Vineyard Vision Fellowship and has spawned a commercial composting pilot program that will continue this year. "It seems like there is a lot of momentum around it," Ms. Abrams said of the study. "It seems like people are talking about it. People are asking questions. I think people are open to solutions."
A draft summary of the report outlines a number of strategies for dealing with food waste on the Island, most of which is now hauled away for incineration on the mainland.
Several strategies were considered over the course of the year, with two rising to the top: centralized, in-vessel composting, and an extrusion process that could produce animal feed. Other strategies, including anaerobic digestion, which can handle large amounts of liquid waste, and aerobic static pile composting, which injects air into the system, are considered less feasible based on cost, environmental concerns and other factors.
The study focused on commercial food waste management in light of a state law that requires businesses producing more than a ton of organic waste per week to keep it out of the waste stream. The law was adopted in 2014, but the required infrastructure still falls short statewide and the ban has yet to be enforced.
The Vineyard report found that about 121 restaurants and five grocery stores on the Island produce about 1,746 tons of food waste every year, with 18 of those businesses producing enough to trigger the state ban and another 10 coming close. Overall, the Island ships between 10,000 and 12,000 tons of garbage off Island every year, nearly half of it food waste, according to the Martha's Vineyard Refuse District.
The study notes that neither the refuse district, which serves the three up-Island towns and Edgartown, nor the Tisbury-Oak Bluffs district, operated by Bruno's Rolloff, is currently able to accept material for composting. And there is no system in place on the Island for addressing the state ban, which Ms. Abrams said will likely be enforced in the future.
But she said there is a high demand for compost on the Island. "Every single landscaping company is importing compost, and most farms are as well," she said. Two Island farms are registered to accept food waste from the community. The study recommends adding more farms to the mix.
One possible benefit of a composting program on the Island is that it would require a large amount of brush, wood chips, paper or other carbon sources to balance the chemistry, diverting even more of the waste stream.
The refuse district has been planning for several years to expand its central transfer station in Edgartown, and Ms. Abrams said the district's master plan includes a composting facility. Her study recommends installing a composter at one or both of the refuse districts.
The pilot program flagged pest management as a potential problem, but that is less of a concern for enclosed systems, Ms. Abrams said. During the pilot she collected food waste from several restaurants and brought it to Morning Glory Farm in Edgartown and another farm in Oak Bluffs to be composted. She said covering the waste immediately after dumping it helped significantly to mitigate pests.
The pilot program will continue this year under the management of Island Grown Initiative, in partnership with the Martha's Vineyard Shellfish Group, which provides interns and the use of its truck. Ms. Abrams said at least 10 restaurants would participate this year, up from six last summer.
Looking ahead, she envisioned a second phase of the study that focuses on adopting the recommendations. The study found, among other things, a significant need for training related to residential food waste management, and it did not explore issues related to food waste from grocery stores, the Martha's Vineyard Hospital or Island schools.
It also did not explore issues related to the public process, although Ms. Abrams noted some of the challenges of waste management in small communities — including limited open space and a general reluctance to use that space to process garbage.
But she also noted the costs associated with shipping so much waste to the mainland.
"We are source-separating everything on the Island, which takes a lot of work and education, but then still hauling it away," she said. Processing food waste on-Island could save about $286,000 per year, according to the report. Ms Abrams said finished compost also could generate revenue. She said the choice between continuing to ship food waste to the mainland or processing it on the Island was clear.
"In every measurement, it usually came out ahead to do it here," she said.