The former poet laureate of West Tisbury, Justen Ahren, stepped into his Island-wide laureate role with an April 30 reception at the West Tisbury Free Public Library.
Originally from the Philadelphia area, Mr. Ahren discovered the Vineyard in college. He spent six summers working in the fields at Morning Glory Farm before moving here full-time in the 1990s, founding his own landscaping business, starting a family and establishing his writing practice.
"It's a rare community that can support something like poetry," Mr. Ahren told a group of about 50 Vineyarders who had turned out to welcome him to his new post. "We're doing that wonderfully on the Island."
As Martha's Vineyard poet laureate, Mr. Ahren is charged with promoting poetry wherever and whenever possible — not only at schools and in writing workshops, but at churches, community gatherings and off-Island events as well. It's a responsibility he is eager to accept.
"I believe that poetry is not just a creative art, but that it is a healing and spiritual art as well," Mr. Ahren told the group at the library. "I look forward to being of service."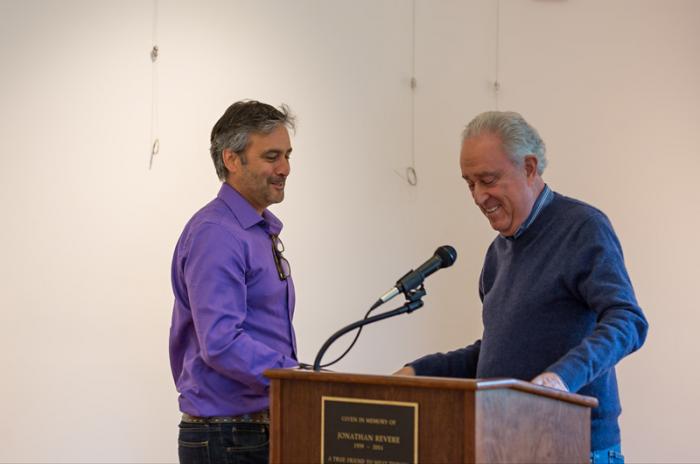 Challenging the notion that poetry is a pastime for the elite, Mr. Ahren called it "the most democratic of all art forms. A stick and a patch of dirt would do," or simply the human voice, he said.
A musician from childhood, Mr. Ahren began by writing song lyrics even before he could play an instrument, he told the Gazette. "I started writing lyrics when I was very young, 9 or 10 years old," he said. He was in high school before he wrote a freestanding poem.
Attending the University of Pittsburgh, Mr. Ahren continued to write and play music on the coffeehouse circuit. "I put out a CD and wasn't writing much poetry," he said. Eventually, he quit writing at all, for about eight years.
An encounter with the work of former United States poet laureate William Carlos Williams (1883-1963) set Mr. Ahren on course to his own laureateships.
"I was reading Paterson while backpacking in Italy," Mr. Ahren said. He found his vocation in its pages, thinking, "That's what I've wanted to do."
"I didn't feel what I had been writing before was poetry," he continued. "I just thought it was bad." His eyes opened by Williams's example, Mr. Ahren began to seriously pursue the craft of poetry.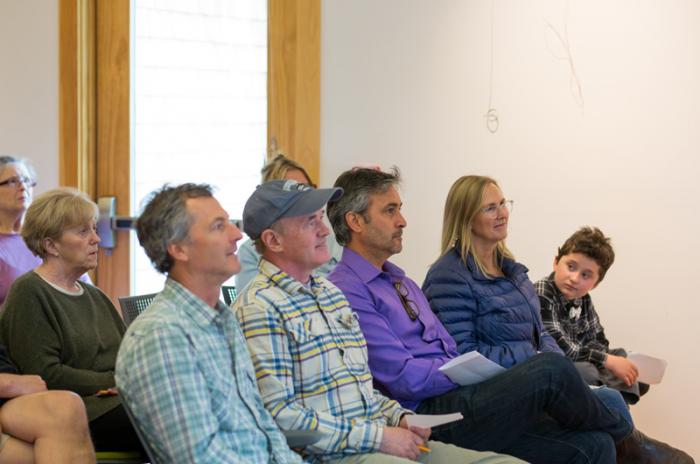 "I haven't stopped since," he said. "That was 20 years ago." He earned an MFA in creative writing from Emerson College, teaches writing workshops on and off-Island and has published a book of poems titled A Strange Catechism. He also founded the Noepe Center for Literary Arts, which for many years resided in Edgartown
Like the poems of William Carlos Williams, Mr. Ahren's work is spare yet packed with meaning and intensity. Much of his recent poetry has been dark in tone, Mr. Ahren said, in keeping with world events. His work took a turn, however, when
Wendy Taucher commissioned him to write about the natural and human history of Key West for an opera performance there.
"It's not like anything I've ever done before," Mr. Ahren said. "What I'm working on now is very black and white and grainy, and these poems are much more melodic, more narrative and more colorful."
Mr. Ahren traveled to Key West for the site-specific performances Easter weekend, and heard his words broadcast through the trees in the voice of actor Donavon Dietz.
"The words coming through the foliage made it feel surreal," Mr. Ahren said. The natural setting contributed unexpected grace notes to the performance, he added, such as when two white doves flew into the trees overhead.
"I thought it was beautiful," he said.
Back on the Vineyard, he is looking forward to encouraging more Islanders to write poems.
"I would really like to spend my two-year term promoting poetry as something that everyone can do and should try," he said. He plans to get his message out through workshops in schools and other community centers.
"This is something I really believe is a useful art for everyone," Mr. Ahren said. "I hope that my own teaching style will give people the confidence to try it if they haven't, and if they are writing, to encourage them to continue."
Prelude to Spirits, Section 4 of Key West Reverie
The purple sea lurches, its soulful body
foamy and heavy, falls to the sand.

The wind batters the palms, for days
they fetch and lean, and scratch the sky.

A body is wrecked upon the shoal,
wreckers call in the waning moon,

their bright hammers ring.
The story of this land is the story of the sea

and what it brings ashore.
This is how you touch the beginning.

A woman came onto the land in the rain,
covered in shell and weed,

pregnant with names, she came, spilling
the gifts she'd groomed in the rooms within.

They slithered from the shell of her ear
and beat and flapped from her mouth.

They ran down her legs, uncoiling
and attached themselves to objects in the sand—

clawed, bi-valve things, round things
hanging in the trees.

She traveled the hummock and named
all around, and beneath the sea,

then she slept in a clutch of mangrove,
her ear against the ocean

blood rushing through her.
She felt herself lifted, finally

free from the bound house of sea.
She had time, and space
and the memories of where she'd danced
and slept, labored and wept

became rooms within
she filled with dreams.