KEY WEST — For three days in April, Key West, Fla. became a southern outpost of the Martha's Vineyard arts scene as the Wendy Taucher Dance Opera Theatre troupe created a new, and never to be reproduced, performance installation in the ruins of a 19th-century fort overlooking the sea.
Vineyard poet laureate Justen Ahren and sculptor Dave Brown, who splits his time between the Island and Key West, also contributed to Ms. Taucher's site-specific piece Key West Reverie. The work was commissioned by the arts nonprofit Studios of Key West after Ms. Taucher, a choreographer, composer and director whose company is based jointly on the Vineyard and in New York City, created her piece Stillpoint on the grounds of a private West Tisbury estate in 2014.
In both installations, Ms. Taucher took the concept of site-specific art far beyond simply using natural surroundings as an inspiring but static setting. Her Key West audiences were on the move every few minutes, strolling between performances of music and dance interwoven with poetry and bells.
"The movement of the audience is part of the artistic experience," she told the Gazette last week. And while Ms. Taucher is an experienced choreographer, plotting the traffic flow for Key West Reverie's audiences was a daunting challenge. "I stressed over that for months and months," she said.
Ms. Taucher spent much of the winter in Key West designing her commission for the West Martello Tower, a ruined seaside fortification built in the years after the War of 1812. The rambling, dilapidated brick fort has been transformed over many decades by the Garden Club of Key West, whose volunteers tend lavish tropical gardens there that are open to the public daily.
A constant sea breeze keeps the leaves, blossoms and vines in shifting, sibilant motion, an element Ms. Taucher enlisted as one of her many collaborators in creating Key West Reverie.
"The wind and the sounds of the garden and the ocean really become part of the piece," she said. "Plants are static and they're stationary, but they're moving all the time."
Mr. Ahren's text took up this theme as well, describing "the giant leaves applauding skyward."
The visual aspects of the setting were also vital to Ms. Taucher's installation. She set the lilting, pensive instrumental piece Vistas, which she co-composed with Key West jazz great Larry Smith, at the gardens' highest point overlooking a lively public beach on the Atlantic Ocean.
Beyond the three performers — saxophonist Stan Strickland, violinist Eric Silberger and French horn player Stan Spinola — the listening audience saw pelicans diving for fish, kiteboarders dashing across the water towed by colorful parafoils and cruise ships looming massively against the horizon. This was all part of Ms. Taucher's plan for the piece.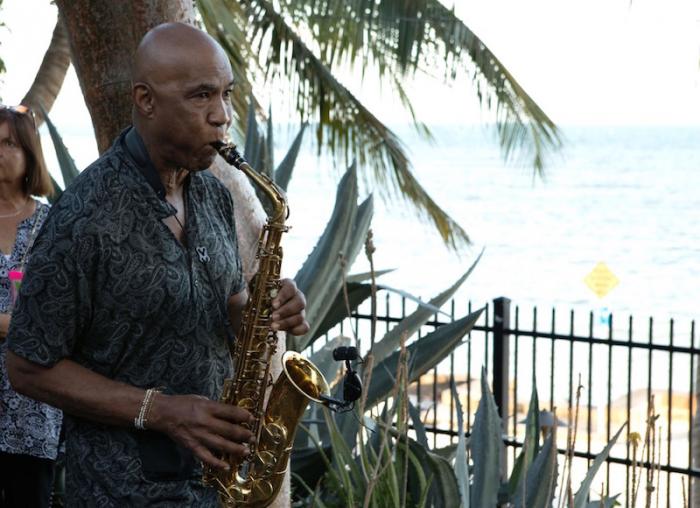 "It was written specifically for that site," she said. "The visual element was part of the way we wrote the music. The sections were designed to allow people to look at what was in front of them and around them."
In fact, although Ms. Taucher acknowledged that Vistas might work in another natural setting, she's adamantly against having the music recorded or performed inside a man-made structure.
"It shouldn't be played alone," she said.
Key West Reverie also included its own visual elements: a series of bamboo sculptures by Mr. Brown, with fluttering banners by Molly Ross that, by their colors, alerted audience members to where the different dance and music sections would take place.
In Stillpoint, her 2014 work for the West Tisbury site, Ms. Taucher also used colors to indicate where performers sang music by Bach and Beethoven among the trees, actor Donavon Dietz read works by T.S. Eliot and Mr. Ahren, and a dancer moved swiftly along a row of gnarled stumps.
For Key West Reverie, Ms. Taucher turned again to Mr. Ahren, who this year was named the third Martha's Vineyard poet laureate. Voiced by Mr. Dietz, Mr. Ahren's poems celebrated the creation and natural beauty of Key West while also creating a conceptual trail of breadcrumbs for the ticketholders who roamed Fort West Martello's grounds between the four music and dance sections of the installation.
"We wanted time for people to travel around the garden semi-randomly and still have something to hear," Ms. Taucher said.
To create the two live-music sections of the piece, she collaborated with Mr. Smith and Cuban-born composer Ileana Perez Velazquez, a professor of music at Williams College.
Mr. Ahren composed lyrics for the music of Ms. Perez Velazquez, a piece called Spirits that summoned the voices of drowning victims lost among the coral reefs of the Florida Keys.
Key West Reverie concluded with Full Tilt Conch Finale, a choreographed dance party with cast members and Key West dancers boogieing their way through a mixtape medley of recorded music that began with Gene Krupa's drum solo from Sing, Sing, Sing and surfed briskly through dozens of good-time hits by Chic, Chuck Berry, Miami Sound Machine and other chart-toppers before winding up with a mash-up of the Brandenburg Concerto and Jimmy Buffett's Margaritaville that left audiences applauding with smiles.
"I wanted to take it away from the esoteric," said Ms. Taucher, whose work on the installation was funded in part by the National Endowment for the Arts and the Knight Foundation.
The next Vineyard performance by the Wendy Taucher Dance Opera Theatre is Don Pasquale, or No Fool Like an Old Fool, in English and Italian, July 29 and July 30 at Featherstone Center for the Arts. For more information, visit wendytaucherdanceoperatheater.com.