Oak Bluffs selectmen voted unanimously Tuesday to turn down a request from three moped rental companies for waivers on a requirement for on-site test tracks. The vote puts on hold licenses for every dealership in town — at least for now — with the summer season around the corner.
The selectmen made it clear that they were not denying the licenses, only the waivers because the moped rental companies were unable to provide an adequate alternative for safety training on their own properties where they do business.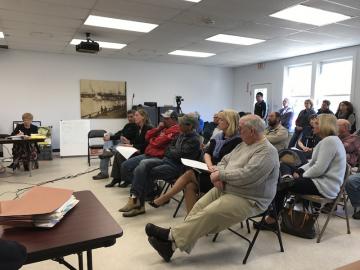 "My job is to keep the public safe," selectman and board chairman Kathy Burton said. "I do not think this training program keeps the public safe."
The vote followed pointed questioning from selectmen during discussion about annual license renewal for the moped rental companies Island Hoppers, King of Rentals of MV, and Ride on Mopeds Inc.
An attorney for the companies outlined a proposed moped training program that included requesting a waiver for the town's requirement of an on-site test track. Town moped regulations have been under scrutiny lately following a formal complaint from a Mopeds Are Dangerous Action Group claiming that moped rental companies have not been compliant with town moped bylaws.
Town counsel Ronald H. Rappaport recently advised the board that while he saw no a basis for rendering the licenses null and void, which the action group requested, he recommended that the town uphold the requirement for an onsite testing track. The moped rental companies have said they do not have the space to fulfill the requirement and believed they were not required to do so because they were long-established businesses. The town moped bylaw allows companies to request a waiver of the onsite test track from selectmen.
On Tuesday attorney Kelly Malone, representing moped rental company owners Jason Leone and Aguimar Carlos, formally requested waivers for all three businesses. She said none of the businesses have sufficient area for a test track, and after an "exhaustive search" they could not find a nearby location. She detailed an alternate training program including videos and a supervised test ride through town streets.
"We definitely understand what the report's concerns are," Ms. Malone said. "My client's very committed to doing whatever he has to do to allay those concerns . . . we understand that safety comes first and we're committed to that."
Selectmen asked for additional information, including copies of the leases, to look at whether there was any extra available space on the rental company properties.
"I'm fully prepared to say that . . . I'm not interested in granting a waiver," selectman Brian Packish said. "Moped testing on our streets is unacceptable for our community."
"I can see that you've put a lot of effort in here," Ms. Burton told the applicants. "I personally am not comfortable with what effectively is a test track downtown property. When I became selectman I did not know there was a reason to question these licenses. I did not realize there's not a waiver in place . . . now that I know I cannot in good conscience proceed forward the way we have in the past. I cannot proceed without a test track."
Selectman Gail Barmakian agreed. "I don't think it's a reasonable alternative to use those public streets," she said. "I'm trying to give you every chance possible to find something alternative that's off site."
Todd Rebello, a town businessman and former selectman who has appeared as a spokesman for Mr. Leone in recent weeks, pressed selectmen to vote directly on the license renewal and bring the process to an end. "This has been going on all winter through the spring. I think this board's just got to make a decision, make a call," Mr. Rebello said. "He needs to move on to his next process, as you did. I think that's in fairness to the applicant."
In the end selectman Greg Coogan made the motion to deny the waivers. "I think it's obvious that the board wants a test track and I think we've made that pretty clear over the last couple of months," he said. "And without that, I think counsel has said to us this is a new game, regardless of the last 40 years we start from this week and I think that's what we were looking for and it's not here. So my sense of everybody here is we don't have any other option but to deny the waiver and go from there. That'd be my sense."
The board voted unanimously to deny, and the hearing concluded. Mr. Rappaport noted that the issue is not closed.
"His specific request for a waiver is denied, but [the board is] not saying they wouldn't entertain another request for a waiver with other elements," he said. "But they find this particular request to be inadequate for public safety."