Seated in the second row at the Martha's Vineyard Hebrew Center, Meiroka Nunes had an unobstructed view of the speakers at Monday's immigrant rights forum. For the duration of the event, she sat, arm outstretched, phone in hand, simulcasting the event over Facebook Live for those who could not attend in person.
Co-sponsored by the Martha's Vineyard Social Justice Leadership Foundation and the Martha's Vineyard Hebrew Center social action committee, the event featured state Rep. Dylan Fernandes, attorney Laura Rótolo of the American Civil Liberties Union of Massachusetts, and Hyannis attorney Gabriella Bonfim Moraes.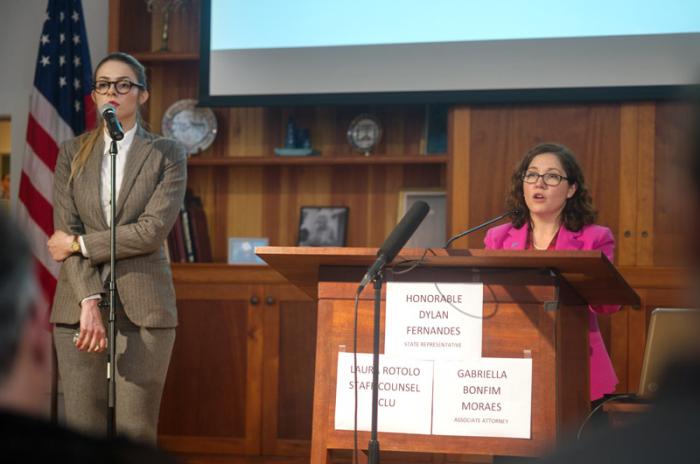 Mr. Fernandes spoke about the Safe Communities Act, upcoming legislation in the state house intended to protect immigrants. Ms. Rótolo gave a Know Your Rights training for immigrants concerned about encounters with police or immigrations and customs enforcement (ICE) agents. Ms. Moraes translated into Portuguese.
"It's especially important that they had translation here, because you saw, there's nobody here, no immigrants, because they're scared," Ms. Nunes said. "But on Facebook Live, there are a lot of people, because they want information."
She estimated that around 300 people watched some part of the broadcast (only about 20 were in attendance at the Hebrew center).
Describing the fear factor among immigrants on the Island, she said: "Driving here, it's crazy . . . Everybody needs to go to the supermarket, the post office, but right now I know a lot of people walk around Martha's Vineyard, they don't drive anymore, because they're scared about police stops."
In her presentation, Ms. Rótolo spoke about the new threats immigrants face under the current administration. She said more ICE agents have been hired, and that so-called expedited removals, or deportations that occur without due process, are increasing. She said this year there have been 40 per cent more immigration arrests compared with the same time period last year.
"Knowing your rights gives you the power to decide when and how to use them," she said, emphasizing the right to remain silent and the right to refuse to open the door to a private dwelling, except if an officer has a court-issued warrant. She also stressed the importance of planning for people who have a vulnerable immigration status.
Irene Bright-Dumm, a member of the coordinating committee for We Stand Together/Estamos Todos Juntos, noted that all six Island towns passed nonbinding questions at their annual town meetings this year creating a mandate for selectmen to "refrain from using town funds and/or resources to enforce federal immigration laws, in keeping with current practices, unless presented with a criminal warrant, or other evidence or probable cause."
At the state level, Mr. Fernandes encouraged residents to attend the Safe Communities Act hearing at the state house on June 9.
This legislation would prevent the arrest or detention of immigrants on the basis of their immigration status alone and would keep police from acting as immigration officers, among other provisions.
He added that the president's "xenophobic rhetoric" has already had a chilling effect on international tourism, which could mean millions of dollars lost for the Island.
He also discussed the scarcity of H2B visas, which allow temporary, seasonal immigrants to work in the United States, as another detrimental effect on the Island seasonal economy.
Mr. Fernandes emphasized the importance of organizing efforts in countering hateful rhetoric and protecting vulnerable communities. He recalled a forum he participated in a few weeks ago on Cape Cod where he was the only elected Democrat on the panel.
"A lot of people at this meeting stood up and spoke about what the Safe Communities Act meant to them," he said, concluding:
"For the Republican representatives, it moved them a bit in favor of this act. Face-to-face advocacy is really effective. I hope you all join me in doing that."