Before setting out on a 26.2-mile march at 6:30 am on Saturday morning, Army scout platoon sergeant Michael Blake offered the 40 people gathered around him some words of encouragement. "If it starts to suck, remember why you're marching."
The Martha's Vineyard March for Heroes then stepped off from the Veterans of Foreign Wars hall in Oak Bluffs. The annual march, which began in 2014, is a Memorial Day weekend tribute that aims to raise awareness and funds for veterans' causes.
In past years, the march was organized under a national charity and funds raised went to a retreat for veterans. This year, Mr. Blake decided to bring the focus back to the Island. All funds collected via the event's GoFundMe page will go to three veterans groups with Vineyard ties — the American Legion, the Veterans of Foreign Wars and the Matthew A. Pucino foundation.
The Pucino foundation aids those wounded in combat and their families, along with the families of the fallen. Kristin Pucino Gibson, an Oak Bluffs resident, is involved with the foundation and an organizer of the march.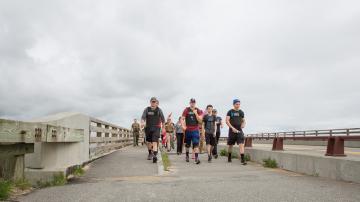 A mix of service members and civilian supporters participated in the trek. In a gesture of solidarity for the heavy loads the service members bear, some wore backpacks or weighted vests. One woman carried a child on her back, who waved a flag from her perch as she rode along.
"We've got a good group of people out here, pretty dedicated . . . There are going to be a lot of blisters," said Riley Craig, a junior at the Martha's Vineyard Regional High School and member of the U.S. Naval Sea Cadet Corps.
Mr. Blake said this year was the biggest march yet. People came from all over to participate, including Iowa, Ohio and New York.
Walking briskly through East Chop, he explained how the event got its start. "I got out of the Army four and a half years ago, after 16 years, and I wanted to help. I wanted to do something to help veterans, because when I got out of the military I had a really tough time," he said.
Robert J. Riemer, U.S. Coast Guard senior chief at station Menemsha, who was walking with six other Coast Guard members, added: "There's certainly some need to focus on awareness for veterans' suicide, PTSD issues, and just veterans' services in general definitely need attention . . . these guys deserve the best care we can give them, and anything we can do to help that along is really great."
The march route went along the Oak Bluffs Harbor, down Beach Road and out to Katama. "It's just the act of just everyone getting together is what's most important to me," Mr. Blake said.