On Saturday morning, mopeds were once again available for rent in Oak Bluffs. Rows of mopeds stood on Circuit avenue extension and the rental window at King of Mopeds of MV was open. On either side of the window, printouts of rules fluttered slightly in the wind.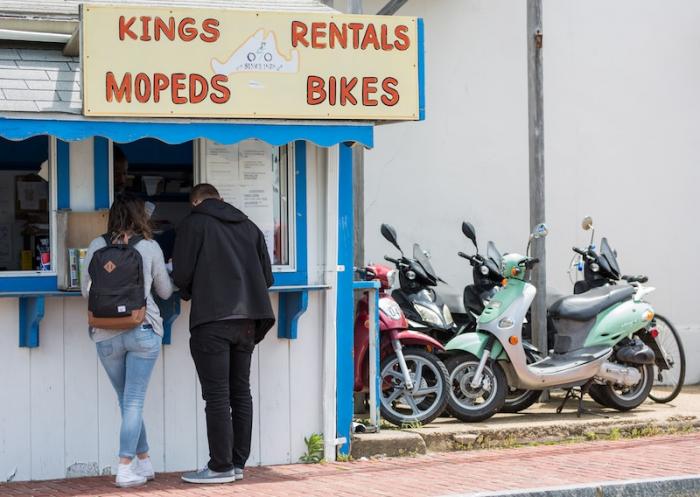 It was a somewhat anticlimactic opening day — the first day of being open since a dustup with the town over license renewals ended in a superior court win for the moped dealers last week.
The weather was windy and dark clouds scudded across the sun, threatening rain.
Jason Leone, owner of King of Mopeds of MV, Island Hoppers and co-owner of Ride-On Mopeds with Aguimar Carlos, leaned against a tree just around the corner from King's.
"We're happy to be open," he said. "We hope we can have a safe and enjoyable season."
Looking out into the streets, he noted the day was a bit dead for an early June weekend. Ferries coming over from the Cape weren't very full, he said, hypothesizing that day trippers worried about rain decided not to come to the Vineyard Saturday.
"The weather has been crappy, we haven't really rented any yet. Everywhere is slow," Mr. Leone said.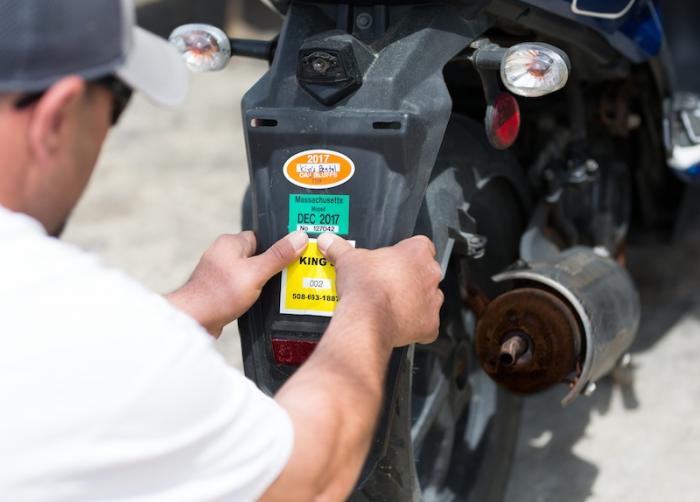 In anticipation of the slow day, Ride-On and Island Hoppers were both closed, with only King's operating. A few groups approached the window, but turned away citing either the wind or the price. A full-day rental costs $99; rentals by the hour start at $35.
Mr. Leone said he came to the Island in 2006 to buy Island Hoppers when the former owner wanted out of the business. He's from a moped rental family, his father opened a moped shop in 1978 and still runs a moped rental business on Block Island.
"I came from a background of mopeds, I'm not a newcomer," he said.
He said when he took over Island Hoppers, he raised prices, tightened up standards and upgraded equipment. He said the changes ensured that the renters were responsible and lowered risks overall.
"It curbed a lot of the accidents," he said.
By noon on Saturday, the sun had begun to peek through the clouds. Sarah Zerbi, 21, and Yianni, 22, approached the King's rentals window. They had been vacationing in Yarmouth and decided to take a day trip to the Vineyard. Neither had visited before, but Sarah said she had always wanted to. They wanted to go see the Gay Head Cliffs, but didn't want to take a taxi and were too young to rent a car. Yianni had driven a moped before, so they decided that would be the best option.
Both wore closed-toed shoes, glasses and their combined weight came in under the 335-pound limit. They read and signed a number of forms, watched the safety video and Mr. Leone gave them additional instructions about staying toward the side of the road, except during turns.
Yianni, who was driving, practiced starting and stopping the moped under the instruction of an employee nicknamed Fabo, before driving around the block twice by himself. Then Sarah sat behind him, and they drove around the block once more together.
"See, no wobbles," said Mr. Leone as they drove off.
For the past year, the Island community has been engaged in a heated debate about rental mopeds. Mr. Leone, who currently owns or co-owns all the rental moped businesses on the Island, has been the central figure in the debate. He lamented the divisiveness of the discussion, pointing out how willingly he complied with stricter regulations.
"People spent time trying to put someone out of business, instead of just talking with them," he said. "I will go further than what I'm asked to do."
Mr. Leone pointed out that he is a part of the community too, he has a family and owns his home on the Island. The stress of not knowing if his businesses would be able to open this season goes beyond just him, he said, it affects his family.
He resists the idea that mopeds are the biggest danger on the Island streets, pointing to fast-traveling cars that are over-eager to pass mopeds on the road.
"I just think the Island travels too fast," he said. He thinks there's a bigger discussion to be had about what the community should do if they want to eliminate rental mopeds completely — it involves buying out the businesses.
But for now, he's happy to be able to open his businesses in Oak Bluffs before missing any more of the summer season.
"As far as I know, for the past 40 years mopeds have been operating on this Island, it was the first year there were no mopeds in Oak Bluffs on Memorial Day weekend," he said.