Dan Sharkovitz got his job as an English teacher at the Martha's Vineyard Regional High School because of a cucumber. At least that's how he tells it.
A born storyteller, Mr. Sharkovitz, 65, recalled his journey to the Vineyard, as he completes his final year at the high school. Mr. Sharkovitz is retiring after 38 years with the English department.
As he recalls it, his path to the high school began with a moving job in Natick and a copy of the Boston Globe. He had graduated from Northeastern University and was looking for a teaching job. An advertisement for a job on the Vineyard was in the Globe, but he didn't even know where the Vineyard was. His friend convinced him to apply.
The first round of interviews went well. He got a call to come back for a second round. The day of the second interview, he left his moving job early, took a shower and planned to take a quick nap and have a snack before heading out. But he overslept. He woke up to his roommate pounding on the door and ran out of the house, pausing only to grab a cucumber growing in a neighbor's garden patch to eat later.
He barely made the ferry, with the cucumber stashed in his black vinyl briefcase. Mid-interview, his stomach began audibly grumbling and he asked if he could eat the snack he'd brought. His three interviewers stared, mesmerized as he pulled out a cucumber and started munching on it.
When he received the call telling him he got the job, then-English teacher John Morelli said, "It was between you and another really wonderful candidate, the deciding factor was this, a cucumber. We had never seen that before. And we're thinking, if he can interest the three of us on a hot summer day, maybe he can be an interesting teacher for the students. You have the job."
Mr. Sharkovitz is the type of English teacher who will start class reading a children's book. His favorite is Katy and the Big Snow.
"Sometimes when kids move into high school, their love of reading...I don't know maybe they get busy with life," he said. "I like to start off a literature class with a book like this...it helps them move back, at least in their memories, to a time when I hope more of them really loved books."
He admits he was not an enthusiastic high school student himself. Born in Dorchester, he grew up in Medway where his grandmother had a farm, with a big cucumber patch. In high school he focused on his fast car, job at a gas station and his girlfriend rather than academics. He almost didn't apply to college. At the last second, he applied to Cumberland College in Kentucky (now called University of the Cumberlands), was accepted, and sold his car to pay for the tuition.
Looking back on his own high school experience, Mr. Sharkovitz said there were a few teachers who strongly influenced him. There was the history teacher who asked him to be the president of a social studies club, despite being such a troublemaker that he had detention every day of his sophomore year.
"I don't know why, but here's someone who saw something in me, and he was a teacher," said Mr. Sharkovitz.
Then there was his 11th grade English teacher, James Horgan. Mr. Horgan was the type of teacher who quietly used his own money to purchase books for the students. Mr. Sharkovitz still remembers the first one he received, a copy of The Catcher in the Rye.
"Those moments where you run into people who believe in things that matter, who care about you and others...yeah they're paid, teachers are paid, but he wasn't paid to buy books for us," Mr. Sharkovitz said.
In addition to using his own money to help students, Mr. Horgan impressed the young Mr. Sharkovitz in other ways.
One year, Mr. Horgan was attacked by a troubled student. A few years later, that student's younger brother was in Mr. Horgan's class. Instead of taking out any anger about the attack on the brother, Mr. Horgan helped his new student get a full scholarship to college. Unfortunately, the student was killed in a car crash before he could go to college.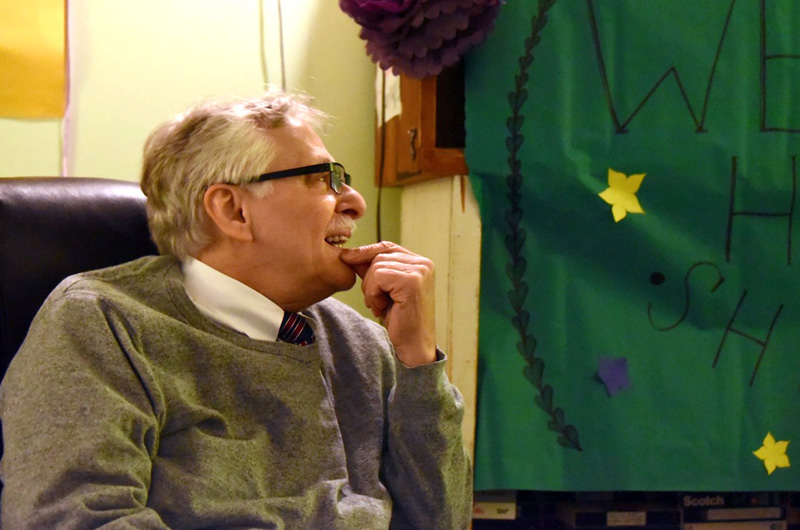 "If I had a student in my class who was the sibling of a kid who beat me up a few years earlier, I would go out of my way to turn that student's life into a living hell. I just would . . . somehow Mr. Horgan . . ." he trailed off. "I had some amazing teachers."
In his first decade working at the high school, Mr. Sharkovitz was almost fired three times.
The first time was because of budget cuts due to proposition 2 1/2. His position was cut and John Morelli, the department head at the time, described it as "a reign of terror" at a school committee meeting. Mr. Sharkovitz was out for a day, before being brought back after a shift in budget priorities.
The second time was over a Christmas cookie. The school was having rodent problems and any in-class food was supposed to be approved by the administration. It was around the holidays and Mr. Sharkovitz hadn't asked for approval for his class to share some treats. An assistant principal saw his class enjoying the cookies and a discussion with Mr. Sharkovitz became heated. The assistant principal demanded Mr. Sharkovitz be fired, saying he was being insubordinate. The principal was able to calm the situation down.
The third time was the most serious. Mr. Sharkovitz recalls losing his temper with a student who was bullying another student in his class.
"I just freaked out. I was yelling and screaming and calling the student names that shouldn't be used, and I never used since."
In talking with then-principal Gregory Scotten, Mr. Sharkovitz realized it related back to an experience from his junior high days. He and some friends teased one girl in their class. That same year, the girl died of pneumonia. On the playground, he overheard two teachers talking about how she probably just gave up because no one was nice to her at the school.
"I'm thinking, I just killed somebody, not directly...and I kind of buried it," he said. "But when I saw, however many years later, a student in my class bullying another student, and I'm screaming at that student, I think I was screaming at myself."
These experiences helped him grow into the teacher he has become, one that expects a lot from his students and challenges them, but who also holds a children's book and Hamlet side by side in esteem. For the last 14 years, he has also chaired the English department, and since 1995 he has advised the school newspaper, The High School View.
"This community is so small it's like you're working in a novel. You can see the arc of entire lives, even more than one generation. I have children of children that I had in high school."
He has won recognition for teaching and advising the newspaper from the National Endowment for the Humanities, and this year won the Robert Baram Award from the New England Scholastic Press Association for his leadership of the paper. He also took a group of students on a trip to England to see Shakespeare plays.
At a recent high school committee meeting, graduating senior Willa Vigneault shared her memories of working with Mr. Sharkovitz on the newspaper. Her experience began with getting yelled at as freshman and evolved into becoming good friends when she was editor-in-chief.
"Dan Sharkovitz is a man with a personality larger than life, or at the very least larger than himself," she said at the meeting. "He is himself openly and unapologetically. It is that exuberant personality and clear passion for what he teaches that has inspired his coworkers and his students, and forever ingrained himself as the one and only Dan Sharkovitz in their minds. I know I will receive a lecture from him for saying something this cliched, but I'm relieved that I'm graduating MVRHS this year, because I cannot imagine the MVRHS community without him."
As for the future, Mr. Sharkovitz may not be done with teaching yet. He is considering pursuing teaching English at the college level.
"I think I'm ready to teach at that level now. I'd like to do it," he said.