What first brought Marsha Winsryg, founder of the non-profit organization African Artists Community Development Project, to Martha's Vineyard was a video of Chilmark. What first brought her to Africa were the Great Zimbabwe ruins.
In 1999, Ms. Winsryg and her daughter Gia took a pilgrimage to the Great Zimbabwe ruins. The trip also included a visit to Livingstone, Zambia to see Victoria Falls. By the falls was a craft market. Ms. Winsryg bought a hand-carved wooden woman figure from a man named Foster. Foster, a good salesman, had a plan. He gave Ms. Winsryg a package of crafts to sell back in the U.S.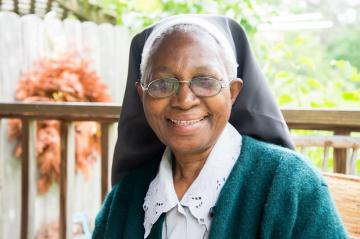 "This was the start of it all," she said.
Through the African Artists Community Development Project, Ms. Winsryg has brought to the Island a wide variety of crafts — jewelry, fabric, baskets, bowls and accessories made mostly by impoverished women. She also receives crafts from Zimbabwe, Tanzania, Ghana and Niger. Over the years, she has sold these items out of her house, out of pop-up shops, and this summer she will have a table at the World Market Mondays events at the Grange Hall.
More recently, Ms. Winsryg helped bring a key partner in her work to the Vineyard. Sister Immaculata Mulyei, a Franciscan Sister living and working in Zambia at the Mama Bakhita Cheshire Home for disabled children, arrived on the Island last Tuesday after a two-day journey from Zambia. Sr. Immaculata had visited the United States once before but this was her first trip to the Vineyard. She admitted to being overwhelmed.
"I was able to take a long walk on my own," she said. "At first I was scared. I thought, are there poisonous animals?"
Sr. Immaculata will stay for until June 27, helping to introduce Islanders to the work she does in Zambia. Last Sunday she and Ms. Winsryg spoke at the West Tisbury Congregational Church about the importance of a generous spirit. Ms. Winsryg said having Sr. Immaculata here on the Island "makes it real."
Back home, Sr. Immaculata started a sisal basket-weaving project when droughts made it difficult for families to care for their farm animals. Sisal, a species of agave, is a plant that needs little water to grow. Sr. Immaculata taught rural women how to cultivate and harvest their own plants and weave the stiff fibers into baskets. Ms. Winsryg brought the baskets to the Vineyard to sell.
But the basket-weaving project is just one aspect of Sr. Immaculata's vision for a total community development plan. She leads workshops on gender in Zambia for men and women "because you can't teach about gender without the men being there too," Sr. Immaculata said on Sunday.
She also advocates for education for girls. "Given the choice, families will send their boys to school," she explained. She also hopes to be able to help build dams in rural communities so families can grow their own food and better support their animals.
Throughout the years, Ms. Winsryg has supported Sr. Immaculata's vision with funds from the AACDP but hopes to do more. Bringing Sr. Immaculata to the Vineyard is the first step in expanding the relationship to include more people from the Vineyard. On Monday June 26 at 11 a.m., Sr. Immaculata will speak about her work at the first World Market Monday. The market takes place at the Grange Hall in West Tisbury and is open from 10 to 5 p.m. There will also be a silent auction and fundraising party on Monday from 5:30 to 7:30 p.m.
Subsequent world markets will take place weekly throughout August 7.
Sr. Immaculata will soon be returning to her work in Livingstone. But for now, she is enjoying her time on the Vineyard, where she said she was happy to see a landscape that was cared-for.
"It's so peaceful here," she said. "I can feel the nearness of God. It's like a glimpse of heaven."