Edgartown's thriving aquaculture industry could welcome a new face as the town begins the process of transferring an oyster farming lease on Katama Bay.
On Monday Edgartown selectmen heard about plans for Alex Friedman to take over a Katama oyster farm from current leaseholders Patricia and Tracy Sharples.
A dozen oyster farms operate on the bay, with a four-person waiting list for available leases, shellfish constable Paul Bagnall told the Gazette. Mr. Friedman was second on the waiting list; the first person declined. License holders most live in Edgartown.
Mr. Friedman, a commercial fisherman, had the blessing of the shellfish committee to work with the Sharples to purchase their oyster farm operation. Separately, the town will have to transfer the Sharples' aquaculture license to Mr. Friedman.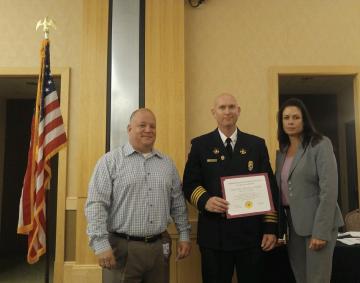 Mr. Friedman said he and Mrs. Sharples drew up a document saying they had come to an agreement for a transfer of existing equipment and gear. "They've been really terrific welcoming me. We spent the day out on the farm the other day," he said.
Selectmen will hold a public hearing about the transfer.
This is the first time one of the Katama aquaculture leases has been transferred, Mr. Bagnall told the Gazette, since the town began leasing oyster farm areas in the late 1990s in light of declining wild fisheries. "You know, there are a lot of us gray beards out and about these days . . . so it'll probably happen," he said. "It's more younger people signing up."
Oyster farming has expanded to Eel Pond, where five lease areas have started to operate, Mr. Bagnall said. The new area allows insurance of sorts, with different conditions and cooler water than Katama Bay.
Expanding the shellfish industry further is also a topic of discussion, including before selectmen last week. The board approved changes to shellfish regulations that were last updated in 2008. The changes were largely housekeeping, including updating language to be more current and take into account the oyster farms.
Selectmen easily approved the revisions, and board chairman Art Smadbeck asked whether there was room for growth in the aquaculture industry.
Mr. Bagnall said the board is looking at adding one or two lease areas in Katama Bay. "Especially now that we're starting to see some of the younger generation is coming and wanting to do this, it's an expansion that I feel is going to be inevitable," he told selectmen. "The wild harvest is going to be reduced and to fill that void for product aquaculture has already started to step up."
Mr. Bagnall said there could also be room for growth in Sengekontacket Pond, where the town has recently started growing oysters, though there are concerns about pond closures after heavy rainfall. The Eel Pond area also has room for growth, Mr. Bagnall said, though that area is hard to reach in the fall and winter when seas are stormy.
"It's kind of a sociopolitical thing as well as biology how much expansion will be in the future," Mr. Bagnall told the Gazette. "We've got to do it within constraints of not treading on the wild fishery. Unfortunately that's easier and easier to do. There's less of a wild fishery."
Oysters continue to be popular among growers and diners, Mr. Bagnall said. "It amazes me how popular oysters are now, where in the '50s and '60s the quahaug was king."
In other business Monday, Dukes County superior court clerk Joseph E. Sollitto Jr. invited selectmen to the annual Fourth of July parade, which will be led again by former selectman and World War II veteran Fred B. (Ted) Morgan Jr. The parade begins at 5 p.m.
"Get there by four if you can, line everyone up," Mr. Sollitto said. "At the striking of the fifth bell on the church we will start."
Fourth of July revelry will be extended in town bars as selectmen approved changes in bar closing times until Labor Day. Last call will be at 12:30 a.m. with a 1:30 a.m. closing time. From July 1 to July 4 bars will be granted an extra half hour of operation, with 1 a.m. last call and 2 a.m. closure.
Selectmen congratulated fire department deputy chief Alex Schaeffer, who has completed the chief accreditation program through the Massachusetts Fire Service Commission. "Congratulations are in order to Alex for that," Mr. Smadbeck said.
An 18th street resident came back before selectmen to update them about concerns over a dirt connector path between 16th and 18th streets that he said is frequently used by vehicles. Rick DeTucci said use of the connector increased over the winter, prompting concerns about public safety and erosion along the path. Heavy equipment has also started to use the path, he said, and he called for the connector to be closed.
Selectmen and town officials said it was unclear if the path is owned by the town. They agreed to hold a public hearing about the matter with the highway superintendent present.
The board also approved a permit for HGTV program Island Life to film in Edgartown from July 21 to July 24, a permit for a French company creating a documentary to film from August 4 to August 6, and a change of hours for the Edgartown Diner.